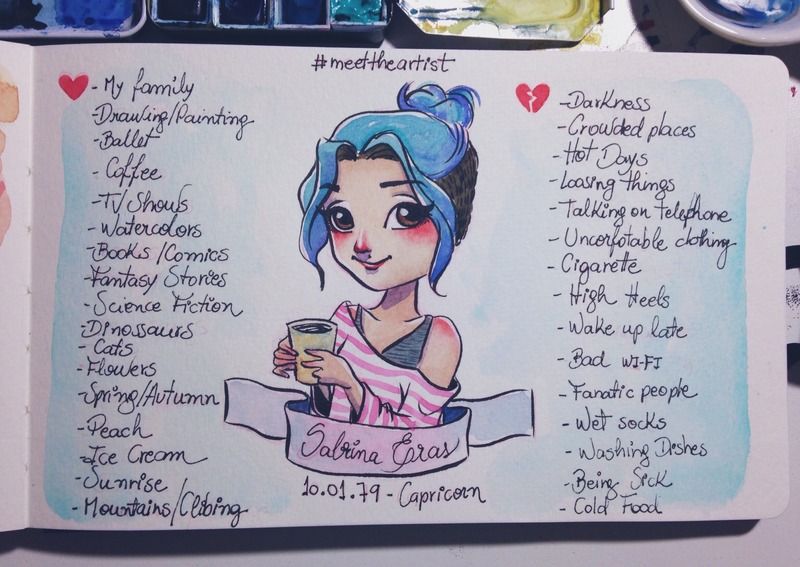 Hello
My name is 
Sabrina Eras
.
I´m an artist, draw and watercolor teacher at an 
art school
and full time newly mom.
I work with illustration for books and paintings for comissions for over 10 years now, and I can´t imagine my life without my art.
Living in Brazil with the love of my life, my amazing kid and my crazy cat.
I love watercolors and colorfull things. Animals, cute stuffs, flowers, dark things too, and I´m addicted to series, comics and movies.
Everyone allways ask me when I´ll make a book with my art, tutorials, time-lapse videos...
So, I think now it´s the time, but for this, I need time and money to focus on the producion.
I´m a sketchbook lover and I try to create every week, and if you supporting me via Patreon, I´ll be able to focus on my art and achieve this dream of having a book with my work.
And who knows, many books :)
And tutorials...
and videos ;)
Ok!
With all of this, you still don´t know if you wanna support my work, because you don´t know me yet, right?
No problem!
You can check some of my work and day-by-day pics at my Instagram
https://instagram.com/samesjc/
I post there everyday, and if you have some comment or doubt, just let me know.
If you wanna learn more about watercolor, draw, illustration, for work or just for fun, I hope my Patreon page helps you.
----------------------------------------------------------------------------------------------------
Olá!
Meu nome é 
Sabrina Eras
.
Artista, professora de desenho e aquarela em uma 
escola de artes
e mãe em tempo integral.
Trabalho com ilustração para livros e revistas e pinturas sob encomenda por quase 10 anos, e agora, não consigo mais imaginar minha vida sem arte.
Amo aquarela e coisas coloridas. Animais, coisas fofas, flores, coisas darks também. Sou viciada em séries, HQs e filmes.
Muita gente sempre me perguntava quando eu iria fazer um livro com meus trabalhos, gravar videos, tutoriais...
Bom, acho que a hora é agora, mas para isso, preciso de tempo e dinheiro para focar e conseguir produzir conteúdo.
Sou louca por sketchbooks, e toda semana estou criando algo novo, e se você me ajudar aqui no Patreon, poderei focar na minha arte e conseguir alcançar esse sonho que tenho de fazer um livro meu.
E quem sabe, outros livros
e tutoriais...
e vídeos ;)
OK!

Mesmo assim, você não sabe ainda se você quer me ajudar com minha arte, porque você não me conhece, certo?
Sem problema!
Você pode ver meu trabalho e fotos do dia a dia no meu Instagram
https://instagram.com/samesjc/
Faço postagens diárias lá, e se você quiser comentar algo, tirar alguma dúvida, é só falar.
Se você quer aprender mais sobre aquarela, desenho, ilustração, para o trabalho ou somente por hobbie, espero que essa minha página do Patreon o ajude.
So, let´s have some fun :)
Here´s a video of me painting when I was still pregnant.
----------------------------------------------------------------------------
Aqui, um vídeo meu, pintando enquanto ainda grávida.