Zoe - Sacredwildsoul
is creating ways to deepen your journaling practise and increase wellbeing.
Select a membership level
Oracle
Weekly ORACLE or TAROT CARD READINGS!
- Weekly card reading - "Choose your cards" style reading (every Sunday)
- Midweek Mindset blog post (every Wednesday)



(Journal) Printables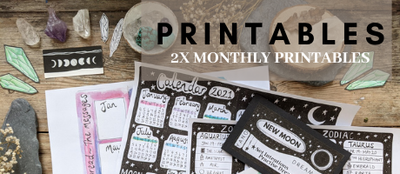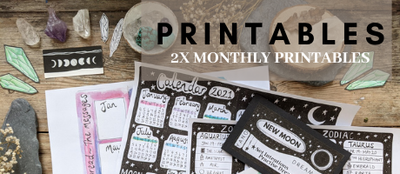 Enjoy exclusive JOURNAL PDF DOWNLOADS!
- 2x monthly printables (every 2 weeks)
-Including: colouring journal sheets, printable stickers, printable decks, tarot card layouts and journal prompt pages PLUS much more!

____________
PLUS ALL lower tier benefits;
- My deepest gratitude for supporting my work and helping me to keep delivering sacred content!
- 2x Weekly Card Readings - 'Choose your cards' and 'Magic Monday'
- Patreon ONLY feed

Seer Tier
2x exclusive videos! One Journal-with-me video and one chatty Journal Tour of the Month. So we can spend some time journaling together in our Spiritual Journals, pulling cards and generally creating fun journal spreads. And at the end of every month I give you an exclusive chatty tour of my journals and sketchbooks so you can see exactly what I've been working on! 

__________________
Plus you get instant access to all previous tutorials in the archive!

PLUS all lower tier benefits:
-ORACLE - Weekly Choose your cards readings
-JOURNAL - 2x monthly printables


About Zoe - Sacredwildsoul
Welcome to the
WILD SOUL JOURNALING CLUB
...…………. A place to connect to your inner world through our self care journaling practises.
Using creative practises, oracle cards, bullet journaling and art journaling to create healing on all levels, uplifting our mindsets and empowering ourselves as we do so.
COME AND JOIN THE WILD SOUL JOURNALING CLUB!!! 


__________________
How it works......
* Select the tier that you feel most called to. There are no contracts so
simply join, edit or upgrade your tier or cancel at any time.
* You will be billed as soon as you join and then again on the
1st of the Month every month.
* Then comes the exciting part!!! You the gain access to all the EXCLUSIVE goodies that are available for the tier/ membership level!
***"If you are located in the EU, then VAT is added to the total charge. This is shown when you set up the initial membership subscription" For those of you in the UK (like me!!!) then the pledge amount PLUS the VAT amounts to roughly the same as stated in USD. (For example $2= roughly £2, $5 = just under £5 and $15 is just under £15.)****
__________________
__________________

Hi, I'm Zoe. The creator, artist and truth seeker behind Sacred Wild Soul!
www.sacred-wild-soul.com
Oracle Deck Creator including;
Sacred Wild Oracle- 
https://sacred-wild-soul.com/products/pre-order-ta...
Questions Deck- 
https://sacred-wild-soul.com/products/questionsdec...
Wild Encouragement Cards- 
https://sacred-wild-soul.com/products/wild-encoura...
SHOP MY PRINTABLES- 
https://sacred-wild-soul.com/collections/all
I love all things to do with spirituality including crystals, meditation, journaling, oracle and tarot cards! I have also found that my deep love of nature has been one of the greatest healing tools.
I am obsessed with all things around mindset and shifting your negative thoughts to a much better place......and I love using journaling as a mechanism to do so.
I am a very creative person, I love to make art and find that art has always been my therapy! I love to art journal, draw, paint and well as working with journaling prompts to dive deep into unravelling my emotions and healing past traumas inwardly.
I'm also a mum,  wife(well fiance) and I live with my partner Steve and our little boy (who is 7) in a little house by the sea on the south coast of Cornwall in the UK.
___________________
When I started my @sacredwildsoul account on IG almost 3 years ago it was never my intention to start a business. Instead it started from
a place of deep personal healing, needing an outlet for my spiritual practises and creative practises and as a way to connect with my Soul on a much deeper level.
To then find such an amazing and loving community on Instagram was the biggest and most wonderful surprise!
Over the years I have thought about creating courses or workshops for this community but at the core of it all I still feel like an intuitive soul on a healing journey instead of feeling like a business. For this reason I am really excited to launch my Patreon page.
Here I feel deeply called to serve from this more authentic level of sharing my own healing, self care and journaling practises with you.
If you have enjoyed following my journey on Instagram over the last few years I really hope you will join me here for this new adventure as we delve deeper into our self care and journaling practise together.
__________________
I am so so grateful that your here and I can't wait to dive into our journaling practise together!
Much love
Zoe :) xx
By becoming a patron, you'll instantly unlock access to 314 exclusive posts
By becoming a patron, you'll instantly unlock access to 314 exclusive posts
Recent posts by Zoe - Sacredwildsoul
How it works
Get started in 2 minutes