M. Sorcier
is creating a tale of love, life and death - in no particular order
Select a membership level
Thank You!
Thank you! Every little bit helps!

You get access to high res versions of any art that I draw. Plus, you get to vote on who I should draw each month!


Director's Commentary and Concept Art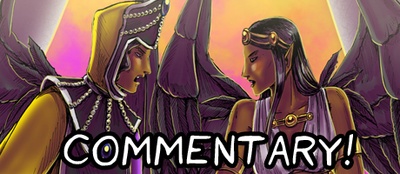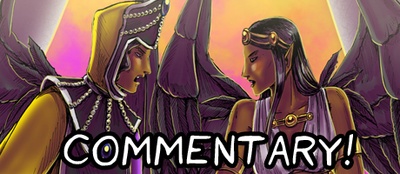 There's a LOT going on in Sacrimony and often, certain details can be overlooked. Never miss out on a thing with the Director's Commentary tier where I break down all the hidden gems and behind the scenes stuff. I'll also be posting explanations of my character designs, as every choice is very deliberately made :D
You also get
High Res versions of all art that I post
Plus, the power to vote on who I draw every month!
Postcards!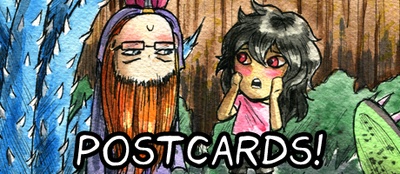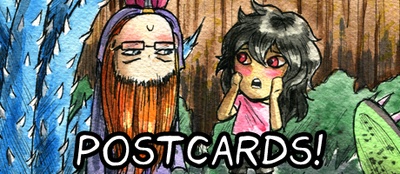 Great! You voted on which character I should draw for the month. Guess what? You get a postcard of that character mailed to you! A new postcard will be mailed out every month.
You also get

Director's Commentary
High Res versions of all art that I post
Plus, the power to vote on who I draw every month!
About M. Sorcier
Hi, everyone! I'm M. Sorcier and I'm a self taught artist
slowly dying
born and raised in
the abyss
Bronx, NY. Currently, I'm toiling away on my beloved webcomic
Sacrimony: A Tale of Love, Life and Death - In No Particular Order
Sacrimony
is a slice-of-life, drama/soap opera, fantasy story. Rather than being the typical action/adventure/saving the world fantasy tale, it deals with how each character copes with the hand they've been dealt in life. It explores various types of love (in all of its glorious and terrifying forms) including the love between family, unconditional friendship, romantic love and other forms of love that defy categorization.
Sacrimony follows the lives of six main characters:
Khajad Laohua
- Just your average demon-winged teenage girl trying to find her place in the world. She must hide her 'evil' wings lest she be chased by an angry mob with pitchforks and torches.
Yunika Laohua
- Khajad's single immigrant mom, trying to "make it" in the big city as an actress. She has no idea how to explain the ways of the world to Khajad so she deflects and avoids those conversations entirely.
Siphram nhaat Pardeshan
- A fallen god who roams the mortal realm, seeking redemption after killing another god in cold blood. He is tasked with finding a replacement for the deceased deity and cares little for anything else.
Supreme Herald Nicholas Ravanna
- A high-ranking religious leader and idealist who wants to save the world. Unfortunately, he can't save himself from the life-threatening illness that plagues him and he seeks to cure it by divine means.
Grand Master Angelo Leone
- A paladin who finds himself constantly putting the needs of others before his own. He gave up the chance at a normal life to protect and serve his ailing best friend, the Supreme Herald.
Felix LaSai
- A queer, red-eyed magical enigma who has branded himself a social outcast long before anyone else could tell him otherwise. He often dreams of what his life would be like if he were truly loved.



Why Support My Work On Patreon?

I've never had the finances or familial support to attend an art or writing school, I'm entirely self-taught, I've never won an award in my life and I've never worked for any big comic companies. For these reasons, the content that I create is often overlooked in favor of people who have received formal training, awards and work/have worked for big names.
Currently, Sacrimony is a labor of love. It's written, drawn, inked, colored and lettered all by one person - me. In addition, I handle all of the social media/marketing/customer service aspects that come along with my chosen profession while finding time to travel and promote myself at comic conventions. That's a lot of work for one person (about 80 hours per week) with very little pay and yet I believe in this story enough to want to keep going. If you believe in the story too, why not throw some spare change into my proverbial tin cup?
Thanks so much for checking out my page! If you decide, to pledge then extra thank you!
If you can't commit to support on a monthly basis, you can still buy something from my
online store
! OR, hey, tell your friends about me! Every little bit helps <3
Moar Comics!
I'll be able to carve out more time to do another comic page per month! The update will be done on the last Sunday of every month.

1 of 2
Become a patron to
Unlock 111 exclusive posts
Connect via private message
Recent posts by M. Sorcier
How it works
Get started in 2 minutes