Sailing Cadoha
is creating Adventure Videos
Select a membership level
Crew - Early (Ad Free) Video Access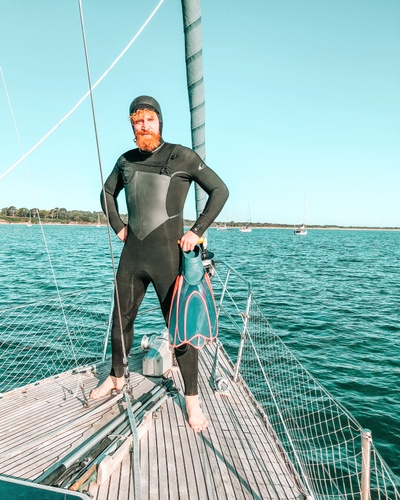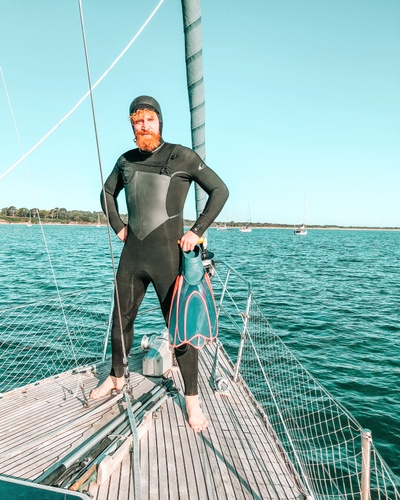 As 'Cadoha Crew' your incredibly generous donation to our project will help achieve multiple goals, firstly Dominic can spend more time focusing on his video production and filming skills. We really would love to be able to produce the best quality videos we're able to and so the money raised will go towards equipment and study, which will mean less time away from the project to go back to work on the building sites to replenish the project funds. If that has to happen, then Dominic is perfectly willing to put his big boy pants back on and do what he must, but your donation may shave a few precious weeks off of the time needed for him to be digging holes and mixing cement again.

Another portion of your kind donation will go towards Hanks treat jar, keeping that little rascal happy, as the way to his heart is certainly through his belly, and speaking of which, any remaining funds will hopefully be able to keep my chocolate drawer stocked up too, for those essential pick me ups when the going gets tough.

Your support means so much to us all and we hope we can provide you at least that much enjoyment from our videos in return and as such you will get access to our videos, ad free, a week before we release them on YouTube.

But in all honesty, times are tough, I mean there's a fricking pandemic on the loose, so if £5 a month is more than you can afford, then please don't sign up, just hit the like and share buttons on the videos, you know, all that jazz the mystical YouTube algorithms love, spread the word to anyone you think will enjoy watching this social experiment unfold, and say hi to us in the comments section.



Patreon Post.
As well as all the thank yous already mentioned, plus the ad free videos for the week before they release on Youtube, your money will essentially go to exactly the same cause as the awesome people who've pledged in the first tier, but in return for your epic generosity, we would like to personally thank you, each and every month that you're supporting us, by putting you on the friends and family postcard list that we send out each month.

No matter where we are in the world, we will pop a postcard in the mail to you, letting you know what we've been up to, where we are, how it's all going, and obviously a huge thank you for helping us achieve something that we hope everyone will be proud of.

Yes we live in a digital age where it takes but a few seconds to send an email, or a virtual postcard, yet call me old fashioned, but there's something infinitely more satisfying and romantic about receiving mail in the post, especially when it's hand written and personal to you.


About Sailing Cadoha
Welcome to our slightly premature mid life crisis, we're glad you've found your way to our humble little adventure.

We're a couple of regular folk with a very ambitious dream, and that's to get the two of us, our dog, 'Hank', around the world, on a little plastic boat, named 'Cadoha'.

The goal of our channel is to try and show case the very best of social media, as we use it as a fundamental tool to help us develop into circumnavigators. You see, social media has some pretty bad press, and for good reason in some cases, but like any tool, we feel it can be used as a force for good, for personal growth, development , support and education, or it can be a totally toxic dumpster fire and an epic time sink.

I don't honestly know if we would have been brave enough to attempt this twenty years ago, in a world where YouTube videos or social media communities didn't exist, to help us learn how to wire electrics, fix leaks, improve our sailing skills, repair our boat, and everything else that goes with such an adventure. We feel really lucky to exist in a time where all of the information known to man is sat in our pocket, on a phone?! Whenever I think I can't do something, someone, somewhere has likely made a 'how to' video and shared that knowledge with the rest of the world. How remarkable is that?

I hope this humble little adventure finds a few people who may be sat on the fence about pulling the trigger on an adventure of their own, whatever that may be. If you're ever in doubt about being able to shoot for something more challenging in life, let us two - possibly the two most clueless yachties on YouTube - be your motivation to say, "hell if they can do it, there's no reason why I can't!" for whatever it is you'd like to achieve.
By becoming a patron, you'll instantly unlock access to 153 exclusive posts
By becoming a patron, you'll instantly unlock access to 153 exclusive posts
Recent posts by Sailing Cadoha
How it works
Get started in 2 minutes