SAILING WITH LUCY
is creating Video Blogs of our live-aboard life and sailing adventures!
Select a membership level
You Buy Lucy a Bone!
Lucy thanks you for the bone - she so loves you, as it is a nod and a wink in our direction to keep us enthused. You know what a good video should look like and you think we come up to scratch and we are thrilled about that!
With this tier you will get a personal thank you from us - yes Lucy too and you will get what all Patrons get:
You will have access to our videos ahead of time, as well as any Patron only extra videos, live chats, blogs and behind the scenes stuff.
Thank you so much! X
You Take Lucy for a Walk
Lucy loves her walks and you go the extra mile and it means a lot! It means you want us to keep doing what we do, because five dollars make such a huge difference to us! We are honoured.
Thank you!
With this tier you get all of the above plus an ebook of the first book in Adriana's Rosicrucian Series, a murder mystery which has been an international best seller!
You Give Lucy a Hug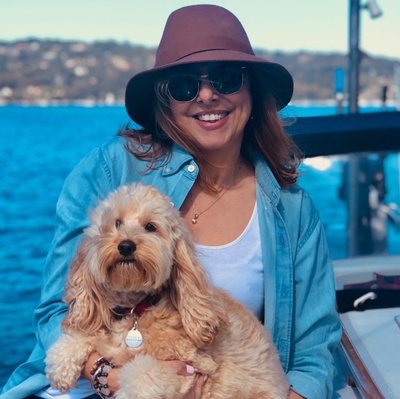 This is so amazing! It's like a hug to Lucy and she loves hugs...she literally craves them so she is over the moon! A hug means you want to be a part of the team and we are so excited about what we can achieve together.
Thank you ever so much!
With this tier you get all of the above plus a personal video message from us, featuring Captain Lucy doing one of her special tricks just for you!

About
Hello world!

Sailing with Lucy are Jim, me (Adriana) and our Spoodle Lucy. 

Chances are you're here because you've seen our videos, and so you know a little about us already...but do you know our story?

Let me tell you about the time I wanted to start a band. I placed an ad in a newspaper for a guitarist and Jim arrived at the front door. How could I know this meeting would change our lives for ever?

The band didn't last, bands often don't, but we did. Jim worked as an engineer and I worked as a critical care nurse to afford to put together a studio. We gave music a good try, wrote a lot of good songs, played gigs, had two beautiful children along the way, Jim ran two businesses and I became an author with best sellers under my belt, but in the back of our minds we had a dream...

...To buy a sailboat and to sail oceans!

You see, Jim had sailed yachts on and off all his adult life and I had been on and off boats from the time I was 8 years old, so our common interest was not just music...we both felt the 'call of the sea'.

Let me tell you about the time we began to answer the call.

The first boat we bought was a little Griffin Crown - 32 feet of the most beautiful Huon pine appropriately named Nepenthe. Nepenthe is the Elixir of Love and Forgetfulness from the story of Tristan and Isolde and she was our elixir! We made wonderful memories on her but as our children grew we looked for a bigger boat, and found Kekaimalu, a 42 foot Swanson. With a canoe stern and an integrated keel, she was a blue water sailboat that could take us anywhere. And we wanted to go places!

However, working to support a family and giving our children the best education came first...and so the years passed.

Three years ago when our daughter, our youngest, left home and Candy our dear little Spoodle (Cockerpaniel/Poodle cross) left for that big dog park in the sky, we found ourselves empty nesters! We both agreed that we wanted to sail and that we wanted another Captain for the boat so we went looking for Lucy! Lucy came into our lives like a breeze and filled our sails...We sold everything, businesses, family home, car and much to the disbelief of friends and family, emptied our storage unit and downsized enough to move onto Kekaimalu. On Kekaimalu we could live an alternative, sustainable lifestyle for as long as our hearts desired. But first we had to prepare her for some serious sailing and new adventures - not a cheap exercise as you can imagine! By this time we'd had Kekaimalu for fifteen years and she needed new rigging, a new bimini (the old one didn't keep out the rain) new instruments, new wiring...new covers...new genoa...the list grew and grew...

Now let me tell you about the time I started making videos, 

I began making book trailers for my books and for the compilation of songs we had created years before, so when our son moved to London and our daughter decided she would follow him this year, I started making videos to keep them updated on our progress with Kekaimalu. I was having a lot of fun teaching myself editing and filming as I went along but when I began adding music, the muso and artist in me took over and I fell in love with making videos...that's how Sailing with Lucy began! Jim took care of the finances and boat work - he is so knowledgeable and good at explaining technical stuff, and I took care of the artistic element, making the videos and writing books.

Somewhere along the way we realised that we had an audience! And just lately the thought occurred to us that we could link up with people who are as passionate about the ocean and sailing as we are on a more personal level. If those people wanted to support our videos even if only by pledging the cost of a cup of coffee - that would be great! In return we could give them the same privileges that we give our friends and family...because in essence that is what like-minded/hearted people become!

It's a win win!

And so we come to the present part of this tale...we are on the threshold of our new chapter together. Come along on our journey with us whose destination is anywhere the wind blows. You will know what it feels like to crew and steer.  You will share the night watches, help dock the boat, do the maintenance on the motor, get seasick (hopefully not too often) and ride the highs and lows with us.

Together we can write a great story!

The chapter begins now...

'Don't wait any l longer.
Dive in the ocean,
Leave and let the sea be you...'
Rumi

Love Jim, Adriana and Lucy


Recent posts by SAILING WITH LUCY
By becoming a patron, you'll instantly unlock access to 7 exclusive posts
By becoming a patron, you'll instantly unlock access to 7 exclusive posts