Sanctuary Tour
is creating support for farmed animal sanctuaries world wide
Select a membership level
friend
THANK YOU for being a friend~
travel down the road and back again......... (couldn't resist!)

hello friend~ 
when you join our friend tier you will receive our "monthly diary of updates."  In addition you will sometimes receive other little surprises and photos~!  please let all your friends know about our Patreon so we can continue to grow and support more sanctuaries in need.  we appreciate your support so much! 

bestie
hello bestie! 
thank you so much for supporting sanctuary tour and the work we do! as our bestie, you will receive our "diary of updates" which include where we are going and what we are doing, along with the occasional photos.
you will receive behind the scenes photos ONLY accessible to our patrons~!! AND you will receive at least one recipe per month.  in addition you will receive the occasional downloadable art print or card! 
please share with your friends and ask them to support sanctuary tour so that we can fulfill our mission to help more sanctuaries and animals. 
(*the above photo was taken by jean rhode)


the bomb diggity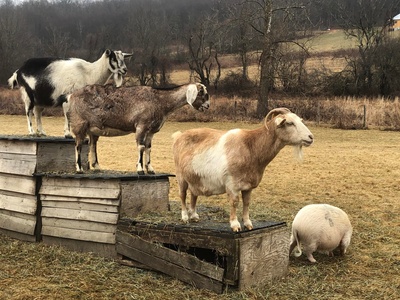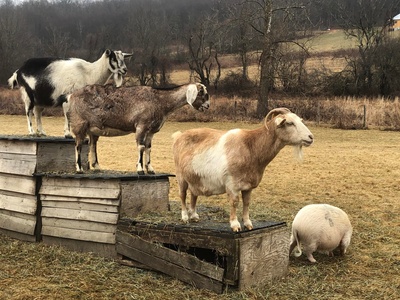 you are seriously the bomb diggity!!!  thank you so much for supporting our Patreon.  we are excited to be able to help more sanctuaries and animals.  
*you will receive our monthly "diary of updates."
*our behind the scenes photos of tours and other happenings.
*one recipe per month with the occasional coupon download.
*a sticker. 
and the occasional hand written note and surprise in the mail! (please add your mailing address for this option)
please share with your friends that you are supporting sanctuary tour! we so appreciate you!!  YOU are the bomb diggity!

About Sanctuary Tour
Sanctuary Tour is a 501(c)3 non- profit dedicated to making the world a better place for farmed and exploited animals.  One of the many ways we do this is by visiting animal sanctuaries and rescues, and getting to know the rescued animals, and the people who care for them.  We volunteer and we build relationships and share their stories on the Sanctuary Tour Podcast.  If you are here on our Patreon page, chances are that you are also an advocate for animals!!  Thank you!

http://sanctuarytour.org 
https://www.instagram.com/sanctuary.tour.podcast/

Patreon memberships help us to continue the work we are doing and to grow as a non-profit so that we can help even more sanctuaries and animals.  We consistently send donations to sanctuaries in need, for anything from helping with astronomical hay bills to helping with vet bills for a new rescue.  We support sanctuaries by traveling in person to animal sanctuaries, supporting them both monetarily and in other ways, and by building a stronger network - building bridges between us and sanctuaries around the world.  Our podcast gives sanctuaries, activists, and other organizations a platform to let the world know about the work they are doing, to introduce their animals to us, and to share ways people can support them.  We are growing!  

In addition to helping sanctuaries and animals, we are committed to sharing resources that will help educate people about what is happening to animals in animal agriculture industries, and to give solutions and tips on how to move away from animal products and to gravitate towards a plant based/ vegan world. We also arrange to take people on private tours to different sanctuaries, to meet animals, learn about their plights in animal agriculture and introduce them to volunteerism at sanctuaries.  Beyond monetary donations, patrons play a special roll by supporting us and the work we do! This can be as easy as sharing our posts when we add new podcast interviews, by asking friends to join our Patreon, and by spreading the word about the work we are doing. 

Our founder, Kim Beller takes her harmonium to sanctuaries and plays music for the rescued animals, as well as paints paintings to contribute to sanctuaries or to raise money for events. 
After working and volunteering at different sanctuaries and building relationships with the animal residents and seeing how special they are, Kim recognized the need to not only support more sanctuaries but to share with the world the work that Sanctuaries are doing.  This is how Sanctuary Tour was born. 
We are thrilled to know you are here to support us and help us grow so that we can help more animals and support more sanctuaries.  
We love the work we do and hope that you will enjoy the journey with us! Thank you for being here.

Our Mission: (taken from our website)
Sanctuary Tour was founded as a platform to support sanctuaries around the world. Our mission is to connect humans with animals by sharing and highlighting the work of animal sanctuaries, activists, and Earth loving organizations around the globe, cultivating a more compassionate, awake world. Through art, cooking, volunteering, and a podcast, Kim Beller strives to bring awareness to the plight of animals used for food.
Sanctuary Tour – the podcast features conversations with the founders, directors, caregivers, and volunteers from different sanctuaries around the world, as well as anyone who works to promote a more peaceful world through compassionate actions or activism, to highlight the work they are doing, the stories of the animals they rescue, and how we can support them and their work.
Sanctuary Tour is a non-profit organization whose mission is to provide a platform for, and to support those who are striving to make a difference for the planet and for the rescued animals, while also providing a network for sanctuaries to share vital information about animal care and running a sanctuary by forging authentic relationships with each sanctuary we visit and connect with. We believe that sharing information is crucial for the animals and their care. In addition, we are here to share "Care and Emergency Funds" with sanctuaries in need. Our unique approach of forging relationships, networking, connecting, and working closely with sanctuaries allows us to support them in times of need.


We are so excited to have a Patreon and have set a goal of 30 members.  That may sound like a lot, OR that may sound like not that many, but this is the number we are currently working towards.  Once we reach our goal of 30 patrons, we will have a special podcast episode where we will answer questions that our patrons have asked, as well as share ideas and stories from our patrons.  You will be named if you wish, or can remain anonymous. 
1 of 2
By becoming a patron, you'll instantly unlock access to 2 exclusive posts
By becoming a patron, you'll instantly unlock access to 2 exclusive posts
Recent posts by Sanctuary Tour
How it works
Get started in 2 minutes