Sansen's World
is creating FEEL GOOD moments through live streaming content!
Select a membership level
2 GIRLS, 1 DOG.
You get to be on the board + you will unlock some exclusive content. Thank you so much for helping our dream come true. :)
Includes Discord benefits
SANSEN'S WORLD FTW!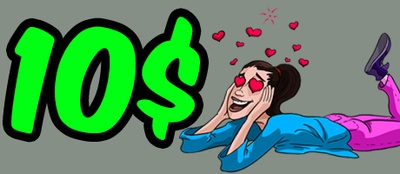 WOW. This is more than you pay for streaming service ... this means you really care for us & find our content entertaining enough. With this pledge you will unlock all the content we make. We can't thank you enough for this, seriously. <3
Includes Discord benefits
ALL IN.
This is here just to prove how nutsly (Oxford, make it a word) supportive you are. If you are not already our friend, we will make sure you become one & we will make sure to spread the love <3 THANK YOU. 
Includes Discord benefits
About
Ok, here's our story in short. 
My name is Sanda Mamic,
I am the creator of "
sansensworld
" Twitch channel, "
Sansen's World
" and "
Sansen's World kutak
" YouTube
channels.
I love to laugh & I love to play video games. And now I want to try and make a living out of it (with your help guys) to prove people that you can change your life the way you want to & that you can earn enough to live a decent life from something that you enjoy doing :)
The idea to work in gaming industry started off when I was pretty young, somewhere about 14 years old. Now I am 34 years old.
I know there is a huge gap between the initial idea and my current age (what, you wanna say that I'm old?), but I felt like I had to do it & that NOW is the right time.
I spend countless hours playing video games, I spend countless hours laughing while doing so - so why not sharing it with you guys? :)
Other members of Sansen's World
Iva is my family. She is 41 years old.
She loves to laugh and has one of the best laughs you will experience. While she doesn't play that many games due to her statement "WASD movement is too complicated", she loves to watch other people playing video games so badly.
She became a sidekick for me but it turns out she is a bigger kick than me who was supposed to be the mainkick so all of this side/main kicking now literally makes no sense because everybody is like "Ivaaaaaaaaaa senpai" so yeah, there's that. :D Lets introduce one more MEGAkick from our little "workshop". Or better yet homeshop. <3
THE superstar
There is one more full time member of Sansen's World Channel - the one and only – mister Dog, Shen the great, Shenpai.
A big part of our family, too. He is a 6,5 years old Doberman Pinscher, very vicious and very scary 40something kilos of fluffy unicorn and panda love combined, he is a rare mix of infinite kisses and lethal farts and he loves to talk more than Iva and me combined.
He always has something to say and even though it always sounds something like "tsmi-tsmi-tsmi-tsmi-TSMIIIII" we are 100% sure there is a higher meaning of it yet to be discovered.
Shen goes well with: hugs, kisses, petting, more petting, babies, kids, people, cookies, dog cookies, human cookies, cat cookies, any type of cookies, fruits (not bananas oddly), vegetables, soups, rice, meat, actually FOOD in general, female dogs, male castrated dogs, frisbee, water, sun, snow, mental training, physical training & his own farts (to be continued)
Shen doesn't go well with: male dogs, alcoholics (believe it or not), any type of toy after 20 minutes & rain (to be continued).
Listen to your heart!
Up until know I did everything because it was the next logical step. But I never asked myself - what is it that I really want? When I started to get very sick emotionally and physically, only then it occurred to me - Sanda dudess, you gotta start doing the stuff which makes your heart happy and in place. Period.
It is not going to be the end of the world if we don't succeed to make a living out of this. We failed too many times in life to not know how to get back on our feet. And we will.
It is just that we would love to make living out of something that we enjoy to do. And it is pretty clear that it's all up to us if we'll pull it through.
And, you know ... it's "a little bit" up to you, too :)
Not to go into too many details - lets go through some things we feel:
WE LOVE every second of doing this!
- in the first year we made more than 400 live streams, videos & vlogs
- we are spending more than 100h per week recording content, editing, researching - and it doesn't even feel like WORKING!
- it genuinely makes us so happy and in place
- we feel like doing it for a long time
To do this long-term, we have to start make a living out of it!
Conversation about money isn't our most comfortable topic. Unfortunately, avoiding them DOES NOT help us pay the bills so we finally realised we have to talk about it, whether it feels comfortable or not!
1st threshold

That income would cover basic expenses for "
Sansen's World
" to run smoothly the way it does now without our heart skipping a beat every ending of the month and us thinking we should get another job.
Some of the costs:
New video games
. I mean, we play video games after all!
Giveaways
. This community is all about giving & receiving. We want to be able to give whatever we can, whether it is a nice word or some small tokens of appreciation.
Maintenance.
We invested into this gaming setup 2 years ago, so we are all cool for now. But, by the rate we are "burning" it up with usage, we have to be prepared for a chance of something "blowing up".
Digital drawings & animations.
Since we are no-bueno with the drawing of any kind (perhaps our work will be sold post-mortem for some insane amounts but we somehow doubt it), we have an awesome character artist who does it for us. BUT - he has to pay his bills, too :) Also, we would love to do the whole cartoon series, but that could happen in the future perhaps if the budget will allow :)
Food.
Ok, I feel like I have to say this out loud - I am not this skinny at the moment because we have nothing to eat! But, we might in a few months! :'D
Bills.
We live in a capital of a small European country Croatia so the needs are not as big as if we were living in the US or England. Nonetheless, we need to cover it all on monthly basis.

Man, this felt like writing an essay so there's gotta be a closing chapter, right? :D
Even if none of this happens - we are still going to be grateful for every single thing that happened in our lives which led us to where we are now. We are living a good life - life of being a happy, fulfilled beings with our priorities set up high - peace, happiness & love. And laughs. A lot of laughs :))
Ciao Ciao,
Shen, Iva & Sanda
This is the goal which would help us keep Sansen's World going without our hearts skipping a beat every end of the month. Read the story on the right for more details.
1 of 1
Become a patron to
Unlock 48 exclusive posts
Connect via private message
Recent posts by Sansen's World