Sarah Burns
Gouache and Watercolor Tutorials + More
Select a membership level
Paintalong Tutorial Videos + Extras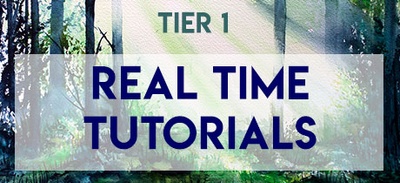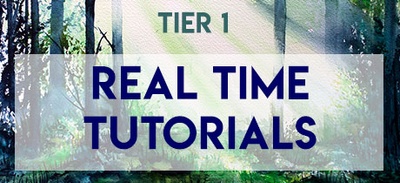 Includes:
Paintalong Tutorial Videos: Access to my monthly Paintalong tutorial videos so you can rewatch, pause, and practice on your own. These are uploaded exclusively for Patreons.

Reference Photo Pack: 5 (at least) images by me for you to draw or paint from, including art you plan on selling.

Critiques: Are you stuck on something? Send me what you are working on and I'll give you a quick critique (never mean, always helpful).

Chat: Access to my private discord art server where we have daily discussions. 

Patreon Feed: Access to my private Patreon feed, and voting privilege in Patreon polls.

Newsletter: One to two newsletters per month containing behind-the scenes photos and info about current projects, life updates, insight into being an independent artist and anything else I can think of.

Podcasts: Monthly podcasts, either me talking about life as an artist, business, techniques, goals, plans, or interviewing a professional artist.

Vote in Polls: Participate in Patreon-exclusive polls for upcoming videos, tutorials, etc. 
Includes Discord benefits
Extra Monthly Tutorial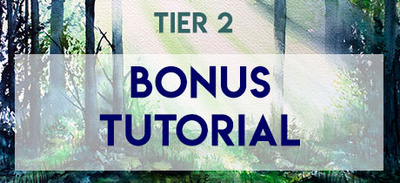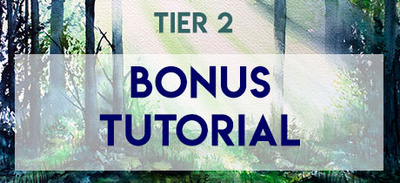 Includes:
One extra tutorial each month.

Request Privilege: You can request a specific subject that you want me to demo in stream or video, within reason. I'll do my best to collect all the requests and demo whatever I can during the streams.

Peeks at my sketches & Underpaintings: You'll get exclusive views of my sketches and underpaintings for whatever I'm working on that week! It also includes what I call "Painting notes."

10% discount: Receive a code for 10% off my shop items.
+ all previous rewards  
Paintalong Tutorial Videos: 

Reference Photo Pack

Critiques

Chat

Patreon Feed

Newsletter

Podcasts 

Vote in Polls
Includes Discord benefits
Print Pals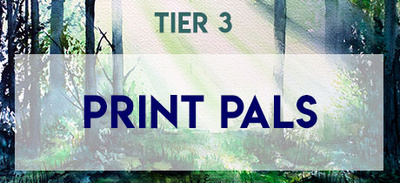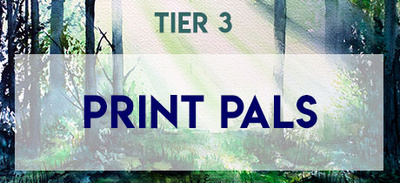 Includes: This tier is for anyone who wants physical art! Hang it on your wall or give it to friends as a gift. Every two months I will mail you exclusive prints based on my recent favorite paintings and creations. Each one will be signed by me and shipped to your door! You'll receive:
A6 Prints, beautiful archival matte photo paper, signed by me.
How Bi-monthly shipping works:
Prints for 2022 will be shipped in February, April, June, August, October, and December.

If you join this tier in January, and continue support through February, you'll receive two prints in February. If you join in January and cancel before the end of January (so basically one month of support), you'll receive one print in February.
+ all previous rewards
Paintalong Tutorial Videos

Reference Photo Pack

Critiques

Chat

Patreon Feed

Newsletter

Podcasts

Vote in Polls
Includes Discord benefits
About Sarah Burns


Quick Glance at what I post here:
Every month, I post the following:
First week
- Newsletter & Photo reference pack
Second week
- Paintalong Demo (sometimes live, sometimes not)
Third week
- Bonus tutorial
Fourth week
- monthly wrap-up and sketchbook scans
Welcome!
My name is Sarah and I'm a full-time artist living in Scotland. My work is inspired by nature, especially the beautiful Scottish Highlands where I live.
I use a wide variety of mediums such as graphite, watercolor, gouache, water-mixable oils, acrylic and even sometimes digital painting. I guess you could say I love it all! I'm also an avid  photographer, and take lots of reference photos to share with other artists!
Why am I using Patreon?
Through my Patreon page I want to share what I learn. I know how it feels to start painting with no direction, and how confusing it can all be. I began teaching myself how to paint in 2015 and it has become my career, so I'm walking proof that it's possible!
I enjoy sharing my inspiration, learning tools, techniques, and experiences with other artists. 
What is Patreon?
It's like a subscription service for art lovers!
If you like my work and want to support me, paint with me, have a look inside my sketchbooks, ask me questions, get reference photos, etc., this is the best way.
Patreons play an active role in making my dream a reality. Each day I wake up with a fire in my heart, excited to create something new.
How does it work?
You pledge a fixed amount each month to receive whatever rewards you want. Even just $2 helps a ton - it all adds up!
(Don't worry, you can edit or cancel your pledge anytime you want)
By pledging a monthly amount, you are not only supporting me, but you also receive lots of cool rewards (depending on which tier you choose)!
Have a look for yourself!
http://bit.ly/sburnspatreon
The support I receive from my Patreon family helps me grow as an artist. It means I don't have to take on as many commissions to pay the bills, which gives me more time to pursue my goals and provide more cool content.
Where does the $$$ go?
Running an art business comes with expenses, but so does sharing the journey. Making entertaining videos, tutorials, and digital content on top of making and selling original artwork and prints requires a good deal of investment. 
Your combined support goes towards helping me keep the lights on, and to fix or upgrade technology (computer, cameras, storage, mics, etc) for making videos and content online. It also helps me to purchase materials such as paint, paper, palettes, etc. for creating the actual artwork.
Without your support I would be needing a part-or-full-time job to afford those expenses. Your support allows me to do this full-time which leads to MORE content for you all!
Monthly PAINTALONGS
I teach my monthly
Paintalong
tutorials! (See below)
It's great for anyone who wants to learn how to paint different types of landscapes. I walk you through each painting from start to finish in real time. Sometimes they are live, sometimes pre-recorded. I always announce live paintalongs ahead of time.
These tutorials are catered towards all skill levels but especially beginners. I mostly teach watercolor and gouache, and we do a variety of landscape types. My Patreons can watch the full-length 
Paintalong
tutorial videos anytime, so they can pause, rewind, and practice for however long they want.
Discord Chat - Our Online Art Community!
My Patreons are welcome to join me in our private Discord chat server where we can have daily discussions! Feel free to share your art, chat about projects, or ask questions! 
Please read about
how to connect your discord account to Patreon. 


Please note that I will occasionally update my rewards based on what I feel will suit my supporters.
I don't make changes often (once a year, maybe) and I always give everyone plenty of notice first!
Thank you for reading, and I hope to talk to you soon!
- Sarah
Art Website

Social: 
Twitter | Instagram
If we hit this goal, it means I'd be able to hire Wolfy FULL TIME! This would be a game changer.
It would mean I could delegate a lot of the tasks that usually take me away from painting and making videos.
It would mean I'd be able to produce way more content for you all. It would also allow us to go on filming trips where we drive somewhere beautiful and film me painting there. This would result in very inspiring and informative videos.
Wolfy and I have dreamed of this for so long, and it would be absolutely incredible to make this dream come true!
3 of 3
Become a patron to
Unlock 317 exclusive posts
Get discounts to an online store
Connect via private message
Recent posts by Sarah Burns