SativaYoga is ambitious.

* It helps re-mind (as in, do your mind, again... because your first one got written on by someone other than you!). SY helps remind you of your original, pre-conditioned, pre-colonized, pre-domesticated, pre-industrialized glorious self!

* It helps restore a vibrant relationship between plants + people.

* It crusades for the full + liberated personal, therapeutic and industrial use of Cannabis Sativa L. + Industrial Hemp.


 "If we could see the miracle of A SINGLE FLOWER CLEARLY, our whole life would change." (Buddha) 

A 

 

PANACEA

  is "a solution or remedy for all difficulties or diseases."

Nature offers a very real, easy-to-grow panacea. It's a
hurt-nothing-bless-everything plant 
that the United States federal government continues to defame and outlaw. The prohibition of this crop RETARDS growth, progress and healing in every single household, without exception. Yes, yours, too. Even if you adamantly oppose anyone consuming cannabis for any reason, I will show you how YOUR LIFE is directly and negatively impacted by the treacherous Scheduling of cannabis.

I believe the unleashed Cannabis Sativa plant is the single quickest way to do the greatest amount of good in the WORLD... in our under-nourished BODIES... in our indoctrinated MINDS... in our eroding, contaminated, demineralized SOIL... in our engorged, racist, privatized PRISONS... in our dominant POWER STRUCTURES... in you... and in me.


Few people FULLY -- in a holistic, all-dots-connected kind of way -- grasp THE MAGNITUDE with which cannabis + industrial hemp
could be making everything better right now.
Our relationship with this helpful, healing plant has been badly damaged. Our thoughts and ideas about cannabis have undergone attacks of deceit, misinformation, ignorance and misuse (e.g. using it to avoid life, rather than face life, with courage and clarity.)
The right use of cannabis does not create cowards, but brave-hearts! For every couch-locked mooch, there are three times as many productive innovators. I am one. But most of us still hide on the down-low BECAUSE OUR BEHAVIOR HAS BEEN CRIMINALIZED... and because we are PRODUCTIVE members of society, it's risky to 'out' ourselves. So, as long as prohibition and illegality exist, we will have inaccurate findings, because we have inaccurate showings.
Sometimes, the most disgusting events in human history -- like SLAVERY -- are completely legal.... while a beneficial plant that offers undeniable medical, ecological and commercial gain is outlawed. Lawmakers are often outrageously wrong. Such immoral, unethical laws MUST be reformed, if society is to truly enjoy health and happiness.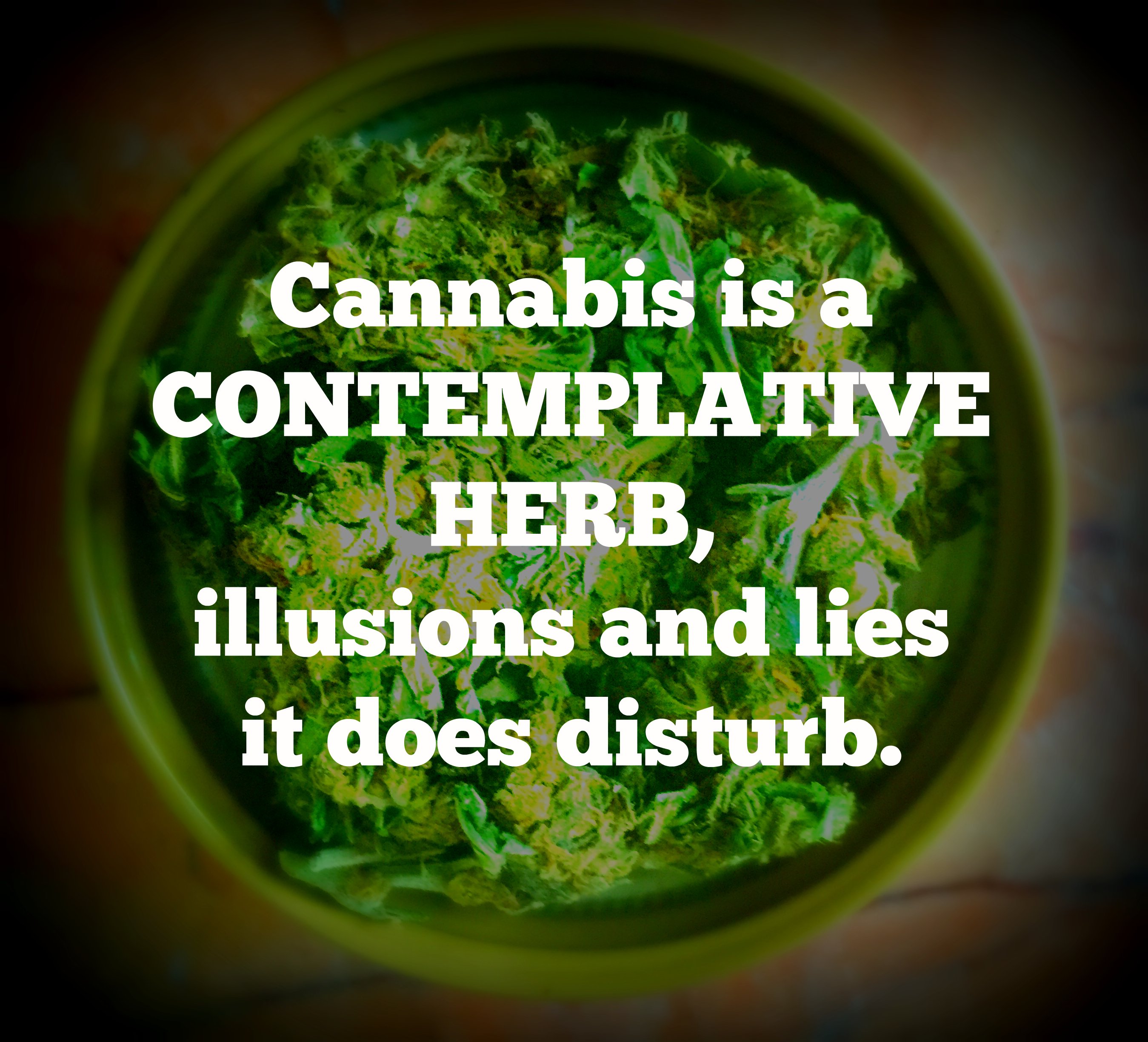 There's A LOT that needs to be set right, through deeper discovery and conversation. The five topics I research + raise awareness about include:
(1) Citizen Science To Push

 

 CANNABINOID 
And Terpenoid Research Forward 
(There Are More Than 100 Cannabinoids, And Only A Few Have Received Attention Beyond Surface-Level.)


(2)
 COMMERCIAL 
Uses + Applications Of Industrial Hemp
(There Are, Literally, Thousands Of Needs That Industrial Hemp Fills. And With Cleaner + More Durable Results.)


(3)
 CONSCIOUSNESS, COGNITIVE 
Liberty/Activism + The Sanctity of One's Mind 
(Busting Through Taboos, Illusions + Willing Enslavement, Understanding Cannabis As A Revealer, Liberator, Deprogrammer + Restorer To Our Natural, Original Condition)


(4)
 CRIMINALIZING + CONVICTION 
Rates
(Which Are 4 Times Higher for People of Color, Even Though Reported Use Is The Same Among Races. This Form Of Institutionalized Racism Has Been Called "
The New Jim Crow
.")


(5)
 CONSERVATION 
(Ecological Gains + Benefits, Such As Deforestation, Soil Restoration + Detoxification, Discontinued Use of Poison for Pests, And On And On.)


Bob Marley made it popular, but Marcus Garvey was the first, in 1937, to say:


"We are going to emancipate ourselves from mental slavery because whilst others might free the body, none but ourselves can free the mind. Mind is your only ruler, sovereign. The man who is not able to develop and use his mind is bound to be the slave of the other man who uses his mind."