Mike Busch
is creating audiobooks of his four best-selling books for aircraft owners.
Select a membership level
Sponsor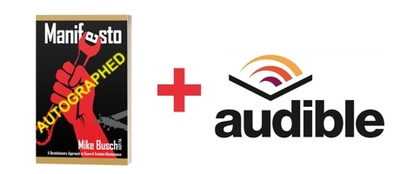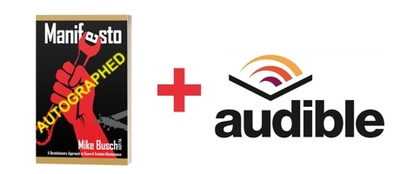 Receive a free autographed copy of my book Manifesto (normally $14.95 + tax and shipping) PLUS my IOU for a free copy of the audiobook version of Manifesto as soon as it becomes available..
Patron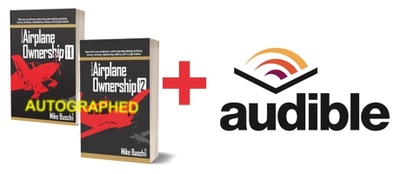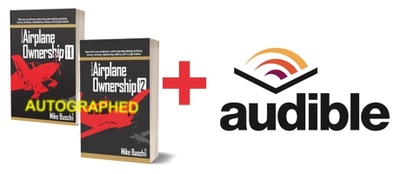 Receive free autographed copies of my newest books Mike Busch on Aircraft Ownership, Vol. 1 & 2 (normally $59.90 + tax and shipping) PLUS my IOU for a free copy of both Ownership audiobooks as soon as they become available.
Benefactor
Limited (188 of 200 remaining)
LIMITED TO 200. Receive free autographed copies of ALL FOUR of my best-selling books for aircraft owners -- Manifesto, Engines, and Ownership Vol. 1&2 -- normally costing more than $100 + tax and shipping PLUS my IOU for a free copy of all four books in audiobook form as soon as they become available.
About Mike Busch
During the past five years, generous financial support from my Patreon patrons has made it possible for me to create the four books in which I share everything I've learned about aircraft maintenance and ownership during my five decades as an aircraft owner, pilot, flight instructor and A&P/IA mechanic. They are by far the most comprehensive books on the subject that have ever been assembled, and deserve a prominent position in every aircraft owner's library. If you're an aircraft owner (or aspiring to become one), these four books are crammed with invaluable knowledge and wisdom that you simply must know.

Nowadays, many people prefer to listen to books rather than read them. I know because I'm one of those people. I'm a voracious audiobook listener who typically consumes three books a month, and always has one or two on my iPhone. More and more people are moving from reading to listening. And like me, many especially appreciate audiobooks that are spoken by the author rather than a hired reader..

So I've decided to turn my four books into read-by-the-author audiobooks, and I need your help to do it. This is a truly enormous undertaking. The four books comprise more than 1,600 pages and 160 chapters of material. Between recording, editing and producing, it takes about an hour of work to produce each minute of audiobook. Realistically, this is a two- to three-year effort.

With a little financial support from the thousands of GA owners and pilots who appreciate my writing, outreach and advocacy on behalf of the GA community, I will be able to dedicate the time necessary to complete this task. So, if you love aviation and audiobooks, please consider becoming a Patreon patron and supporting this ambitious project.

As an incentive for you to support my work, I'm offering some pretty cool rewards for fans of my writing who elect to become patrons. Check them out.

Will you help?
$1,274.34 of $2,000
per month
If and when my Patreon funding reaches $2,000 per month, I will be able to hire a professional audio editor to handle the editing while I do the recording, greatly speeding up the process of getting these audiobooks completed and released.

1 of 2
By becoming a patron, you'll instantly unlock access to 29 exclusive posts
By becoming a patron, you'll instantly unlock access to 29 exclusive posts
Recent posts by Mike Busch
How it works
Get started in 2 minutes