Scary Pockets
is creating funk!
Select a membership level
Patron-only Posts
Join the Patreon community, support Scary Pockets, and get our band paid! You'll get access to patron-only posts and any behind the scenes content we publish exclusively for patrons.
Vote on Songs + Downloads + LIVE-STREAM
You get to vote on which song we do next. This is by far the MOST requested benefit from fans -- the ability to choose which songs we record. So here you go! Once per month we'll send out a poll to all $5+ patrons, with some options for songs. Vote for whichever ones you want, and we'll publish the results to patrons only -- so you'll also get to see our roadmap of upcoming songs. How awesome is that?!
NEW! Watch us live, in the studio coming up with arrangements and recording new songs!
Plus! Downloads of all our songs. BOOM.
And you get everything listed above as well.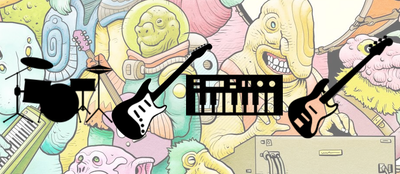 Learn our Arrangements
Download the individual tracks for each of our songs, so you can essentially listen to JUST the bass part, JUST the guitar part, or just the instrumental track without the vocals. Get access to our full backlog of individual tracks AND all future tracks. So no matter which song is your favorite, you can download the part and learn how to play it with your band, your friends, or your dog.
And you get everything listed above as well!
About Scary Pockets
We are PUMPED about 2018! We've got so much in the works -- a new mixing engineer, a videographer and editor, a new lighting rig for the studio, and now... YOU!
2017 was beyond our wildest dreams!!!
In our first year as a band, we got:
9.5 million views
189,000 likes
123,000 shares
5000 dislikes (woot!)
31 videos with over 100k views
1 video that broke a million views
When we started Scary Pockets, we had no idea that it would get this much momentum in our first year, but it's really growing into something special, and even more exciting, there's a real community forming around the project.
The plan is to level up the music and videos in 2018.
We want to add crew, production quality, and variety to the whole project. We're starting with a mixing engineer and a producer, but we'll probably work with more musicians, start experimenting with original songs, and adding new elements as the year progresses. If 2017 was the year that Scary Pockets found its footing, then 2018 is the year we're gonna start flying!
Here's how Scary Pockets started: 
Hi, my name is Jack! You might know me as the CEO of Patreon or the bald and ugly half of the band, Pomplamoose:
Scary Pockets is me and my buddy, Ryan Lerman:
Ryan and I have been friends since high school:
Ryan and I were randomly paired up as freshman-senior buddies in high school, but when Ryan showed me his ProTools LE rig and the recordings he was making as a 16-yr old singer songwriter, I flipped out! We started collaborating immediately, writing and recording songs together. that was in 2002. 
Ryan ended up settling in LA, getting into the music scene, and playing with the world's biggest acts. He was John Legend's musical director for his All of Me tour, he played bass in Ben Folds' band for years, and he's been Michael Buble's guitarist for the last couple of tours as well. Along the way, Ryan has met the greatest musicians on the planet and built an amazing community of friends and bandmates in LA.
Meanwhile in San Francisco, I started a band called Pomplamoose with my wife:
And in 2013, I started a company called Patreon with my cofounder Sam Yam. I'm now a full-time CEO, which is wild, really hard, really fun, and a totally different path than I was expecting for myself! Patreon is over a hundred people now, and I miss being a full time musician, but I also love what Patreon is doing, and I love that we're helping creators make a living. It gets me out of bed every morning, and I'm super grateful to be contributing to something as meaningful as Patreon. It's the most rewarding work of my life!
OK. HERE'S WHERE THE MAGIC HAPPENED. 
About a year ago, after a few years of being in full time Patreon mode, Ryan and I started brainstorming about ways we could make music together, despite our geographical separation and my focus on Patreon. Then we hit an idea: what if I flew down to LA once per month, spent a single day in the studio with Ryan and a few musician buddies, and recorded four songs. We wouldn't do any prep work -- no preconceived arrangements, no pre-production, no frills. We would just walk into the studio and not even know what key we were going to record in. Sometimes we wouldn't even have a song picked out. Let's just spend a single day together in the studio, arrange and record four songs together, have a great time playing funk with our friends, and video the whole thing. And that was it!!  We decided to give it a shot, and we had our first session in February of 2017. Scary Pockets was off the ground.
The music was full of imperfections -- wrong notes, some gritty buzz and hissing from old instruments, a ton of drum bleed in the vocal mics -- but we were having a blast together, and it was a dream come true to be playing music together again. The videos were getting a couple thousand views, and we were happy campers.
Then, some magic happened: we released Creep, our Radiohead cover with India Carney singing lead, and everything changed. The video got over 10M views on Facebook within a few days, and now it has over a million views on YouTube:
That set Scary Pockets on a new trajectory, and we suddenly started reaching a huge community:
Now, twelve months after our first session, Scary Pockets has released over 50 videos that have been watched over 10.4 million times on YouTube, for over 20 million minutes! Our first year as a band has been INSANE! The community and reception has been a dream.
So now, it's time for chapter two. We're launching a Patreon, hiring a team, leveling up our music and videos, and taking the next step with Scary Pockets.
We're using Patreon for what it does best: building a membership community with exclusive benefits for patrons! When we surveyed the community, the most requested patron-only benefit, by far, was to allow patrons to vote on which song we record next:
So guess what! $5 patrons get to vote on which song we do next. WOOT! And $10 patrons get to learn our arrangements by downloading each individual instrument, isolated from the rest of the mix.
So if you've made it this far, THANK YOU! If you want to become a patron and help Scary Pockets level up in 2018, we would love to have you with us for the ride! Thanks for watching, thanks for listening, and thanks for being a fan. You rock! Actually -- scratch that. You funk. WOOT!
Recent posts by Scary Pockets