SCHMOES KNOW PRESENTS THE MOVIE TRIVIA SCHMOEDOWN
is creating not just a movie trivia show; it's a sport!
Select a membership level
Schmoedown BASIC
Early Access to 1 match a week, 2 days before the Public
Full Access to the Patrons Only Discord Server
Access to Patreon Exclusive Exhibition Matches
Our thanks for supporting the show!
Includes Discord benefits
Schmoedown PLUS
Everything included in Schmoedown BASIC +
Early Access to 1 match a week 3 days before the Public
Monthly Player Commentary on Past Schmoedown Matches (coming in March 2020)
Early Access to Patreon Exclusive Exhibition Matches 1 week before Schmoedown BASIC Subscribers
Includes Discord benefits
Schmoedown ALL ACCESS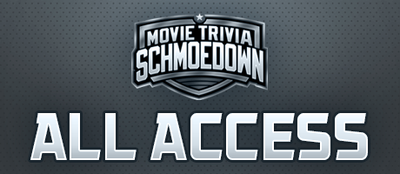 Everything included in Schmoedown PLUS +
Early Access to Patreon Exclusive Exhibition Matches 2 weeks before Patrons BASIC & PLUS Subscribers
Access to a minimum of one monthly Pay-Per-View LIVESTREAM at no additional cost
Includes Discord benefits
About
Welcome to the Movie Trivia Schmoedown Patreon page. My name is Kristian Harloff and I am the Chairman of the Movie Trivia Schmoedown. In case you are wondering what the Schmoedown is, it is a trivia competition started by myself and my broadcasting partner Mark Ellis.
We started a brand together called Schmoes Know in 2008. It began with movie reviews and ultimately transitioned into a fun podcast simply named the Schmoes Know Movies Show. It was often referred to as the "Howard Stern show for movies." There were a lot of fun bits that started on that show but the one that became a monster on it's own is the Movie Trivia Schmoedown.
In 2014, It began as our answer for March Madness, 16 players, 15 weeks, one winner. We pulled it off, it was popular so we followed it up with teams the following year with a team tournament. It was hands down the most popular thing we had ever done. The fans wanted more and we were determined to figure out a way to bring them more.
In 2016, we were both working for Collider Video, discussing movie news, talking Star Wars, having fun... I pitched the idea of taking the Schmoedown and turning it into a full fledged weekly trivia league. We tried it and our first match was John Campea against Dan Murrell: 
https://www.youtube.com/watch?v=CwZeV76LBwU
It was a hit, the league took off and before we knew it we had created a mix of Jeopardy meets UFC meets WWE. We had intense trivia games but we also created a narrative. The players took on personas, factions were formed, champions were born. It is growing every day!!
Here is where we need you guys. Schmoes Know are paying for the show, the production, the editors, all of it. Collider is providing the distribution, the studio, the crew to film it etc... This season though, the editors, the writers, the competitors, the food for the crew, belts, props, that's all us. 
We have been able to get our amazing writer Chris Skalisky some help through this patreon so thank you!! We now have two writers but we need MORE!! We are trying to get to a place that we can have a team of writers, ideally a team of 5-10 writers. We need someone to solely vet questions and we are trying to get our two writers more help for the crazy and long season that is the Schmoedown.
My college friend Aaron Wilhelm has been the master editor behind the Schmoedown. Because of the Schmoedown, we were able to bring in an editor to help assist Aaron with the promos and other needs he may have during the matches. Last year we were able to bring in RB3 and this year we are adding Eric aka Nerd Chronic. The goal is to be able to hire three to five full time editors. At the moment, only Aaron is full time.
If you have been following the Schmoedown long enough, you should know the name Bryan Ward.
http://bryaneward.com/2017/10/15/ultimate-schmoedo...
Bryan is a master artist/graphic designer and is responsible for some incredible Schmoedown art but has also created the league graphics that you saw in the Spectacular and will see in the upcoming season.  We want Bryan to be around for a very long time and rewarded for his passionate and hard work and again, this is where your subscriptions come in to play.
We want to create the Android version of the app, we need enough funds in order to hire the right developer to make that happen. We want to get the word out about the show and in order to do that, we need marketing, we need a publicist, we need you. 
We have three amazing championship belts, the Singles and two team belts.
Our Innergeekdom belt and Star Wars belts need serious updates. This is where we need your subscription! The competitors have been working hard, taking time out of their schedules to put it all on the line in front of all of you. They should be rewarded. I want to compensate the competitors this season. This is where your subscription helps!
LIVE EVENTS will be huge this year. Starting in March, we will be putting on all of our own live events. The plan is to go to NY, Chicago, Orlando, Atlanta, San Diego, LA and more. Each subscription we get helps fund each trip. We can fly more competitors to the venues, rent out the venues, put the crew up and produce more content for you.
LIVE STREAMING will be a huge part of Season 6. We will be renting more equipment and taking huge risks trying to make sure that we can Live stream to you all.
Honestly, there is so much more we can all do together. Tours, games, merchandise, more shows, a full network....The sky is the limit. I was recently asked in a Q +A, my favorite thing about the Schmoedown and I said it then and I will say it now, the fan investment. I have been humbled by the way you have all embraced the Schmoedown. You are as responsible as we are for growing this thing with us. When you join this Patreon here today, you will be helping once again grow this to be the ultimate sport for movie nerds!
Thank you again and LETS GET READY TO SCHMOEDOWN!!!!!
Harloff
Here is the bottom line, this show is a full scale production. We don't have sponsors, this Patreon is how the show survives. We are so grateful for the 2,400 patrons we have at the moment. You are THE reason the show is still on the air. 

I want to always be transparent with you all. Right now with the 2,400 plus that we have helping build the show, we can pay for the following:
Someone to run our Patreon
Crew 
2 Editors
2 Writers
Food for crew
Props, set needs
Paying competitors for putting it all on the line.
The funding that you are all so generous to donate goes fast with a production of this size.

I believe at 5,000 we will be able to rent a space for our own, get some new equipment, bring in more writers and take the show on the road, hire more crew and really up the production of the show and help it grow. I think the way to look at it is this.... We air matches on Tuesday and Friday every week.... On a bad day, at its lowest a match will do 30,000 views. If you are one of those 30,000 who watch every week, we basically are saying for 1.00 a month, roughly 17 cents a match, you will help us grow.

I believe 5,000 patrons will put us in a place where we can take a next level jump. So at 5,000 patrons, the goal will be a MASSIVE jump, whether it is our own studio, new cameras, new crew, another editor, more set design or more live shows a month. Something will happen. Thank you!
1 of 1
Become a patron to
Unlock 567 exclusive posts
Connect via private message
Recent posts by SCHMOES KNOW PRESENTS THE MOVIE TRIVIA SCHMOEDOWN
How it works
Get started in 2 minutes