Since uploading my original Secrets in Plain Sight (SIPS) series to youtube in 2010, it has had over 10 million views across many channels. A heartfelt shoutout to everyone for watching!
Volume 1 is jam-packed with information and many fans report having watched it multiple times to better assimilate its content, which is all the more amazing because it lasts 3 hours 43 minutes. 
Many viewers say
that Volume 1 literally altered their worldview and changed their lives for the better. If you haven't seen Volume 1 yet, watch it free at
www.secretsinplainsight.com
.
I went on to create a Volume 2 feature film, and also wrote and self-published 7 books on SIPS themes, including a 700-page Anthology of my blog posts and several beautifully illustrated full-color books.
All this creative output has literally taken me thousands of hours of concerted effort. I write, narrate and produce everything on my own — as a labor of love. I want to continue to share my research and discoveries and unique perspective on the nature of reality. Creating the SIPS universe has introduced me to thousands of fans and enriched my life in many significant ways.
I would love to continue to research and create compelling SIPS content in the years ahead and if you would like to help make that happen, I invite you to support me.
If watching my films and/or reading my books has enriched your life, please close the energetic loop and pledge whatever feels right.
Be sure to track the rewards, including exclusive polls and forums. You can always change or cancel your pledge at any time.
Patron-only Polls
Patron-only polls
are a way to gauge opinions on questions posed the community and to take the temperature of new creative directions Scott considers from time to time. Do you believe that coincidence, conspiracy, consciousness, providence, or some other theory has the most efficacy in explaining how and why secrets are hidden so profusely in plain sight? If you aren't sure what I'm talking about, make some popcorn, kick back and watch Volume 1!
Patron-only Forums
My hope for the
patron-only forums
is to develop a special place where fans of my work can discuss what it means to them, read and ask fascinating questions about the world and our place in it that open up, explore new research people have been finding locally—and respectfully discuss what it all means—both with me and perhaps most significantly
with other patrons.
Let's build a vibrant community of shared-interest together!
Thank you for your support, which will give me the freedom to research, develop and produce additional thought-provoking content in the 'Secrets in Plain Sight' universe.
-Scott Onstott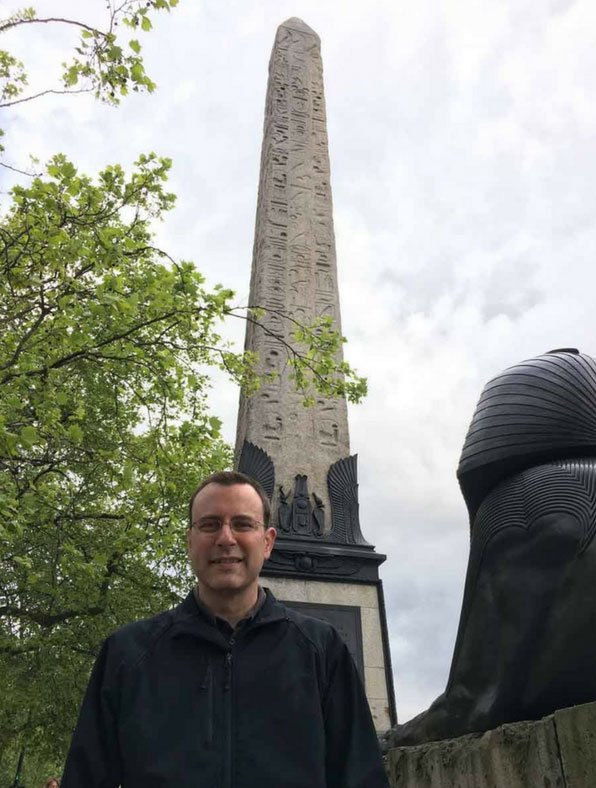 Scott standing at the base of at Cleopatra's Needle London, some 3333 km from where it stood in Alexandria, Egypt for almost two millennia.