Semi Co-op
is creating webcomics about board games
Select a membership level
Only for cool people
You're cool, don't worry. We've gone around the internet to ask who was cool and your name kept coming up.

Not so secret Semi Co-op fan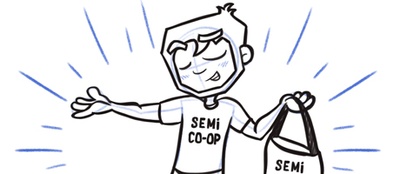 Wow, three dollars, that's awesome! Thank you so much!
As a not so secret Semi Co-op fan, your name will shine on our website in the list of Semi Co-op producers!

Pen pals
Five dollars, thanks! We're so happy that we don't know what to say yet, but we will!
With this level, your name will shine on our website in the list of Semi Co-op producers and you'll also receive a Semi Co-op Christmas card, signed with a personal message from us!

About
Hi! We're Rachel and Heinze and together we make Semi Co-op, a webcomic about board games! Every Monday, we upload a new comic. We've been running it for over three years and in that period we've created over 250 different comics about nearly a hundred different games!
We are also active on Twitter, Facebook, Instagram, sometimes publish animations on Youtube, and now we are on Patreon!
The reason we're launching a Patreon is that making a comic takes at least a full day. Brainstorming, sketching, writing a blog post and the social media posts take time. While we have no intention of stopping with Semi Co-op anytime soon, we would like to be able to turn some of our working hours into Semi Co-op hours in a financially responsible way. Especially Rachel, who does all of the art, is spending a lot of her weekends on creating comics, preventing her from participating in fun things like game days!
So that's our first goal: we're hoping that you, the readers will come together and donate enough money so that Rachel can spend one weekday on creating new comics! Of course, we have additional plans, which you can find in the goals overview, to cover the world in Semi Co-op related media. But we'll get excited about that once we get there!

Wait!? There isn't a goal for more weekly comics?!

That's right! Right now we are doing one comic a week. Besides our weekly comics on Monday, we also offer
sponsored comics
which can be commissioned by publishers and game designers. Since November 2018, CoolStuffInc has also commissioned us to make smaller black and white comics for their newsletters. Right now, we don't want to do more than two comics a week, so the goal for our Patreon is to give ourselves an additional means to create comics and experiment with different media.
What about a super secret Slack channel?
Because it is important for us that everybody has access to all Semi Co-op material, we won't offer any exclusive content. We feel that your financial position shouldn't influence what parts of Semi Co-op you can enjoy. There will be no exclusive comics, no secret Discord or Slack, nor any backer-only access to PSD-files. At the same time, we want you to feel special for supporting us, so let's get excited about the cool things you unlock when backing us!
Every season there's a Gift Festival!
At the start of every season, we'll be giving away some Semi Co-op things! Everybody has an equal chance of winning one the prices we're giving away. Entering the raffle is free for everybody including non-patrons, you can drop us a message at
patreon[at]semicoop[dot]com
if you wish to participate. We will give away things, like Semi Co-op merchandise available at
https://semicoop.threadless.com/
, cameos in comics, hand-drawn sketches and more! We'll share more information about the prizes we're giving away in a blog post here on Patreon.
$228.03 of $650
per month
This is our first big milestone. At this amount of donations by our fantastic readers, Rachel can change one of her workdays into a Semi Co-op day! She'll be able to enjoy weekends and play games, which will result in better comics about different games, it's a win-win!
3 of 4
By becoming a patron, you'll instantly unlock access to 6 exclusive posts
By becoming a patron, you'll instantly unlock access to 6 exclusive posts
Recent posts by Semi Co-op