SENIIKU Creator Market
is creating Online Creative Market for Budding Creators in Asia
Select a membership level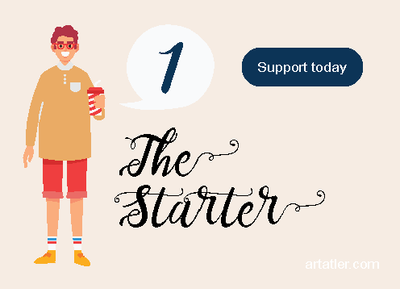 The Starter
Name in The Credits – we list your name in our hall of thank you page.
Access to Patron Content Only – unlock post updates about what we are doing.
Twitter Follow & Shout Out - we follow twitter account of yours and tweet you a thank you shout out.
The Expert
Limited (1000 of 1000 remaining)
All of The Starter perks
A Singapore postcard - a personalised thank you card with local design will be mailed to address of your choice. (we are based in Singapore)
Creative e-poster - downloadable creative poster with our selected partner designer, good for decoration or as activity sheet, to be sent to your email.
The Legend
Limited (500 of 500 remaining)
All of the lower tier perks
Logo showcase - we link your logo or business on our thank you page
5% Coupon code  - exclusive discount code for any purchase from our shop.
Poster design - we will send you A2 poster design, mailed in a protective tube. The design will be picked selectively from one of our partner designers
Direct inbox - I will provide you with my skype ID for you to send me your personal message or question.
About SENIIKU Creator Market
Help us make the art marketplace creators in Asia need
We feel it is important to give voice to our emerging, talented creators in Asia (as it makes more sense to do it in Asia as we are based in Asia too),
especially those who are not privileged to have access to good art community or sales platform, including those who are struggling to make ends meet by doing art as their passion and only source of earning.
Your support is critical for the future of SENIIKU Market. And to help us, you can start by becoming a patron. 
Your monetary support will assist us in paying our monthly website maintenance, technical support, freelancers and part-timers, online tools, as well as our efforts to develop the business.
(Currently, as per July 2019 - We are still bootstrapping - funding from our own pocket). 
As our patron, you will be a special member who partakes in our efforts to connect and support emerging artists, art communities and local art projects through our website, media, gallery and platform.
#AnyDollarCounts
.
What is SENIIKU Creator Market?
What we offer is not simply a creative e-commerce platform. We want to become a digital multi-platform that provides a variety of means for creators to make earnings from art, design, and lifestyle experience — from end to end.
Founded in May 2018, we target independent creators and creative small businesses such as jewellers, craftsmen, fashionista, illustrators and painters to set up a page and sell their creations.
We give free feature to creators, and we've so far received 100% positive feedback
We created Instagram account 
@beinghuman.asia
because we believe every creator has their own human story.
Recent news coverage
We do hope that with more and more coverage about us, we can share and invite more budding creators to join hands, and able to earn a living.
Read more about our vision in this article published in June 2019, from e27 - 
https://e27.co/this-online-marketplace-aims-to-quash-the-stigma-that-art-is-an-underpaid-job-20190730/

"Existing creative marketplaces are focused on providing a platform for people to sell their products, which is useful, but is insufficient for those making a living through art," says Martin Lim, Founder of SENIIKU Market
We need your support. Without you, we won't be able to achieve our vision.
Sincerely,
Martin Lim, Founder of SENIIKU Market
We can finally give a fixed desk at a co-working space for our freelancer / part timers. Also we have starting budget to start our online marketing outreach for artists / art galleries. Thank you!
1 of 5
Recent posts by SENIIKU Creator Market