Marlene Seven Bremner
is creating Hermetic Arts: Oil Paintings, Philosophy, Poetry, and Music
Select a membership level
One Mind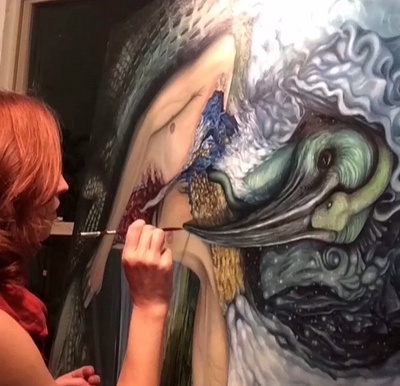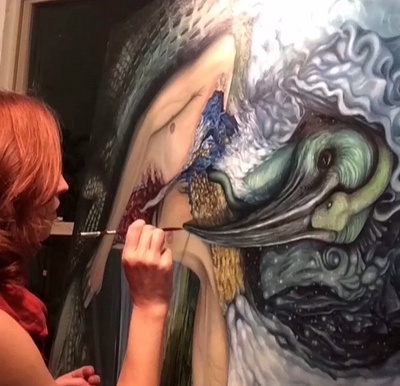 See beneath the many layers involved in oil painting, and into the life of a contemporary painter. I'll be posting a lot about the different symbols that I am incorporating into the paintings, going deep. 
In addition to work-in-progress posts about my art, I'll also be posting original poetry, prose, and philosophy. I'll share my reflections on our human condition, nature, and the state of the world, with photos and videos, ideas from the books I am working on, and occasional poetry readings. 
Artistic Vision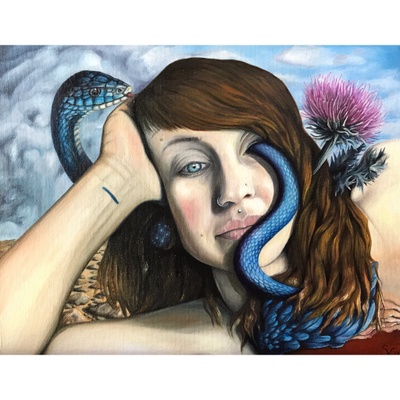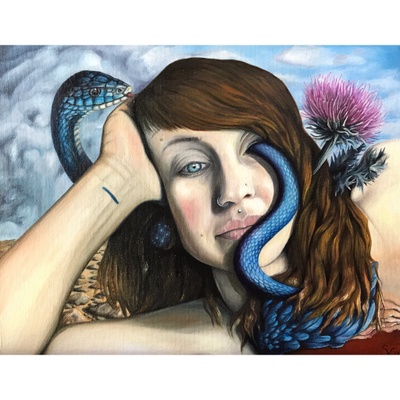 Every time I finish a painting I will create a post (visible to those at the $3 tier and above) with insights into my process, including discussion of the symbols and sometimes a special meditation or lesson to accompany the image. This tier also includes early access to new videos on energy medicine, alchemy, and magick. 
Prima Materia
- Receive a 10% discount on all print orders
- Upon sign-up I will send you a special code to use as often as you like in my online store
- Discount valid as long as you are a Patron 
About Marlene Seven Bremner
Welcome!
My name is Seven and I'm a full-time painter, writer, and musician living in the desert of New Mexico. I've been painting professionally since 2008 and exhibiting my visionary and
surreal oil paintings
in Olympia, Seattle, and along the West Coast. I recently relocated to the Southwest to live on a rustic ranch near the town of Abiquiu, where Georgia O'Keeffe lived and painted for the last 40 years of her life. With nothing but wild desert around me and an abundance of time, I surrender completely to my work, trusting that I will be provided for if I am diligent.
As a patron you will have exclusive access to my creator blog, and your contribution is directly fueling the creation of new paintings, the completion of my first book(s), as well as poetry and music. I greatly appreciate the opportunity to continue my life's work, knowing that I am held by my community of fellow seekers of truth, a community that understands what it takes for artists to keep creating. Thank you!
Oil Painting and The Great Work
I taught myself how to oil paint during one of the most challenging times of my life, a dark night of the soul when I was debilitated by the resurfacing of childhood trauma. Plagued by panic, anxiety, and self-doubt, I was desperate to feel whole again. None of the tools I had in my tool-belt seemed to help, but when I picked up a paint brush, and the book, 
Psychology and Alchemy
, by C. G. Jung, everything changed.
The progression of my work represents my own process of alchemical transmutation and how I healed myself by embarking on a psycho-spiritual quest. I dug into the cavern of the mines, extracted the raw metals, and set to work to purify and transmute them through my creative process. It is an ever unfolding process of awakening, and each painting is a multi-faceted visual diagram reflecting different stages of the Great Work.
My First Book(s)
From a young age I have been drawn to studying the occult and metaphysical sciences. This path eventually led me to Hermetic philosophy, and subsequently alchemy. This discovery coincided with the time that I was teaching myself how to oil paint, and a fusion of alchemy, art, and healing took place within me. After over ten years of refining my creative process and understanding it through the lens of the Hermetic Art, I began writing a book. It has been in process for roughly two years as I slowly compile resources and chip away at the writing between my painting sessions.
This year, 2020, I will be focusing on its completion. The book is tentatively entitled
Artifex Arcanum: A Philosophical Treatise on the Alchymical Opus for Creative Liberation
. It is a grand synthesis of my many years of study and personal experience with hermetic and occult philosophies, combined with my understanding of human esoteric anatomy and the creative process, to provide a comprehensive outline for liberating the authentic creator within.
The other book I am currently writing is a novel, a sort of supplemental text to the above mentioned philosophical treatise, and of this I will say no more!
Poetry
Sometimes I write spontaneous poetry on a manual vintage typewriter. I was introduced to it by a friend, and we are a small collective of poets under the name of
the Poem Store
. People are invited to provide a topic of their choice for a poem, which I type up and give them for donations. Our tag is "Your Topic, Your Price," so it's up to the customer how much they want to donate.
I love connecting with people in this creative way, and seek to empower, inspire, and uplift through the spell of words. While I used to regularly set up at markets with my own Poem Store, I now primarily take 
online poem requests
, which I type on my Portable Remington and send via snail mail. I am also available for the occasional event, such as a wedding, party, or fundraiser. 
Your Patronage
I don't believe that artists should be starving and I'm so grateful for Patreon as a platform for the age-old tradition of Patronage to be upheld. If you're looking to support the arts this year, consider becoming a Patron. Even $1 a month makes a difference.
As a patron, you will be making a big difference in reducing the financial stress that limits me in my creative work. While I live a very frugal, humble life in the desert with no frills or thrills, I do need money to create! You'll be providing the capital that is so vital to turning my work into a viable business that supports me in a healthy way.
By becoming a patron you will make it easier to manage all of the costs involved with being an independent creator, including the basics like food and gas, as well as the business expenses: website costs, marketing & advertising, typewriter repairs, travel expenses and car repairs, oil painting supplies, photography/scanning to digitize/archive work (which I am sadly behind on), making and packaging prints and other art products, distribution, and promotion.
My sincerest thanks to you for taking the time to read this, and for your interest in my work. I truly could not survive as an artist without my fans and supporters, who are so good to me. I am eternally grateful and love you all.
OPEN CHANNEL! Exclusive for Patrons. 
When I've reached 50 patrons I will begin hosting an open channel session once a month in which you can connect with me via livestream. Ask me about my work or about anything you like! 

1 of 1
Become a patron to
Unlock 104 exclusive posts
Get discounts to an online store
Connect via private message
Recent posts by Marlene Seven Bremner
How it works
Get started in 2 minutes