Sevie
is creating hentai drawings ( • Y • )
Select a membership level
TIER 1 - Oppai Fan 💛
THANK YOU SO MUCH!
POLLS: Vote in some polls for your favorite characters and other stuff
DRAWINGS: Get 1-2 versions of all drawings of the current month (5100px x 3600px). Can be in cute outfits, sexy outfits or topless.
Includes Discord benefits
TIER 2 - Oppai Lover 🧡
ALL REWARDS OF TIER 1
WORK IN PROGRESS: I'll post 1-3 WIP images in the activity feed here on Patreon!
DRAWINGS+: Get all versions of all drawings of the current month in high res (5100px x 3600px). Can be in cute outfits, sexy outfits, topless, nude, hentai or special kinks or fetishes!
WALLPAPERS: Get a bunch of them for your PC (2560px x 1440px)
Includes Discord benefits
TIER 3 - Oppai Historian ❤️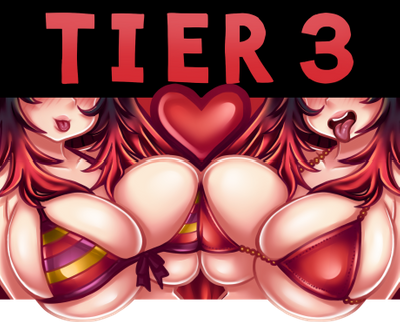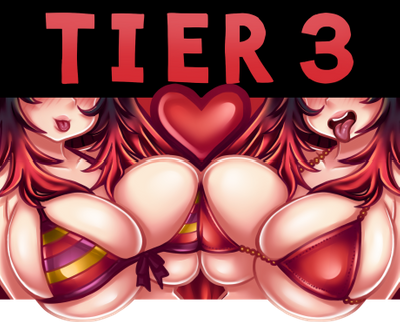 ALL REWARDS OF TIER 1 & 2
EXTRA SET: Choose one previous month's set of drawings from the past 2-3 years every month, including all drawings and versions of the chosen month.
SUGGESTION: Every month you can suggest one character I should draw! All suggestions will be put into a poll, all patrons will be able to vote and I'll draw 1-2 of the popular characters!
Includes Discord benefits
About Sevie
Hi! I'm
Sevie
, a
digital artist
and fan of
Anime
,
Manga
,
Hentai
&
Games
! I love drawing cute and sexy girls all the time.
I do a bunch of drawing with extra versions every month! To get an idea about my drawings and me, you can check out my social media and stuff:
✧✧✧✧✧✧✧✧✧✧✧SPECIAL THEME IN FEBRUARY✧✧✧✧✧✧✧✧✧✧✧
💖BE MY VALENTINE💖
😘 Romance, Love & Lewdness 😘
Get ready for cute waifus with just aprons, in bride lingerie, covered in chocolate and more!


✧✧✧✧✧✧✧✧✧✧✧✧✧✧✧✧✧✧✧✧✧✧✧✧✧

✧✧✧✧✧✧✧✧✧✧✧


✧✧✧✧✧✧✧✧✧✧✧SPECIAL THEME IN MARCH✧✧✧✧✧✧✧✧✧✧✧
🐰🌸 BUNNIES AND CHERRY BLOSSOMS 🌸🐰
Please look forward to a month full of
cute and sexy bunny girls and cherry blossom themed drawings!
✧✧✧✧✧✧✧✧✧✧✧✧✧✧✧✧✧✧✧✧✧✧✧✧✧
✧✧✧✧✧✧✧✧✧✧✧
Now let's shift attention to
Patreon
! Patreon is a
Crowdfunding
service, which provides the opportunity to support artists you like financially and also on a regular basis. It's like kickstarter, but reguarly. Well... maybe it's more like a twitch subscription, but with more extras!
What you need to become a patron:
– a Patreon account
– a Paypal account or a credit card
– a few bucks to spare
Patrons help me living the dream of drawing boobies all day for a living! They also get access to my illustrations of the current month, including exclusive versions, high resolution files, work in progress posts, wallpaper versions, etc
!ヽ(๑♡ᴗ♡๑ )ゝ
Please read the Tier descriptions and take a look at these examples: click!
If you have any questions, check my following mini FAQ. If you still have questions, feel free to ask me on twitter or check the "
Patreon Help Center
".
FAQ:
How and when will I get charged?

Patreon usually charges you at the beginning of a month. If you join somewhere in the middle or end of a month, Patreon will charge you immediately and (if you stay as a supporter) then at the beginning of the upcoming months.
How and when will I get my rewards?
Patreon has an
Activity-Feed
(similar to a Twitter/Facebook-Timeline or a Blog). I will post some things exclusive for Patrons there or I will share rewards via the
messaging
system regularly. When you sign up, you will get a message from me as soon as possible with more infos and some links.
Is it possible to pledge only a single time?
Just pledge once and then quit again, so there will be only one payment for the current month, not for the next ones. That's no problem! : )
How can I get past rewards?
You can choose one of the previous month's set of drawings if you pledge on Tier 3 (10$) every month and catch up on older content! 
Is it possible to support you in other ways?

There is the possibility to buy stuff in my 
Redbubble shop
. I get around 20% on every sale from Redbubble, so take this way, if you want some cool shirts, posters or other stuff.
Another option, if you have some bucks to spare and you want to make me a small gift, check my 
Amazon Wishlist
: ) There are mainly Manga listed, so you can order one and Amazon should do the rest!
Awesome! Another great milestone! (۶•̀ᴗ•́)۶✧
This will help me a lot to work my very best for you, dear patrons! Living the dream! Drawings boobies all day! And eating sushi every day! Fish is expensive, urghs... But I love sushi!

As a token of gratitude, I'll try to do some kind of special! Not sure yet what that special will be, but I'm sure it will just be as awesome as you!


8 of 8
Become a patron to
Unlock 1,410 exclusive posts
Connect via private message
How it works
Get started in 2 minutes