Some Guy Named Robb
is creating Music/Words/Video/Joy/Life
Select a membership level
The High Five
Limited (76 remaining)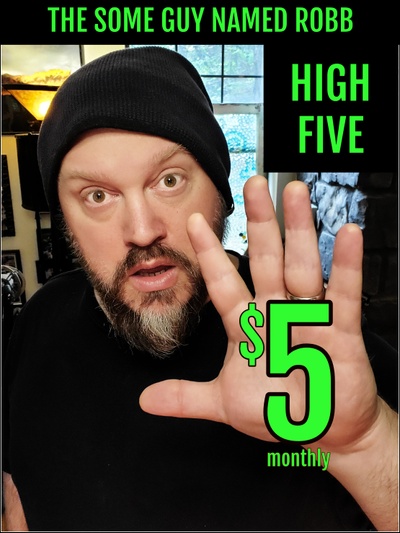 Are you in love with me? Did we just have a moment? JK! 
But seriously, you rock!
A Fiver in the TIP Jar Monthly! 
Includes all perks prior
You get a High-Quality Digital Download of "The Folkster" including the unreleased Bonus Tracks!
You have access and ability to both Stream and Download my  older songs and vids as they are released! 
**SHARE the Love by sharing that you've become a Some Guy Named Robb Patreon patron!
"The Ibensky Tensky!"
Thanks for the "The Tensky!" 
Forwards and backwards, you'll have the digital collection of all Some Guy Named Robb songs from the very first album to the newest releases as they come out. Including demos, covers and video releases! 
All the previous Perks PLUS...
You choose a cover song for me to perform on FB or YouTube Live! (Once a year!). Naturally, I have to okay it, because I know some of you guys will choose Metallica and some of your would choose Rachmaninoff .  O.o  I'll perform it on Facebook Live and let the world know it's your idea! 
This tier allows you to unlock complete access to my music and have my full digital catalog at your command for Download or Streaming! 
Free ticket for you and your guest to one show per year
Added to the Private Patreon email list
One new Some Guy Named Robb T-Shirt Shirt, picked up at a show! (You know they wear out so fast because it's your favorite shirt and you wear it everyday!)

**SHARE the Love by sharing that you've become a Some Guy Named Robb Patreon patron!

The Investor
Limited (0 remaining)
 The Investor 
You are an investor. You connected with me and my art and you want others connecting with it too. You find and sharevalue with the people around you. As a investor you'll get your name, or your business's name on the releases as they come out as an executive producer, whether it is video, or sent out via email. You will have your name attached to it, and rightfully so.


This is an exclusive $25 or more Patron benefit! 
My thought is this; when you invest so much into me,
you deserve an executive producer status! 
You choose one Cover Song for me to perform on video or a jingle or voiceover to advertise for your business. (Must subscribe for 1 year, paid in advance!) (You get a 5% discount when you do )
Complete access to my website to hear AND DOWNLOAD my complete library including the plethora of unreleased cover and original songs, poems.
Free ticket for you and your guest to 2 shows per year.
Invites to the secret Facebook Live invite-only, on-line concerts!
One new Some Guy Named Robb Video Shout Out, Yearly!

**SHARE the Love by sharing that you've become a Some Guy Named Robb Patreon patron!
 
About
Hi, I'm Robb.
I make songs, videos, play live, and so much more. Chances are if you're here you've already seen me and you were curious enough to find out what Patreon is all about.
It's simple really.
Patreon
is for people who really like what I do and want to encourage me monthly with by throwing some dough into my virtual tip jar. For example, the $5 tier is like buying me a cup of tea each month!
And in return I'm offering all kind of perks as the tiers go up! From private shows to private lessons on to business ventures for advertising with my audience of real folks made up of cool peeps like you!
And if you don't see a certain perk that you'd like, suggest it to me!
Let's make it happen!
So if you LOVE this idea and you DO want to be a part of the IMMA FAM Club it's as simple as this.
Easy as 1,2,3!
Sign up here on Patreon!
Choose the amount and tier that best suits you
Kick back and enjoy the Music. Art, Videos, Memes, advice, random thought as it comes!
Remember two things, you can cancel or change the amount of your pledge at any time. And you can make your own tier if you like!


To go Directly to the Rewards click the button up and to the right where it says,
"
Become a Patron"
And Welcome to
THE IMMA FAM CLUB!
Some Guy Named Robb Official Website

Got questions? Email me directly
HERE

A quick reminder:
New patrons will be charged the day they become a patron, then on the 1st of the month going forward
. So if you join on the 31st of the month, you'll be charged once then, and once on the 1st of the next month. So you can either wait until the first or you can double tip me! ;)
Also, Patreon just added a pay annually option for those of you who would just like to make a one time donation per year! Plus you get 5% off when you do!
Either way, YOU rock!
At 100 we're gonna have a party! Anyone who can come be a part of this LIVE show is invited! This will be our first Patreon Only Exclusive live show PARTY! I can't wait to get to 100! 

The next tactical step to being on this level will be to pour more resources into making better videos! Green screens, lights, guests and more! 
3 of 4
By becoming a patron, you'll instantly unlock access to 22 exclusive posts
By becoming a patron, you'll instantly unlock access to 22 exclusive posts
Recent posts by Some Guy Named Robb
How it works
Get started in 2 minutes