Shabam!
is creating an Audio Podcast
Select a membership level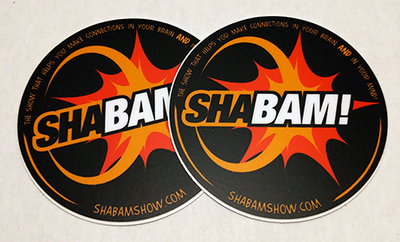 Behind the Scenes Update. Be the first to get a sneak peek at upcoming interviews & insider information about what's going on behind the scenes - direct from Josh himself. Plus the stickers AND a fantastic Shabam Magnet!
About
"Who are you guys and what are you doing?"
Hi, we're Shabam! We're a bunch of filmmakers, educators, and producers who have teamed up to create a new type of educational science show that blends fictional stories with real science. We created this show because we all share a love of science and a frustration at the growing volume of "unscience" entertainment that is out there.

So if you, like us, watch movies and wonder, "could that really happen?" or "what's the real story behind that?" or "you can't taser a zombie!" then our show is meant for you. Each season we'll create a different original story as a backdrop for a variety of science topics. And through the magic of sound design (a film term for explosions and mood music), learning stuff feels like watching movies.

"That's very generic, give us an example"
In season one it's the Zombie Apocalypse. Three kids get separated from their parents and over the course of 10 episodes we follow their quest to reunite with their families. While they're struggling to survive we'll delve into topics like whether a zombie apocalypse is even possible, why we don't get sick all the time, and what it's like to live without water? We'll also go back in time and find out who the real John Snow was (no he did not carry a sword).

"It sounds like you're going to use humor and music...I'm not sure that works with science"
A lot of people have asked us: will you add silly songs and jokes to your show while still maintaining a robust educational program? The answer is of course: yes. We do research and talk to experts who know stuff, like infectious disease detectives who know about viruses or neuroscientists who know about brains. However, we don't use the phrase "robust educational program" because it makes it harder to come up with silly songs.

"What's the difference between your podcast and the million other science podcasts out there?"
Aside from the total awesomeness that we jam pack into every episode and the fact that we hate commercials, our biggest difference is repeatability. Just like we enjoy watching a good movie multiple times, our goal is to do the same with audio. So while technically it's a podcast where we produce episodes and publish them on an ongoing basis, our episodes are grouped into seasons which are designed to be complete stories that can be listened to multiple times. To that end we've specifically tailored the science content to have a longer shelf life.

"Why do you need our support?"
Obviously the goal is to make the show sustainable because right now we are all donating our time and money in order to write scripts and make sound effects with our mouths. More importantly though, awesome science is being done by scientists all around the world and it costs money to go and talk to them. We also prefer to pay actors who turn what we write into dialogue that sounds real. There are a lot of people who donate their time and energy to make this show as good as it can be and wherever possible we'd like to reward them for that. And finally, if you feel the need for educational content that's entertaining and you're the person who secretly fumes when movies get the science wrong, please support us!

Become a patron to
Unlock 31 exclusive posts
Connect via private message