'Shark Hugs' Eniko
is creating Bravely Bound: Zero
Select a membership level
Discord VIP
#Patron channel and Patron title on Discord
Early access to articles
Includes all lower tier rewards.
Includes Discord benefits
Developer
Exclusive access to useful Pico 8 code snippets
Credit on itch and BBS pages hosting Pico 8 games
In-progress pixel art and art work
Includes all lower tier rewards.
Includes Discord benefits
About 'Shark Hugs' Eniko
Hi, I'm
Eniko
, and if you're here it's probably because you've seen me working on
Pico 8
things, like
Cat Slime Does a Dungeon
, queer jRPG Bravely Bound: Zero, or crazy related experiments like PicoScript. Becoming a patron will allow me to spend more time on all of these projects, and is a huge help to me personally as a small indie developer.

What do you get out of this? You can gain access to exclusive devlogs, art previews, a patrons only channel and role on the
Kitsune Games Discord server
, credit on itch and in my games, and early testing and beta access.
For the Pico 8 enthusiasts among you there's also occasional exclusive code snippets, early access to longer and more in-depth articles, and even P8 file originals for published pico 8 games. Even if you don't pledge, there's
a lot of resources
I put out for free right on this page!
Best of all, the more goals we reach as a community, the more side games I can create for Bravely Bound: Zero; small mini-games that interact and share data with the main game! This is how
Cat Slime Does a Dungeon
came to be. Patrons will get access to all side games
for free
when they're finished.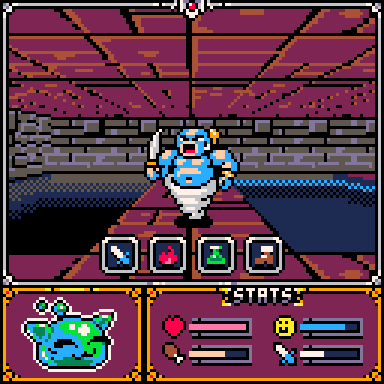 Finally, supporting me means you support my regular work as a founder of a game development studio with a focus on accessibility and queer inclusivity.
Kitsune Games
is behind several LGBT-inclusive games featuring female and queer protagonists such as
Lore Finder
,
MidBoss
, and
Ultra Hat Dimension
, and the majority of people working on our games are queer in some way.
Pico-8

Pico-8 is a fantasy console, a make belief retro console that never existed, that you can make games for. I love Pico-8, and especially enjoy coming up with ways to overcome its limitations and get the most out of the fantasy console. This means I wind up creating a lot of crazy stuff for it, like a
GPIO powered SuperFX chip
, a way to
keep map sizes tiny through metatiles
, and even a
whole ass scripting language
to use inside Pico-8.

My main focus right now is to try and fit a reasonably sized jRPG like you might've seen on the SNES (Bravely Bound: Zero) into a multi-cartridge Pico-8 game. To do this I'm writing a lot of utilities and code, and I intend to share that journey and some of the techniques I've used with my patrons.
Bravely Bound: Zero

Bravely Bound: Zero is a queer love story inside a jRPG made in Pico-8, which pushes the system to its absolute limits. Follow the story of Kaie Sa, a mercenary, as she sets out with her young friend Jurgen and an Imperial Knight to smuggle an infant away from the reach of the Empire. Love will bloom, in between dodging the Empire's agents as well as a rival mercenary company.
You can follow Bravely Bound on
Twitter
and
Tumblr
.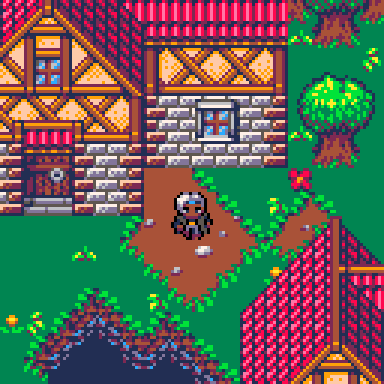 Side Games

The more support on Patreon, the more time I can put into Pico-8 projects like Bravely Bound: Zero. Not just that, goals will unlock additional mini-games to accompany Bravely Bound: Zero; small Pico-8 cartridges that communicate with the main game and can share data, like items obtained in the mini-games, with the main game and vice versa.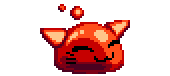 An example of this is Cat Slime Does a Dungeon; a tamagotchi dungeon diving game. It could also be a little fishing game, a card or racing game, or anything else I can think of that'd be small, cute, fun, and interacts well with the main game.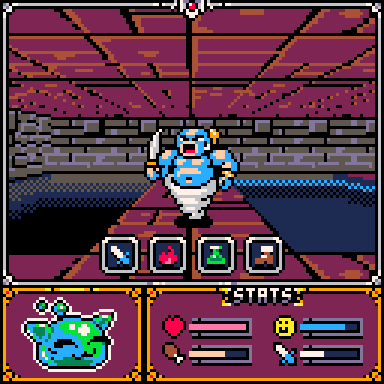 Take care of your very own cat slime! Feed it items to level it up and change colors, play with it to keep it happy, and let it snooze to recover its HP after a long day. Take your cat slime into randomly generated dungeons rendered in stunning retro 3D to slay monsters, explore, and find precious items. You can then feed the items to cat slime, or transfer them to your Bravely Bound: Zero game and use them!
Cat slime somehow managed to
get on Twitter
by eating a phone.
Beyond Bravely Bound: Zero

Bravely Bound: Zero is actually a prequel to an earlier project I was working on, called
Bravely Bound
; a lesbian love story inside an RPG, where two women explore their feelings for each other while they fight an evil empire corrupted by dark magic, and in so doing cause the return of legendary pirates. All of this rendered in glorious retro 3D mode 7 battles.
If the Patreon does well enough and when I finish Bravely Bound: Zero, who knows what may lie in its future...?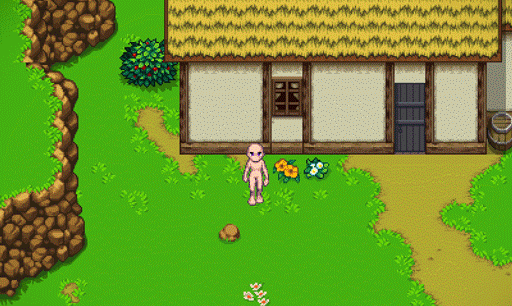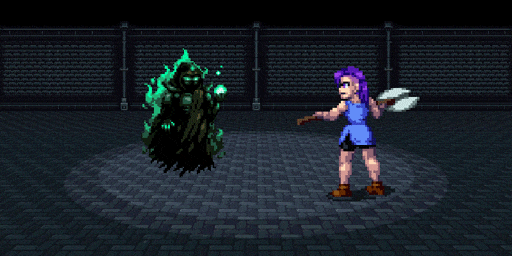 Pico-8 Resources

Below you can find a list of all Pico-8 resources I'm working on or have already made available to the public and to patrons.
Access to All

$1 Patrons
bytearray: instead of keeping your binary data in a table, save 8x as much memory using this class which stores it as text, with methods to conveniently get, set, and delete values

$5 Patrons
xorshift: a random number generator in a class so you can have multiple seeded RNGs in use simultaneously, also comes with a C# class which produces the same results for a given seed
darkening palettes: use these premade palettes and convenient code to load them into memory to darken colors in your game, with 8 steps between default and black.
bgmemimg: a tool + library for loading LZW compressed fullscreen images from another cartridge into Lua memory and easily drawing them to the screen.
Private Source Repositories

When the $300 goal is hit $5 and $10 patrons will gain access to private repositories for projects that'll be available publicly at some point but aren't quite ready yet. $5 patrons will gain access to relatively feature complete and usable projects such as UniPrep, and $10 patrons will gain access to things which are basically unfinished, like PicoScript.
UniPrep - $5 patrons:
a universal preprocessor written in C#. Preprocessing directives are prefixed by a user-supplied string, so they can be commented out. Supports #if #elif #else #define #undef #include, and supports function like macros. Also has a mode which watches a file for changes and automatically regenerates output. Great for easy Pico 8 development, with drastic performance optimization sometimes possible through macros. This is what I personally use for my serious Pico 8 projects.
PicoScript - $10 patrons:
a scripting language and virtual machine for scripts inside Pico 8. Scripts are compiled to binary bytecode from a C-style syntax with a single function per script, and can be written to Pico 8 carts. This allows users to break the code limit, and page code in and out of memory through the reload command. Read about its development
on Twitter
.
$468.51 of $1,000
per month
At this amount my Patreon will cover roughly two thirds of my living expenses, which means I can spend a lot more time on Pico-8 projects and Bravely Bound.
5 of 5
Become a patron to
Unlock 22 exclusive posts
Connect via private message
Recent posts by 'Shark Hugs' Eniko
How it works
Get started in 2 minutes