She And The Cat's Mother
creating a multi-media channel library
Select a membership level
Membership means MORE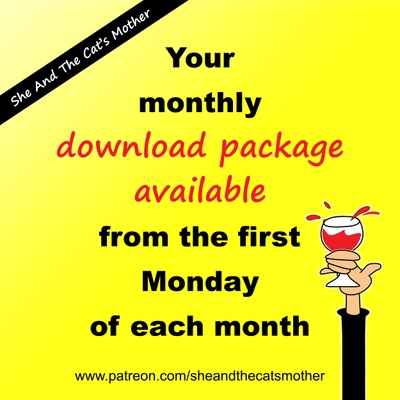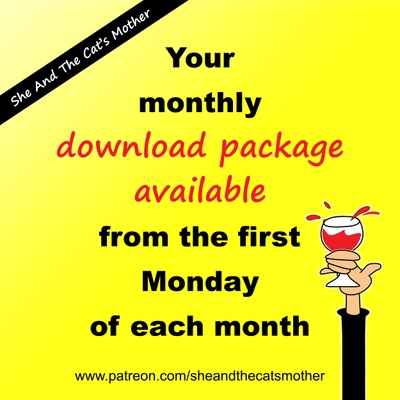 Hello and welcome to She And The Cat's Mother great value, no contract, MULTI-MEDIA channel library; our pick and mix content is ready for you to view and/or download now; join us by becoming a patron of our channel to receive your first month's download package (plus ACCESS to our previous monthly packages) including:
Recollections eMagazines — exclusive to our MEMBERS!!! 10 monthly issues are ready for you to download now, our new publications will be released to members quarterly (February | May | August | November) with special features, transcripts of our popular episodes, PLUS insights into the makings of our content and MORE besides;

Raffle Property: MULTI-MEDIA eBook — your winning guide to raffle property and house competitions (for entrants, property owners and charity organisers) containing text, photos, illustrations and 9 VIDEOS with English subtitles; (this is the newest edition) available ONLY to our members/patrons // MEMBERS gain access to download this eBook by clicking the link displayed within our download package posted within "FEBRUARY 2022" on our Patreon page;

Our Patreon Diaries series — practical experiences starting and growing a subscription platform via Patreon // MEMBERS gain access to download this series containing a total of eight podcast episodes;

Music Vidioke Challenge — we invite you to recreate a visual performance of our original music videos; mimealong / singalong / playalong: the choice is yours. Film and upload your version // MEMBERS receive a link to view each music video (lyrics and chords onscreen) AND download as an MP3 ringtone ALSO look-out for song sheets published within our Recollections eMagazines;

Serialised fiction — (in 12 parts) of revenge fiction novel, "Safe In Killer Hands: Money, Madness, Murder" a tale of murder dressed in its Sunday best, farming family feud, set within the 4 seasons of 1947

Our Country Files — inside stories of lifestyles lived in yesteryears, including home and away anecdotes; enough to whet appetites // these blogs are published within our Recollections eMagazines;

Musical story time — "Alice Returns Through The Looking-Glass" (this video series is an extended version showcasing 12 songs) for children of all ages 9 to 109 years old // MEMBERS receive a link to view each video displaying English subtitles ALSO extra Alice content included within our Recollections eMagazines;

Access to our back-catalogue of content (all previous download packages)!!
All links to access our downloads are posted on She And The Cat's Mother Patreon page and are ONLY visible to our members; each monthly download package is available from the first Monday of each month; NOTEWORTHY: you will be billed as soon as you become a member/patron to: www.patreon.com/sheandthecatsmother and thereafter, monthly, on the same date you joined (cancel subscription anytime) — all our content: including text, photos, illustrations, books, songs, videos and podcasts are created by mother and daughter, Gwen Hullah and Ida Barker of: She And The Cat's Mother; our fantasy fiction writer: Zizzi Bonah is the pseudonym of Ida Barker; courtesy photos name the photographer beside the image
10 x Recollections eMagazines ready to download now (PDF 50+ pages each) THEREAFTER eMagazines are released quarterly (February | May | August | November)

1 x Raffle Property: MULTI-MEDIA eBook (containing text, photos, illustrations and 9 VIDEOS)

8 x podcast downloads from our Patreon Diaries series

10 x original ringtones (MP3 download) as featured within our music vidioke challenge

SERIALISED FICTION (9 to-date of 12 parts) from novel, "Safe In Killer Hands: Money, Madness, Murder"

Links to view (10 to-date of 12 episodes) subtitled videos of, MUSICAL story time: "Alice Returns Through The Looking-Glass"

SPECIALS: (standalone 12-paged PDFs) to-date 1 x Christmas special and 1 x Lunar New Year special

Access to our back-catalogue (all previous digital download packages)
About She And The Cat's Mother
Goals
Upon reaching patron number one,
by way of thank you
, we at, She And The Cat's Mother, will
gift our musical audio book
download of,
Alice Returns Through The Looking-Glass
for
FREE to both members and non-members
who kindly take the time to visit our Patreon page // Here's the 
musical AUDIO BOOK download
1 of 1
By becoming a patron, you'll instantly unlock access to 40 exclusive posts
By becoming a patron, you'll instantly unlock access to 40 exclusive posts
Recent posts by She And The Cat's Mother