Shequeta L. Smith
is creating a Graphic Novel Series
Select a membership level
Sheroes and Heroes for Rayven Choi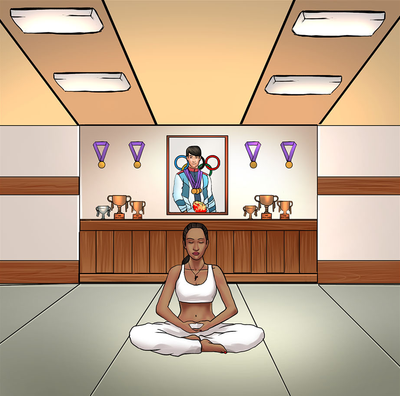 You'll get access to the Rayven Choi activity feed, will be added to our monthly Shero Comics newsletter, and I will follow you on social media. 
Shero Sidekick
Shero Sidekicks will get an exclusive look at how each panel of Rayven Choi was created. I will feature a monthly panel from Rayven Choi and show you the process of going from sketch, to lineart, to the fully colored panel. I'll include a short description of the panel and even let you view some of my notes to my artist and colorist. 
Plus you will receive all previous rewards.  
Shero Crusader
Whether it's a micro trailer video, an autographed digital Rayven Choi poster, or a gif or meme from the Rayven Choi short film, each month the Shero Crusaders will get an exclusive "Golden Ticket" to download a digital souvenir from the Rayven Choi series. 
Crusader's will also receive a special code to watch the Rayven Choi Short Film on Vimeo on Demand or Amazon.  
Plus you will receive all previous rewards.  
About
Greetings Everyone,

Thank You so much for visiting my Patreon page and for your consideration of becoming a patron of Rayven Choi and Shero Comics. My six-part graphic novel series, Rayven Choi, has definitely been a long and winding road to get to where we are now. The story of Rayven Choi, stems from my experiences during a short study abroad trip to Seoul, Korea, while attending North Carolina State University.

Visiting Korea was one big life altering a-ha moment for me. I returned to America knowing that I wanted to be a writer and that I wanted to create unique stories and 'what if' worlds that had never been explored before. In 2003, just two years after graduating college, I wrote the first draft of Rayven Choi as a screenplay. One year later, I moved to Hollywood to pursue screenwriting full-time. Those first few years in Hollywood, that Rayven Choi script got me meetings, won awards, and got read by numerous producers, however, it never got made.

Several years later, in 2008, I walked into a local comic book shop and noticed that the store was devoid of any comics that prominently featured an African-American heroine. By the time I got home, I began thinking that maybe somehow Rayven Choi could possibly fill that void.

Six years later, shortly after a whirlwind experience as a Top 20 finalist in Matt Damon and Ben Affleck's HBO Series, Project Greenlight, the Rayven Choi graphic novel idea hit me again and this time I jumped at the opportunity. 

In the summer of 2016, Rayven Choi Chapter 1 was released to five star reviews. By the fall of that same year, Rayven Choi Chapter 2 saw it's release date. Today, Rayven Choi Chapter 3 is halfway completed and is scheduled for release in the fall of 2017. 

These past two years, I've worked very hard to finance Rayven Choi and the Shero Comics brand myself. I've created this Patreon page so that fans of the series can make contributions to help me continue to build the Shero Comics brand while releasing the Rayven Choi series at a much faster pace.

I want to thank you in advance for your contributions and your continued support. I can't wait for you to see what's to come with the remaining issues of Rayven Choi and what we have in store for Shero Comics.

Sincerely,

~Shequeta

When I reach 200 patrons, I'll start making and releasing bi-monthly videos on "How to Self Publish a Graphic Novel Series on a Shoestring Budget."

1 of 2
Recent posts by Shequeta L. Smith
By becoming a patron, you'll instantly unlock access to 3 exclusive posts
By becoming a patron, you'll instantly unlock access to 3 exclusive posts