Shy Bairns
is creating zines & workshops & *hopefully* more
Select a membership level
Print Tier
Limited (26 of 30 remaining)
Spoons Tier
$4 / £3.04
we'll buy u a drink via the spoons app but it'll be like a gin and tonic or a cider not a bottle of prosecco. elle recommends rum and coke as it's only 1.99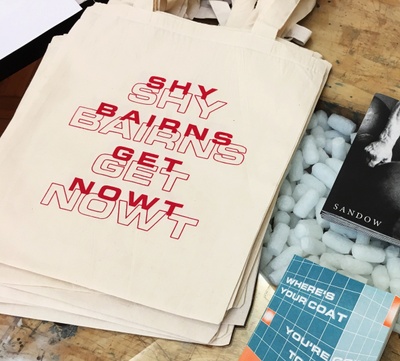 Tote Tier
Limited (0 of 1 remaining)
$6 / £4.56
limited edition tote bag <333 will be red or blue message us if u desperately want a certain colour 
About Shy Bairns
Hello !!!!! 
We are Shy Bairns
; a multi-disciplinary collective specialising in DIY arts publications and workshops. We met on our foundation course in Sunderland, and began life as a self-titled publication aiming to gather a group of Northern artists together on one platform. We now exist as something else; alongside our self-titled series we also curate, educate, and make a fuss about things on social media.
We are interested in community, identity, Art World Politics and Real World Politics, and how print relates to all of these things.
We usually print in multi-coloured riso unless we absolutely cannot do that, then will reluctantly roll our eyes and print like normies. At the moment
funding issues are turning us more into normies as we can't afford a risograph, or to print on risograph, or actually to print on owt.
We have always done workshops for free, even 4 big galleries with lots of money lmao, we have always funded our zines with pre orders and money from our mundane day jobs.
Atm we're trying raise money to fund a studio which we can hopefully use to create, then expand to run zine workshops and exhibitions, and hopefully get some group crits going in Manchester. This will keep the workshops and exhibitions freeeeee and means we don't have to rely on institutions to support us. Lower tiers will help fund things we really want to do over time; more workshops, more zines, more curation + hopefully crits, discussion panels, podcasts, design work....... exciting stuff. 
I guess we thought maybe instead of institutions paying us (lmao), people who enjoy our content can pledge 
$1/month to support us (1 dollar = 76p).
This way we can
keep our workshops free
, and stop our printing being TOO normie. 
Also if u scroll to the bottom you can add a custom amount, so if you don't want anything in return u can do that!!! Or message us if there's anything you'd like / think would be a good idea that we haven't listed. 
If u can't afford to support us you can find us / hire us / watch us / read us via
our website
, 
email
,
Instagram
,
Twitter
, or
Facebook
. 
Thank u !!!!!! <3333
xoxo Bairns (George, Izzy, Elle and Erin)