Shy Bairns
is creating a space for book arts in Manchester
Select a membership level
Sticker Tier
$1.50 / £1.14   

Slightly more than a mix up but not by very much! Get a Shy Bairns Get Nowt sticker for your laptop or phone or sticker album whatever and pledge your allegiance to bairns. 

This also gives you unlimited access to our locked posts & newsletter. 

Print Tier
Limited (0 of 25 remaining)
$4 / £3.04

Limited edition Shy Bairns Get Nowt print created exclusively for our Patreon supporters! Frame it and hang it next to your Boyzone poster

This also gives you access to our locked posts & newsletter.

Zine A Month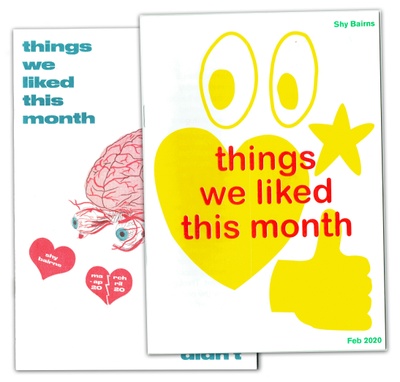 $13 / £10

Every month we are going to make a zine exclusively for our Patreon supporters. This zine will be a collection of things we've seen and liked -- memes we've saved on our phones, exhibitions we've been to, telly we've liked etc etc etc. All zines will be risograph printed and we'll send them out at the start of every month. 

This also gives you unlimited access to our locked posts & newsletter.
About
Hello! We are Shy Bairns!
SB is our collaborative practice, through which we (Izzy, Elle, Erin and George) create work based around zine making -- whether that is making zines ourselves, running workshops, or curating exhibitions. We've been working together for four years, and though we get paid here and there for being in exhibitions or working with galleries on workshops, it sure doesn't pay the bills (yet!). This is largely because we refuse any job that costs the audience a prohibitive amount, and because most of our projects involve giving things away for free.
In order to keep our projects as financially accessible as possible, for the last two years we have been asking for donations through Patreon. Currently, our Patreon supporters cover half of our studio bill, which is a fantastic help. But we're aiming higher! Instead of struggling to cover expenses of smaller projects we'd like to push ourselves to create work that matters, to work with more people, to collaborate with more people, to teach more, etc etc etc
In the next two years, we at SB would like to set up a ~public space~ in Manchester. This ~space~ will be a print studio / gallery that explores contemporary art and bookmaking. We want to expand our community-focused practice into an actual Place rather than dipping our toes into other galleries and cities. We want a home!
Because of this, we're revamping our Patreon. We don't like weird short-term collabs that mean nothing (we worked with napapijri once and it was Weird), we like working with and for people who know our work and care about what we're up to. Patreon is a good platform for this sorta vibe -- a weird Subscribe To Bairns form like at the back of magazines.
Patreon's smallest donation is 77p a month (it's an american site so it'll say $1). We promise we will not spend it on 77p mix ups but hopefully lots of 77ps will go towards new printing equipment, an open source printing studio, more workshops, artist crits, a gallery!
If you have the ££ to spare, for a higher tier you'll get not just the fuzzy feeling of supporting your bairns; we will be making monthly zines for you! We're trialling the format atm but the first one will be about Things We Liked This Month, with clips of reviews, TV shows we've been watching, exhibs we went to, pics of our new studio, w/e. If it's shit you can unsubscribe and never tell a soul. Hopefully you won't think it's shit tho
If you can't afford either option -- dw! If you land on this page and think aaaah if only: maybe you could tweet a link or send it to your dad and see if someone else is interested. You can still find us / hire us / watch us / read us via
our website
,
email
,
Instagram
,
Twitter
, or
Facebook
.
Thanks for reading!
Izzy, Elle, Erin and George x
$469.03 of $500
per month
$500 a month would help us expand our collection of equipment. We're aiming to gather a stock of equipment and book binding tools to run more efficient and in depth workshops at galleries. We also have plans for more accessible furniture to help us host our own public workshops. After collecting these we can build up towards new facilities for our future space! At the moment we have a two drum risograph, with red and black drums, and a wiro binder. Getting us to this amount would get us on our way to buying new drums for extra colours, a paper guillotine / drill, a collator ... the list is endless. Each time we purchase something new we'll be sure to upload walk through video, showing where your money is going and demonstrating some bookbinding equipment! 

2 of 3
By becoming a patron, you'll instantly unlock access to 5 exclusive posts
By becoming a patron, you'll instantly unlock access to 5 exclusive posts
Recent posts by Shy Bairns