SiblingsOfIlm
is creating an online portal for seekers and students of 'ilm
Select a membership level
Green Family
You mean a massive amount to us, and we'd like to be able to keep you in the loop with the things we get up to at SiblingsOfIlm, especially behind the scenes! Thanks to Instagram's 'Close Friends' feature, we'll be able to do exactly that - alongside a regular newsletter, of course.
[$2 is approx. £1.59]
Blue Family
We're so grateful that you've decided to support us! To thank you, not only would we like to keep you up to date with exclusive content and what happens behind the scenes at SiblingsOfIlm via Instagram, but we'd also like to grant you earlier access than everyone else to the articles, excerpts from books, and resources that we create. 
[$5 is approx. £3.97]
Maroon Family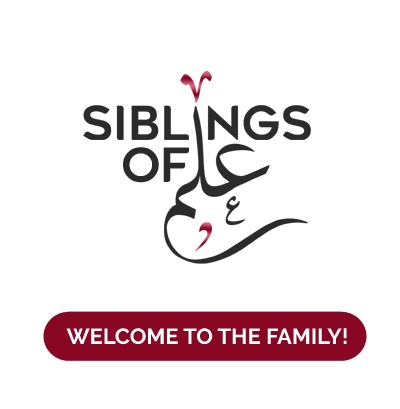 It is in the efforts of people like yourselves that we can keep doing what we're doing, so in addition to the benefits of all the previous tiers, you'll also receive a discounted rate for all the webinars we hold, as well as the opportunity to receive eBook/PDF extracts of publications as and when they are published under SiblingsOflm.
[$10 is approx. £7.94]
About
SiblingsOfIlm is an
online portal uniting students of sacred knowledge
across the globe in one place with an aim to produce content relevant to their studies.
Established in September 2015 by two siblings studying the ʿAlimiyyah course, the core purpose was to
share what they had learnt to a wider audience
through one of the world's most powerful tools, social media. After the first year, we registered SiblingsOfIlm on Facebook and Twitter too, which meant we were able to reach many more seekers of knowledge. An online portal in the form of a blog website was then introduced in order to
assist seekers in enhancing their studies
as they tread the path - content ranged from
articles, write-ups, and excerpts from books
contributed by both students and scholars alike.
During this period, at SiblingsOfIlm we also delivered two webinars. The first being '
The Prerequisites of Students Of ʿIlm
', and the second being '
A Walk Through Surah al Fatihah
' - a two-hour webinar Tafsir going through the opening chapter of the Qur'ān. Most recently, we hosted a '
Journey Through the Last Ten Surahs
' in preparation for Ramaḍān - a webinar that was extremely well received and received glowing reviews from the e-attendees.
We are now in 2020. With
more than 10,000 seekers on board
, and approximately 1,000 unique visitors on the website monthly, we want to take SiblingsOfIlm to the next stage.
What does the next stage look like to us?
Due to limited resources, we can only host a single webinar per year, but we would like to offer these more regularly, expand our bank of resources, and host lessons to benefit all students throughout the course of the year.
Begin a podcast series discussing topics which would be specifically beneficial for seekers of knowledge - for example, in contextualising contemporary issues within the realms of Islām and how students can navigate these outside of the classroom.
Introduce a series of short clips and/or infographic videos discovering the history of a lot of the ʿilm we learn - by creating short informative snippets, they can be of benefit to not just seekers of knowledge, but all those striving to learn more.
And this is where you come in!
SiblingsOfIlm has always been, at its core,
run by students for students
. And this is exactly how we'd like to keep it. But in order to do that,
we need your help
. With your monthly contributions, you will be supporting us in:
Maintaining the web host for the portal
Bringing in tutors to host a variety of high quality courses
Purchasing specialist equipment for podcasts/videos etc.
Running the 'Ask a Question' student helpline
Publishing books and resources that are tailored to your needs
Getting skilled creatives on board to make accessible content
Compensating writers for their contributions to the portal
But, we don't want something for nothing. This portal is ultimately for you, and whether you are contributing $2 or $20, we would like to say thank you in the best way we know how - to see what these are, have a look through the tiers.
Once we reach 50 patrons we will officially introduce SiblingsOfIlm Podcasts!
1 of 1
Recent posts by SiblingsOfIlm
By becoming a patron, you'll instantly unlock access to 55 exclusive posts
By becoming a patron, you'll instantly unlock access to 55 exclusive posts