Dr Simon J Pierce
is creating effective conservation for whale sharks.
Select a membership level
$3 – BACKSTAGE PASS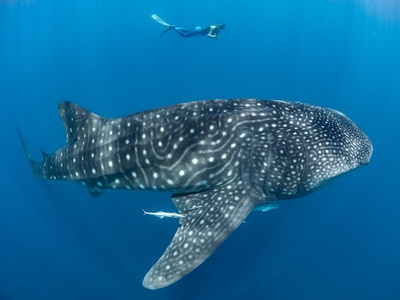 Get full access to all our updates, including live streams from the field, photos and videos, see our latest scientific results as they come in, and chat to us directly about what they mean.
$9 – SAVE WHALE SHARKS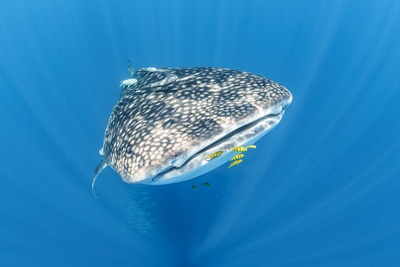 Full access to updates (see above), and you're making a big contribution to conserving whale sharks :)
$29 – NAME YOUR OWN SHARK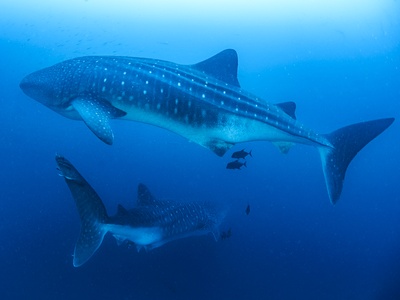 All of the above... and you'll get to name a whale shark of your very own! We'll photo-identify your shark for you and you can choose your own name. Sharky McSharkface? No judgement.
About
Hi! I'm 
Simon
. I'm a marine conservation biologist from New Zealand.
I lead the global whale shark research and conservation program at the 
Marine Megafauna Foundation
. We need your help to save all of the whale sharks. 
What's this all about?
Our shark research and conservation work, underway since 2005, has been getting spectacular results (see more on that below). We've had amazing public support as well. Funding these efforts, though, has been an ongoing struggle.
So we're putting together a team.
We're building a community of people that care about endangered marine wildlife and want to protect them. 
I've always been interested in sharing our fieldwork and results on an ongoing basis. Patreon will be a great way to bring this all together. You can support whale shark conservation, and get fun (and interesting) behind the scenes updates on the research and fieldwork, from just $3 per month.
We'll be super grateful. The whale sharks will be freakin' stoked.
Our organisation, the Marine Megafauna Foundation, is a US registered 501(c)(3) non-profit. All Patreon donations will (a) go to a demonstrably good cause, with full financial oversight, and are (b) tax-deductible if you're in the US. Winner!  
To be quite clear, all the existing support we have – both financial and moral – is both massively valuable and hugely motivating. This Patreon initiative doesn't change what we're doing now... it adds to it. I'll still be sharing just as many updates on my 
website
, 
Instagram
, 
Facebook
etc. In fact, I hope to do more!  
This is a deeper way for people to invest in producing the science, education and conservation initiatives needed for whale sharks to recover.


As a bonus, we're also offering a lot of fun benefits – from live updates from the field, naming your own whale shark, or even receiving acknowledgement on our scientific papers.
Whale sharks = Amazeballs
Whale sharks are a truly exceptional fish. They grow up to about 20 m (~65 ft) in length, about 40 tons in weight, and may live for over 100 years. They dive to about 2, 000 m depth, and swim well over 10, 000 km per year. They're the largest fish that has ever lived.
Despite all those superlatives, whale sharks have stayed grounded (watered?). They're chill. They eat plankton. People can swim or dive with them in total safety. It's super fun.
But they're in trouble
Sadly, people have been far less cool towards these gentle giants. Overfishing, accidental catches and ship strikes have killed more than half of the world's whale sharks since the 1980s.
Whale sharks are now a globally endangered species.
We can save them!
The story isn't over. Whale sharks can bounce back. 
We're working with national governments to create (and enforce) effective protection. 
We're partnering with fishing communities to move towards sustainable techniques. 
We're promoting best-practice ecotourism that benefits the sharks, while also allowing people to swim with them and have a fantastic time. 
Last year, we successfully lobbied the 126 nations that have signed the UN's Convention on Migratory Species to list the species on Appendix I. That bans fishing for whale sharks and compels those countries to ensure that their populations and habitats are conserved.
Unfortunately, the reality is that happy situation won't happen by itself – we'll need to help and cajole governments and communities to put these words into action.
Here are some examples of the work we do:
We need your help.
I'm hugely proud of the work we've done to date. Now, we're building a community of supporters that share our desire to save Earth's largest fish. You can be a part of that.
Why are we the right people for the job?
We've worked on whale shark conservation and management in Qatar, Mexico, Honduras, Indonesia, Philippines, Mozambique, the Galapagos Islands, Madagascar, St Helena Island, Tanzania, Oman, United Arab Emirates, and collaborated with other researchers in even more countries.
We've helped to implement sustainable whale shark tourism projects in Madagascar, Mozambique, and Tanzania, and advised on many others.
We've published 26 (and counting) 
scientific papers
on whale shark biology, ecology, and conservation, as well as innumerable articles for the interested public. I'm also co-editing a textbook on the species for publication next year.
I led the most recent 
global conservation assessment
for the species for the IUCN Red List, in 2016, and in 2017 I led the writing on the technical proposal that got whale sharks listed on Appendix I of the UN's Convention of Migratory Species.
We know a lot about whale sharks. We know how to help the species recover.
What's in it for you? (Fun stuff!)
What we're offering is
unprecedented access to our work
. Hear about our latest results as soon as they come in. Join us in the field via live streams and daily updates. Get first dibs on joining our trips to iconic locations like the Galapagos, with its giant whale sharks, or Isla Mujeres in Mexico, where it's common to see 100+ whale sharks each day.
We're all pretty keen on photography and video too, so there'll be LOTS of visual content coming your way. This may even include footage of Chris in leggings, which he insists are unisex. He's European, what can you do.
The take-home is that you'll be joining forces with a small, dedicated team of expert researchers that are working every day to make the world a better place. You'll get personal updates from global leaders in marine biology and conservation, and you'll be
 saving the world's amazing marine wildlife
.
You can see the support tiers on the right. We really appreciate your help :)
THANK YOU!!!
Any suggestions or questions, please don't hesitate to contact me directly at simon 'at' marinemegafauna.org. It'd be great to hear from you! 
By becoming a patron, you'll instantly unlock access to 35 exclusive posts
By becoming a patron, you'll instantly unlock access to 35 exclusive posts
Recent posts by Dr Simon J Pierce