Singularity Games
is creating universal gaming components
About
Singularity Games is a passion project that specializes in game systems and custom designed accessories.
There you are sitting among the other doomsday survivors. You let out an imperceptible sigh. Despair starts to set in as you glance out the tiny window of the bunker. Wait! Could it be? Are the rumors true? You see what appears to be the hero of legend on the hill -- their magnificent case in hand. The hero is ushered inside. They place their case on a makeshift table and begin to slowly open it. A young child stands on their toes to get a glimpse of its contents. You hold your breath as it creaks slowly open. Yes, it's true! Board games! Sweet, sweet board games! Thus, the inhabitants of bunker 2543 were saved by the hero of legend.
You could be that hero.
Join me on my journey to stick a bunch of games into a box and then stick that box into another box…The Apocalypse Box.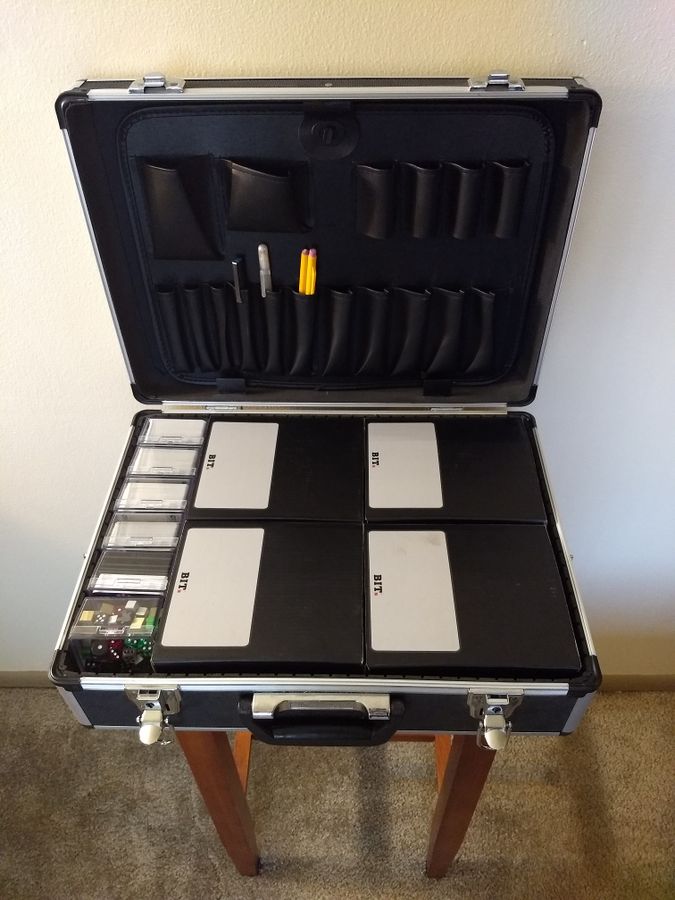 Now, I know what you're thinking. "Wouldn't I be better off putting food and tools into a box to prepare for the apocalypse?" Well, you would be Incorrect.
Below you'll find a bunch of projects creating custom game components to shrinkify games and take advantage of component overlap.
Patreon access is whatever you can afford.
As a patron you get access to my google drive folder that has full-res versions of image files, and the original Fusion 360 files of 3D designs. You also get to make suggestions and requests for future projects.
Some of my current projects include:
The Singularity Deck:
Together we are designing the ultimate deck of playing cards. Patreon supporters get access to jpegs of the deck.
Singularity Boards:
Custom designed game boards that let you play a bunch of games on one board. Patreon supporters get access to all of the jpeg and tiff files for the boards. 
Game Boxes:
 3D printed game boxes for better game storage and organization. These are designed to be compatibile with the Bitbox storage system. Patreon supporters get access to the stl and Fusion files for the boxes.
You can also follow my game projects at
www.singularity.games
By becoming a patron, you'll instantly unlock access to 13 exclusive posts
By becoming a patron, you'll instantly unlock access to 13 exclusive posts
Recent posts by Singularity Games