Ari Shaffir
is creating podcasts, pictures, travel stories, and more.
Select a membership level
For those who have done psychedelics
Same content but but for those who have lived visited the other dimension
For the pot-heads
I just added a $12 dollar tier with stickers. So it's up to you. But I do appreciate the support either way. I was trying to give everyone on here a sticker and then stop if for new people signing up to this tier, but it won't let me. Anyway, here's a picture of my dog.
Who wants a fucking STICKER!!!!!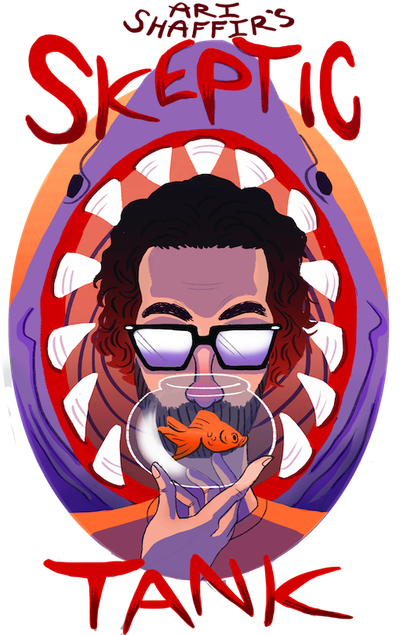 All the same shit you get with a basic subscription but after 3 months you get Skeptic Tank stickers! I've never made them before. The last stickers I had were the "Do Mushrooms" 3D stickers from the Do Mushrooms tour. Probably like 5 years ago. Now these are out and they're ONLY for you guys in this tier. Stick 'em someplace good!
Fucking stickers!!!!!! Go deface! Design by Monica Ekabutr
About
Hi guys! 

I'm gonna try to get up some bonus content for you here. Right now, I'm doing 4 or 5 main offerings on Patreon.

#1: Travel Plogs. I take a picture from my travels and just tell the whole story behind it. How I got there, why, the sites, the smells, the happenings. These are gonna eventually turn into my book but I'd rather riff on it once for you guys before I start getting all the details down and organized

#2: Arrest Stories. These are from you guys. Find the post for arrest stories or trouble with the law from you or your friends. I'll read some fun ones and make fun of them

#3: Dear Ari. Same as arrest stories but for sex and dating. Questions, stories, advice. Gimme what you got so I can use it as source material to go off on.

#4: Mailbag. Any topic you want to hear me talk about. Any question you have for me. Could be related to me, could be completely unrelated. Either way, I'll pick a few and just kind of go off on them for a while

#5: Other random shit. Like early uploads of the episodes, little things I find on old hard drives, or just whatever I feel like doing once in a while. 

There's also a Discord server where you can chat to other Patrons about whatever the fuck topics you want to talk about.

And during periods where I'm off the grid for extended periods of time, which should happen every time I finish recording a special, if not more, I'm obviously going to have a lot less content on here. But know that during those times, your subscriptions will go directly to paying for amazing strange meals in faraway countries, for 13 hour long bus rides where even the locals all receive barf bags, for hostels where you'll be helping me make amazing friends from all over the world, and for just generally attacking life as best I can.
Become a patron to
Unlock 71 exclusive posts
Connect via private message
Recent posts by Ari Shaffir
How it works
Get started in 2 minutes