Benjamin J.
is creating art, and inspiration
Select a membership level
A Simple Tip
First off you fuggin' rock my socks off! and I owe you a hug every time I see you!
Get access to the Exclusive News feed 
- early access to unreleased  content, news, & updates.Y
- be Recognized on my website & video credits as a supporter
Treat to the Coffee Shop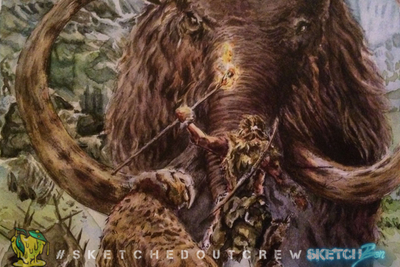 YOU STEP FURTHER THAN OTHERS and Want to See Growth!
In Thanks You'll Recieve: 
 -  A unique postcard Illustration with my Hand written thanks for your support.
Lunch
I can't express enough my gratitude. At this point you're stepping forward and putting food in my belly. So Thank You!
About
It's Always Been My Dream
to sustain a simple living through my artwork and creative endeavors. Possibly enlightening through my art and maybe encourage, inspire, and help others to get in touch with their own creative side in doing so.
How Patreon Comes in:
It enables artists, and creatives, who are already producing projects to receive tips from supporters.
I understand not everyone has thousands to put on artwork. Not everyone can afford to buy a hundred dollar painting by me for the living room, (
a flat screen tv... of course, painting by me, not so much
). 
It's okay really, but if you admire my ambition, enjoy the work I'm doing and would like to see a childhood dream come true, while I improve and get better. Consider buying me a cup of coffee once a week or even once a month. It's up to you.
Wait... A Cup of Coffee?

Rather then one person having to dish a couple thousand for my time spent, material costs, and to help out with my living expenses. We could try to get a thousand people to simply buy a guy a cup of coffee.
So Consider Investing In Me
I always will be creating, and I have no where to go but forward. You can show your support by tipping anywhere from a dollar to becoming the EPIC Patron and donating thousands (WARNING:
in doing the second your significant other may kill you
).
My Creative Endeavors:
Journaling and Illustrating Life
as it's happening around me and in motion. From capturing characters at the coffee shop, drawing with an afternoon drink at a brewery every now and then.
Finished Art
for your office, home, maybe even the dog house.
Broadcasts
From critiques to requests to  demos or tips and tricks to help other creatives expand and go further to improve their own art.

 Patreon Studies 


Every month I will select one lucky patron to Illustrate!
1 of 2
By becoming a patron, you'll instantly unlock access to 80 exclusive posts
By becoming a patron, you'll instantly unlock access to 80 exclusive posts
Recent posts by Benjamin J.