Sketchy Greenhouse
is creating fresh, tasty produce deliveries for Orleans and Lower Cape
Select a membership level
Friend of the Farm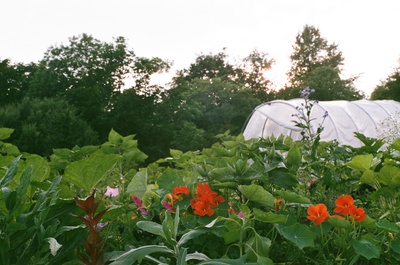 This is the tier for:
Friends & financial supporters  (thank you!!)
Delivery fee exemption for occasional customers 
Misc custom plans not listed (Type in specified amount) 
Micro Member - 1 item @ $6.25 per week
At $6.25 per week a micro member gets 1 large microgreen (2.5 oz container) of your choice variety delivered weekly plus seasonal bonus items when available.
Microgreens orders can be customized to include multiple different varieties, mixed together or seperate.
Microgreens are flavorful, tender, nutrient rich young shoots you can use in salads, smoothies, or to garnish just about anything. We offer at least 10 varieties at any given time and are constantly experimenting with new options to add to the menu. They are grown in organic soil which contains compost and volcanic mineral dust for added trace nutrients. 
2 items @ $10 per week
2 microgreens of your choice delivered once a week for $10/week billed monthly at $40/month.
Starting on 4/20, in addition to microgreens, choices will include a large bag of baby kale, spinach, arugula, lettuce, and asian or mesclun mix. By May will include some root vegetables and herbs
Greens Items can be broken into halves for variety per request. 
About
Sketchy Greenhouse is a small farm based in Orleans which grows at the Putnam conservation land community garden and at a greenhouse at Lake Farm Gardens on Monument road. After a few years of casual operation, it now provides a home delivery service which takes online orders and offers a subscription to a weekly box at a range of price levels.
For many small farmers, the recent outbreak has added yet another layer of uncertainty to an already precarious way of life. But if there is one thing we are good at, it is thinking on our feet and learning to adapt to the absurd challenges that come our way. With the cancellation of the farmer's markets for the foreseeable future, the home delivery model lets us continue to sell our produce without making people leave their homes any more than they have to- not to mention providing the health benefits which come from maintaining a steady diet of fresh, local, organic food.
Sometimes, regular CSAs have good intentions but require burdensome up-front costs and end up not really providing what the customer wants while producing a surplus of what they don't. Our goal here is to keep things small and simple, with only low risk, short-term commitments and lots of options for continually deciding what gets dropped off at your doorstep. Every week we will post our available crops which you can request through a direct message and we will try to cater to your tastes as accurately as possible. With time, we can even organize our plantings according to the requests of our most loyal customers, especially with crops with quick turnover such as microgreens. With mobile phone technology and payment processing software being as advanced as it is, there is no reason why people should have to pay for things they don't want because of easily avoidable miscommunications.
Because we are still in our early phases, we are only offering small subscription levels of either one, two, or three items per week through the spring. Our current offerings consist mainly of microgreens except for a few select late winter options (see post)- a fuller selection will be available starting the week of Monday April 20th. Every Sunday there will be a new pinned post detailing what is currently available. Please note that the different payment levels are not entirely set in stone; times are tough and everybody's situation is different so feel free to discuss any alterations you would like to make to your plan.
Single orders from the current crop list are also accepted and can be made in person upon delivery or through pay pal at
paypal.me/sketchygreenhouse
. For one-time non member orders we ask a delivery fee of $5 for Orleans and $10 for surrounding towns to cover fuel costs. Members can use this function to add items to their pre-scheduled deliveries before deciding to officially upgrade to a bigger plan. Orders and payment details can be made through messaging us here, on facebook at facebook.com/sketchygreenhouse, on instagram @sketchygreenhouse, or calling/texting Arin at 508-221-4432.
Sketchy Greenhouse is run by Arin Hirst, a long-time Orleans resident who is passionate about offering healthy, naturally grown, affordable food to the Lower Cape community.
Sketchy Greenhouse is run with the intention of being part of a larger collaborative effort aiming to foster community resiliency and food security during uncertain times. When capacity is close to being reached, priority will be given to people struggling for financial and/or health reasons until we can expand our production and delivery network. Donations/"investments" are gladly accepted and can be made as a one-time gift at
paypal.me/sketchygreenhouse
or through any of the monthly subscription levels.
By becoming a patron, you'll instantly unlock access to 1 exclusive post
By becoming a patron, you'll instantly unlock access to 1 exclusive post
Recent posts by Sketchy Greenhouse