Skywalking Through Neverland
is creating a Podcast Network and YouTube Channel
Select a membership level
Happy Thoughts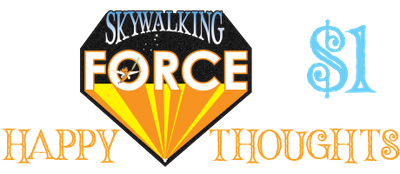 Happy Thoughts power our show! Benefit:  
Access to our EXCLUSIVE DESIGN on TeePublic only for Skywalking Force members! You can have it printed on T-shirts, sweatshirts, mugs, notebooks, totes, pillows and more! Bonus - purchasing anything with this design also helps support us, and we thank you profusely.
Wookiee Hugs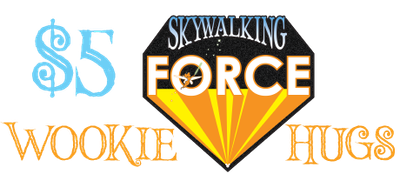 Begun, the Skywalking Force has.
Your Wookiee Hugs has unlocked WEEKLY BONUS CONTENT!

Weekly Patreon-Only Show - Skywalking Force of Fun This is easily accessible on your favorite podcatcher with a special RSS link - once added you can listen to this special weekly show just like any other podcast you subscribe to!
Monthly Shout-Out on STN and your name on our special Skywalking Force page on our website.
All previous benefits!
Pixie Dust
Your Pixie Dust gives us Wings!
Extra Special Monthly Shout-out as a Fairy Godmother/Godfather. In our monthly Shout-Out on the Skywalking Through Neverland podcast, we will reference you (if you wish) in this special way. 
All previous benefits!
About
Hey Hey Skywalkers! Welcome to our family of Star Wars, Disney and Marvel fans!
<--------COVID-19 UPDATE-------->
Hey Hey Skywalkers! We know that all of us are being touched in some way by the coronavirus and its effects. The only thing certain right now is uncertainty. So we want to share as much joy and happiness as we can. 
In an effort to keep the lights on, literally in our home, we are creating more joyful Patreon content, for less - because we know this is affecting you as well.
Beginning March 20th, 2020, we are posting a special Weekly Patreon Show dedicated to sharing joy, fun and general merriment when we most desperately need it. We are calling it the Skywalking Force of Fun!
Formerly, Bonus Content episodes (by far the most requested extra) was at the $10/month Pixie Dust level. We are dropping our Bonus Content Tier to $5/month Wookiee Hugs level!  You are welcome to give more than $5, keep the level you already have, or maybe now is the right time to join the Skywalking Force.
Together, That's How The Skywalking Force Works
------------------------------------------------------
Skywalking Through Neverland is a podcast, YouTube channel and website co-hosted by us -husband and wife team Richard and Sarah Woloski. We cover Star Wars, Disney and Marvel - from new films and TV shows to the vintage era. Each podcast contains interviews with Imagineers, producers, book and comic book authors, even actors. The show has an amazing community of fans (Skywalkers, as we like to call you) that has grown with us over 5 years. This little podcast that could has become our baby, our family of Skywalkers. We could not be more grateful.
So why are we reaching out now? After 5 years of providing weekly shows of the highest quality, we want to do more more! Just as a 5-year-old starts on a new chapter of life when they head to Kindergarten, we are looking for ways to expand and grow. We'd love to provide more content, have more time to develop our YouTube channel and create more quality entertainment for your ears and eyes. That's why we're recruiting you as our Skywalking Force.
We love producing Skywalking Through Neverland each week, so we'll never stop, and it will always be free. But we want to contribute more time, more insights, more interviews, and you will be our Force to make that happen. Begun, the Skywalking Force has.
We're so excited about it that we've created this Exclusive Patreon-only T-Shirt design! 
Where Will This Money Go?
Great question! With your help, we can produce our spin-off shows on a more regular basis - Classic Marvel Star Wars Comics and Step In Time. We will be able to take more time off work so we can head to press events or various comic cons all over the U.S., and maybe even the world! The sky really is the limit.
Why Should I Pledge?
We feel that each episode we produce is a polished gem. Many hours are spent each week tracking down interviewees, planning content, writing show notes and, of course, recording. Once the show has been recorded, Richard meticulously edits out clicks, pops, um's, ah's and anything that may sound horrible in your earbuds. This takes approximately 15 hours each week.
Meanwhile, Sarah created the show imagery in Photoshop, writes up the show notes and meticulously links everything and schedules social media posts. It's a part-time job!
So take a look at the various pledge levels, and if this is something you'd like to support, welcome - you are not only a Skywalker, you are a Skywalking Force! If it's not for you right now, we hope you still tune in and listen each week. And, always remember,
NeverLand On Alderaan!!
When $100 dollars we reach, invest in binaural microphones we will!
These microphones sit in your ears and record true surround sound. This means we can bypass Secret Squirrel when we go to Disneyland, press events, the beach, you name it! And those extra Skywalking Force shows will get REALLY interesting. Let's do this!
1 of 1
Become a patron to
Unlock 44 exclusive posts
Connect via private message
Recent posts by Skywalking Through Neverland
How it works
Get started in 2 minutes