Sophie Bandelin Ceramics
handmade ceramics and pottery tutorials
Select a membership level
In love with pottery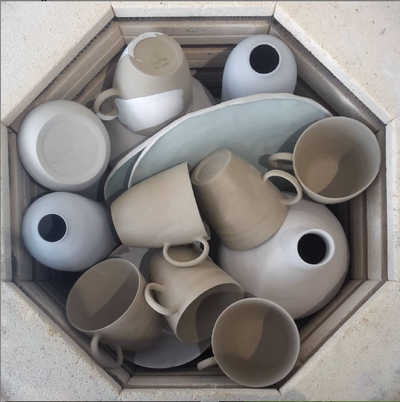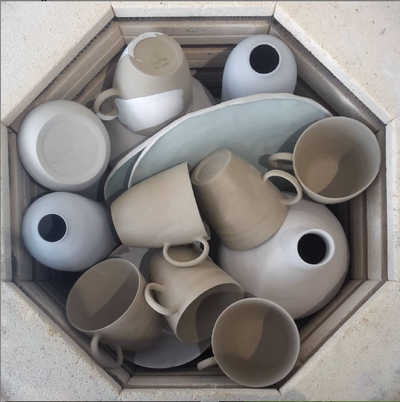 You like my work and want to support me?
That's so nice of you and I really appreciate it. Even a little support helps :) It gives me a good feeling that somebody is out there believing in what I do.
This is what you will receive:
Exclusive seconds sale (about every 6 months)
Priority communication
A mini print of my ceramics with a personal thank you note
With your support of 5 € per month you will help me to buy one bag of white clay or paying for shipping of a small package.
Thank you so much for support!
Caring for your pottery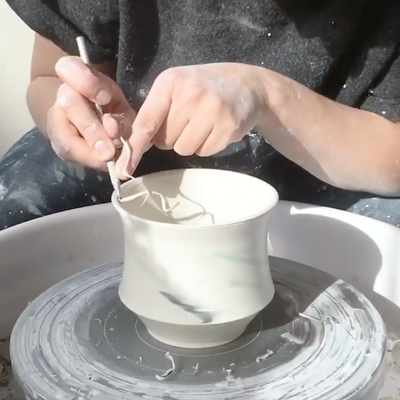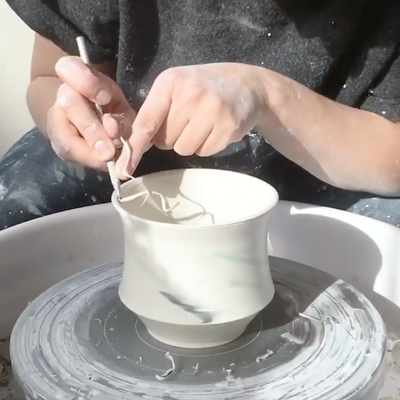 Your support will help me to finance better video equipment to develop my tutorials and online classes.
You'll get everything 'In love with pottery' gets plus:
Regular pottery tips and tricks
Pottery tutorials like 'centering clay on the wheel', 'throwing a cup and attaching a handle' (A new video added at least every two months)
Access to the Private Community
Priority communication
Polls asking you what you'd like to see
Studio insights
Thank you so much for support!
Frühzeitiger Zugang zu Inhalten

Stimmrecht nur für Patrons

Posts und Nachrichten nur für Patrons

Zugang zu exclusiven Posts und Updates
Get pots and learn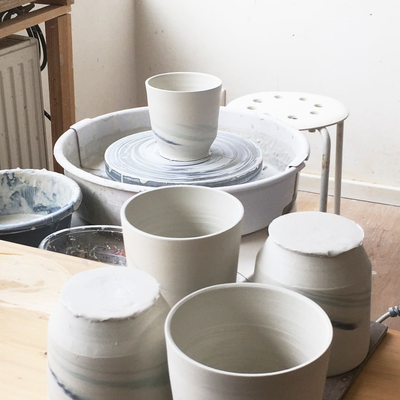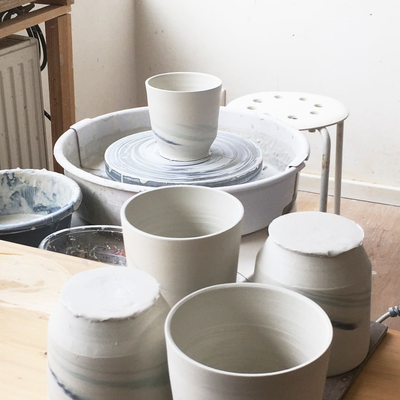 Creating large vessels and art pieces takes a lot of clay, time and love. To bring my work out into the world I spend hours of filming, shooting pictures and editing.
With this membership you give me the chance to keep developing my ceramics.
In return of your wonderful commitment you will receive everything in Tier 1 and 2 plus:
Every three months a piece of pottery (three month membership minimum)
Thank you so much for support!
Stimmrecht nur für Patrons

Posts und Nachrichten nur für Patrons

Frühzeitiger Zugang zu Inhalten

Zugang zu exclusiven Posts und Updates
About Sophie Bandelin Ceramics
*****************************  Die deutsche Version findest du weiter unten  ****************************


I'm happy you found your way to my Patreon page.

I'm Sophie, a Berlin based ceramic artist.
During the past six years, I developed my skills with different ceramic materials, including stoneware and porcelain clays. I usually develop a new ceramic project with an idea I find in nature or my inside world. During the process I get inspired by imperfections and the clay's character. To make every piece unique, I combine throwing on the potter's wheel with handbuilding techniques.

I strongly believe that the "mistakes" which happen during the process of making give birth to the most beautiful results. This philosophy is the basis for my teaching work as well. In my pottery classes, I teach my students basic and intermediate wheel throwing techniques. I encourage them to appreciate beginner mistakes, and to integrate them into their process to create unique pieces.

If you love handmade ceramics, or want to learn more about pottery techniques, you are very welcome to join my Patreon page and gain access to an exclusive insight into my daily working routine, hands-on pottery tutorials, access to the private community, and free ceramic pieces.

If I have piqued your interest, check out my tiers for further information. By supporting me on Patreon, you help me to continue my work as a ceramic artist and also to focus more on creating my very own online teaching content.

Sophie






***************************************************************************************************************

Ich bin froh, dass du den Weg zu meiner Patreon-Seite gefunden hast.

Ich bin Sophie, eine Berliner Keramikkünstlerin. In den letzten sechs Jahren konnte ich meine Fähigkeiten mit verschiedenen Keramikmaterialien, wie Steinzeug- und Porzellanmassen, weiterentwickelt. Am Anfang eines neuen Keramikprojekt steht immer die grobe Idee, die durch die Natur oder meine Innenwelt inspiriert wird.
Während der Umsetzung entwickelt sich diese Idee weiter und wird von den Eigenschaften des Materials mit dem ich arbeite und scheinbaren Fehlern beeinflusst.
Um jedem meiner Keramiken seine ganz eigene Formensprache zu geben kombiniere ich das Arbeiten an der Töpferscheibe mit verschiedenen Aufbautechniken.

Ich bin der Überzeugung, dass die "Fehler", die während des Herstellungsprozesses auftreten, die schönsten Ergebnisse hervorbringen. Diese Philosophie ist auch die Grundlage für meine Lehrtätigkeit. In meinen Töpferkursen zeige ich den Teilnehmern die grundlegenden und fortgeschrittene Techniken für das Arbeiten mit Ton an der Drehscheibe. Ich ermutige sie, Anfängerfehler zu schätzen und sie in ihren Prozess zu integrieren, um einzigartige Stücke zu schaffen.

Wenn du handgefertigte Keramik liebst oder mehr über Töpfertechniken erfahren möchten, kannst du dich sehr gerne auf meiner Patreon-Seite anmelden und einen exklusiven Einblick in meinen Arbeitsalltag erhalten, bekommst praktische Töpfer-Tutorials, Zugang zur privaten Community und erhälst in dem Level "Get pots and learn' Keramikgeschenke.

Sollte ich dein Interesse geweckt haben, schaue dir gern die einzelnen Level für weitere Informationen an.
Indem du mich bei Patreon unterstützt, hilfst du mir, meine Arbeit als Keramikkünstler fortzusetzen und mich mehr auf die Erstellung meiner eigenen Online-Lehrinhalte zu konzentrieren.

Sophie

By becoming a patron, you'll instantly unlock access to 1 exclusive post
By becoming a patron, you'll instantly unlock access to 1 exclusive post
Recent posts by Sophie Bandelin Ceramics