The Space Between Stories
is creating Blogs, Event Design, Game Consulting, Character Design
Select a membership level
All the World's a Stage!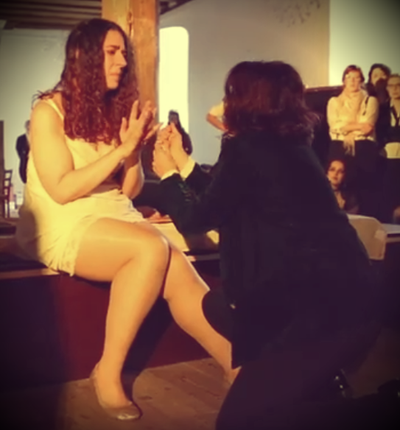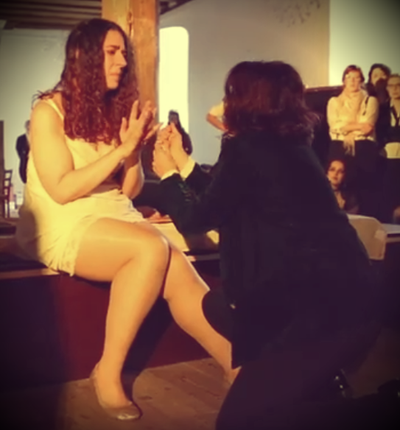 The most important tier, it is nearest and dearest to my heart! Are you a fellow creator? If you've ever played a game, acted in an improv scene, told a story through a character, or helped others tell their stories then yes! YOU are a creator. You are a part of this great stage and story we are all telling. If you want to support a fellow creator, if we've ever told a good story together, if you want to help live the dream of bringing collaborative, immersive design to American storytelling? This is the level for you. All blog posts will be released to Patreons earlier than on the public blog, so you can read, leave comments, or have feedback included in the public facing blog! This helps you collaborate on industry education as it's being made! (Thanks to Bret Lehne for the photo from Inside Hamlet 2017.)
Brief Character/Story Development
Limited (11 of 20 remaining)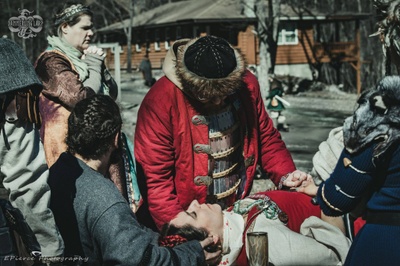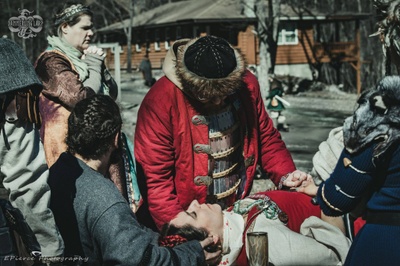 At five dollars a month, we get to spend at least 15 minutes a month chatting on how to help you better develop a character, a story line, or anything larp related. These chats will happen strictly online and I recommend they are used for: working on character costuming, developing backstory, fitting a character into genres, figuring out how to steer plot, or thinking through a character who has stalled in their story. This is personalized time to help you better your own larp experience. (It is your responsibility to reach out by email, Facebook, or Discord to organize your monthly chat! If you miss 1 month, it can roll into the next for a 30 minute chat.)  (Thanks to Erin Pierce for the photo from Dammerung Larp.)
30 Minute Larp Consulting Session
Limited (6 of 10 remaining)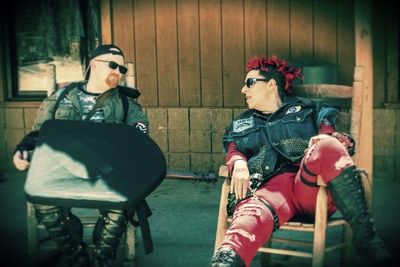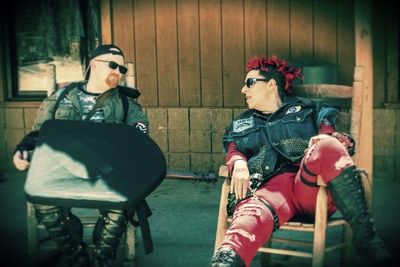 For 10 dollars a month, you get a 30 minute one-on-one session with me (either over video conference, chat, or in person if you are local) to consult on anything in the larping sphere you want. It can be game development, character development, story steering, personalized character wardrobe picking, set design, setting development, or anything under the immersive event umbrella whether you are a player or creator. This is 33% discount on my regular consulting fees. It is your responsibility to reach out and book your session, but if you don't have anything in a given month, you can roll over to having an hour session the month after.  (Thanks to Jacque Blake for the photo, from Dystopia Rising.)
About The Space Between Stories
For as long as I can remember, I've wanted to tell stories. Acting, directing, writing, dancing -- it didn't matter how, as long as it told a story that tugged on the heart-strings and made people think a bit deeper about their lives. Nowadays, I'm lucky enough to use interactive event and game design to tell hundreds of stories with thousands of people across the planet. I cannot describe how lucky I am to have all of you as fellow storytellers and creators who are helping me on this journey to learning how to tell different, better, and more world-reaching stories.

This Patreon is dedicated to everyone else in the storytelling and role-playing community. All the money from it goes back into learning how to create better narrative and game design. Therefore, as you all give to me, I can give back to you. Whether it's going to design conferences, creating bigger events in the United States, or simply getting a vacation to play a new game where I see how others create, I'm putting any pledge given by my Patrons right back into enhancing myself as a narrative designer and gamer. With each pledge I can continue to learn and grow as not just a designer, but a storyteller. Thank you so much again for being a part of this collaborative, creative, narrative-driven community.

Keep telling great stories.

$131.85 of $200
per month
GoPro: I really want to be able to live stream (with people's permission) some LARP events and big scenes. It would let me talk more actively about the work behind the scenes as well. However, that requires some durable technology and money. So, when I hit 200 dollars a month, I'll be purchasing a GoPro so I can bring LARP design and stories to you in a variety of media, not just written words. 
2 of 3
By becoming a patron, you'll instantly unlock access to 66 exclusive posts
By becoming a patron, you'll instantly unlock access to 66 exclusive posts
Recent posts by The Space Between Stories
How it works
Get started in 2 minutes