Siggy Simon
is creating SpaceHighway, a Sci-Fi story
Select a membership level
Copilot
▸ Be the first to read the new chapters.
▸ Access to the Patreon-only news via this Patreon page.
▸ Download each chapter as PDF and ePUB (DRM free).
▸ Access some Behind the Scenes post once in a while (no interval defined).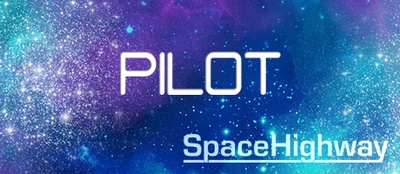 Pilot
▸ Live Q&As Discord chat with the author twice a month
▸ Patreon only polls. 
▸ Download as mobi. DRM free!
▸ Access to Behind the Scenes extras once a month. 
▹ Plus everything the Copilots get.
Instructor
▸ Extended and NSFW chapters! (2 full NSFW chapters, at least 50% extended chapters per arc).
▸ Live Discord audio/video chat and/or Google Hangout with the author once a month (after reaching the $100 goal).
▸ Access special, spicy Behind the Scenes post once in a while (no interval defined).
▸ And your patron name appears in the Instructors Thank You page on the official website and in the annex of each chapter.
▹ Plus everything the Pilots get.
About Siggy Simon

The new space-heroes are truckers
The Queen and the King of the SpaceHighways
 is the second arc of the
SpaceHighway
series.
Kira has awakened in the thirtieth-century after over a millennium-long sleep in cryopreservation… The enigmatic Aia, an alien of unknown origin, helps him out.
Follow Kira as he discovers new worlds and friends throughout the universe.
The Awakened
arc is finished!
Read more about the future of SpaceHighway
.
Most chapters of
SpaceHighway
are free to read on
SpaceHighway.ms
.

Please note that SpaceHighway contains light nudity* and daily speech. Meaning, it contains profanities and some rude language.
*(except in Patreon-only NSFW/Adult and eXtended chapters)

If SpaceHighway is free, then what is in for patrons?
Patrons will be able to read new chapters two weeks before anyone else. They also have access to insights about how the series is progressing and to patron-only posts. Such as early character sketches, experimental designs, layouts of places, writing progress, deleted scenes and additional scenes, and much more.
Depending on the tier subscribed to, patrons will have access to Q&As-sessions with the author and access to dedicated Discord channels, they can participate in Patreon-only polls, receive behind-the-scenes stories, character descriptions, and
NSFW
/
Adult
and
eXtended
chapters.
Just have a look at what the different tiers offer.
And, of course, a nice feeling for supporting the development of
SpaceHighway
.

Free extra for everyone: Chirp-stream of some characters
Characters' Chirp-streams:

About SpaceHighway
SpaceHighway is a series starting with the first arc
The Awakened
.
The series follows the protagonist, awakened after more than a thousand years of cryopreservation, from his own point of view and discovers the new way of life.
Read more about the author and the series
Want to know more? Have a look at the
SpaceHighway FaQ
Published chapters
Free for everyone to read on
SpaceHighway.ms
.

All tiers
, including "Tier 0 - Hitchhikers",
have access to
:
Most YouTube/Vimeo videos (once I begin to upload them).
Q&A through Social Media.
Public polls.
Find and correct an unreported grammar error or typo: appear in the Mechanics Thank You Page and annex of each chapter.
Create a new species, be approved and appear on the Species Creator page!
Create a new world, be approved and appear on the World Creator page!

Publishing dates
A new chapter will be published monthly, to be more precise, each four weeks.
For
patrons
: Sundays around 5pm UTC each four weeks.
Free edition
: two weeks after the Patreon-edition is published.
Still unsure when a new chapter will be published?
Check out the SpaceHighway chapters publishing calendar
Note: this calendar is illustrative and might change, but I will make a public post if it does.

Where to download
Patreon-only downloads and other goodies are published here, on Patreon.
I will be able to offer live streams and Q&As describing and explaining more in-depth details on the progress of the series, behind-the-scenes details and more information about the SpaceHighway universe and its inhabitants.
What will I do with this money?

I will change from my old 4MB ADSL provider to Fiberglass.
Integrate the SpaceHighway website further into Patreon.
Why this provider change?
Due to the installation of Fiberglass in my neighborhood, the copper pair will not be updated for higher speed allowing me to stream.
What is in for patrons?

Live streams and other videos detailing and explaining behind-the-scenes and other stuff.
Allow patrons to read and download new chapters and extras directly from the main site.

And, no more "Support on Patreon" ads for patrons.
1 of 7
Recent posts by Siggy Simon