Splash Comics
is creating Amazing Comics Books
Select a membership level
Flagship Friend Subscription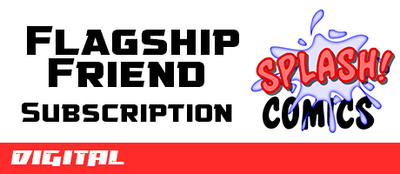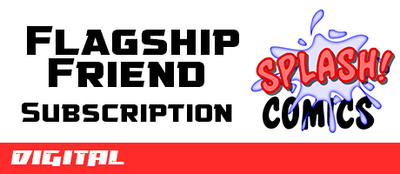 What's a hero without friends?! Lonely! And probably has a newspaper editor trying to convince the world that he's a menace.
With your Flagship Friend Subscription you will receive a digital copy of every issue sent to your electronic mailbox! That's right! We'll convert the single best comic book you will ever read into bits and bytes and send it your way!
You'll only be charged when new issues are printed.
Unfortunately my good friend, no ultra-sonic alert watch is included for you to signal your favorite super-hero when you are in trouble.
Available for US and International Subscribers
Sidekick Subscription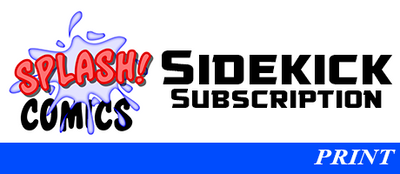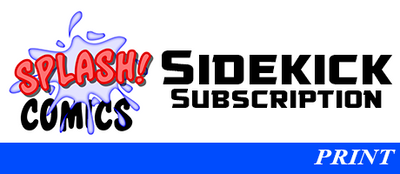 Good choice Old Chum! By choosing the Sidekick Subscription you guarantee yourself that a copy of the single best comic book will rocket itself into your mailbox at the blazing speed of snail mail!
You will only be charged when a new issue is printed and mailed to you! And your subscription includes the cost of shipping!
But that is not all, your name (and your heroic deed) will be forever immortalized on the Patreon Thank You page in every issue you receive!
Available for US Subscribers Only
Super Team Subscription (USA)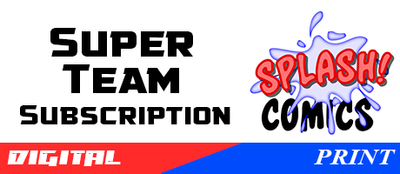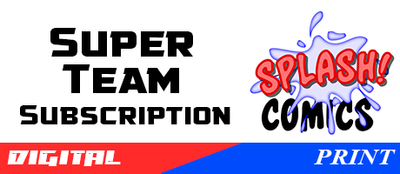 Welcome to the team, Hero!
Your Super Subscription includes both a print and digital copy of every issue, and gets your name immortalized on the Patreon Thank You page in every issue.
But a hero of your stature deserves greater recognition than just that!
You will also receive an early digital sneak peek at each issue's cover and first six pages!
And tucked in the envelope, with your print issue you will find one card from the "Flagship Origins" trading card series! The Flagship Origins trading cards will be a limited edition set of cards with Mark Robinson's original sketch of each character on the front and a short summary of the character's origin story on the back.
Available for US Subscribers only
About Splash Comics


Flagship was America's Gunmetal Guardian.
Defender of the American people and protector of good old American values.
But was he really everything he claimed to be?
Find out in Flagship #1 coming soon from Splash Comics!
Let's Make a Splash!
It has always been my dream to create comic books. Ever since my Dad bought me my first comic when I was home sick with the chicken pox, comics have been a huge part of my life. Well, thirty some odd years later, it's time to suit up and dive in!
 Splash Comics was born out of a love for comic books of all types, especially those of the 1980s. Comics back then were so much fun! In
Flagship
, the first release from Splash Comics, you'll find ghouls who would be at home in Marvel's Legion of Monsters, heroes who could stand side by side with John Byrne's Superman, and giant robots ready to go toe to toe with the Zentraedi from Robotech.
A love of comic books is essential to making great comics, but there are also two other crucial pieces. You've got to have a great story and great art.
Bigger Waves with a Bigger Story
Comics back in the 1980s really packed in the story. Thought balloons let you in on character's inner dialogues. Captions filled you in on backstory and described crucial moments. Writer's really used a lot of space for words and used more panels on the page in which to put them. And it was awesome. But, in the late 1990s and early 2000s, comic writing started becoming more cinematic, more 'decompressed'. Panels became fewer and art took up more space, and stories which might have been told in one or two issues, were now taking four or five issues to tell. This was good and bad. Good because we got bigger super-heroes on the page and more cool artwork. Artists like Todd McFarlane could spread out and fill a page with Spider-Man's "spaghetti" webs and other amazing artwork. Bad because suddenly the cinematic storytelling removed us from the characters' thought balloons and gave us less each issue when it came to storytelling.
Splash Comics looks to bring the 1980s into the future! Every Splash Comic, and
Flagship
especially, will combine both traditional comic book pages and hybrid prose pages. That means more story told in the same number of pages as a traditional comic book! This combination allows for the big, bold artwork to shine alongside prose bringing you right into a character's thoughts and actions. Each issue really is a comic book, because it is both a Comic and a Book!
Art Like a Tsunami
More often than not however, whether a comic book sinks or swims, is determined by the quality of the artwork. Books really are judged by their cover and with comic books, often the first couple pages someone flips through at the rack. Potential customers making the decision whether to buy a comic book they have never read before do so largely based on the art and the artist.
And boy does Flagship have a doozy of an artist!
Mark Robinson has worked as a professional comic book artist at many big publishers and his art has appeared in Hulk, Amazing Spider-Man, Ms. Marvel, New Mutants, Ghost Rider, Bloodrayne, Dragon Age, I Love Trouble, and (being a huge G.I. Joe fan, this one is my favorite) Devil Due's Storm Shadow series, written by Mr. G.I. Joe himself, Larry Hama. I may have fan-boyed a bit and asked him to sign my issue for me.
Mark's art grabs you like a rip current and makes you want, no need, to turn the page to see more. And then turn the page back to get another look at what you had just seen, because you can't believe you actually turned the page. How I got lucky enough to have Mark answer my help wanted ad for an artist is beyond me.
Join Us! Together We Can Make a Big Splash!
I can't help but be excited for Splash Comics and for the first issue of
Flagship
. And I hope you are excited too! Please take a few minutes to check out the the various subscription tiers, and consider signing up. You'll only be charged when a new issue is printed and sent to you. I also have some cool benefits to make considering the higher tier subscriptions worth your while.
Also be sure to check out the Flagship page on Facebook at:
https://www.facebook.com/flagshipcomic
Thanks for checking out Splash Comics and as a wise man used to say...
Excelsior!
By becoming a patron, you'll instantly unlock access to 9 exclusive posts
By becoming a patron, you'll instantly unlock access to 9 exclusive posts
Recent posts by Splash Comics
How it works
Get started in 2 minutes