Tweets by SpookingtonsDIM
Hi there! I'm Norm Scott
, and if you know me, it's probably from my comics, like EGM's "Hsu and Chan," "Violence Man" and "The Otters," or my animation/game work on sites like Cracked and 1up. If you don't know me at all, hey, you're still here, it's not like I'm gonna look a gift horse in the mouth. Thanks for coming, settle in, and get ready for the hard sell!
Click the image below to read Hsu and Chan's very special Patreon message to you!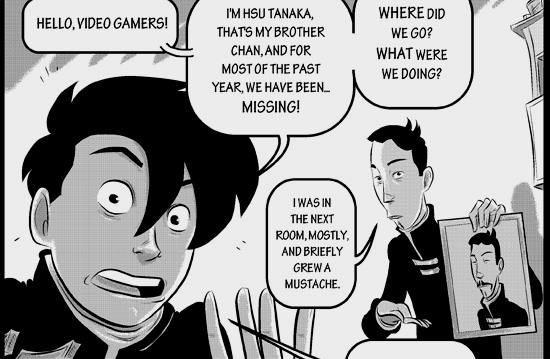 Click for the full comic!
So, why am I doing this? The simple answer is that, while I've been fortunate enough to make a significant portion of my living income from work in the arts, in recent years it has rarely been from MY arts, specifically. I miss writing Hsu and Chan, Violence Man, the Otters, and all the rest, and as time has passed and new projects arisen, opportunities to work on the adventures of my dear, old, weird friends have been harder and harder to come by. 
Enter Patreon! If you're new to Patreon, here's the deal: you pledge a certain amount of money each month, and that enables me to make funny things for the viewing public. What sort of things? How about...
SPECTACULAR COMICS!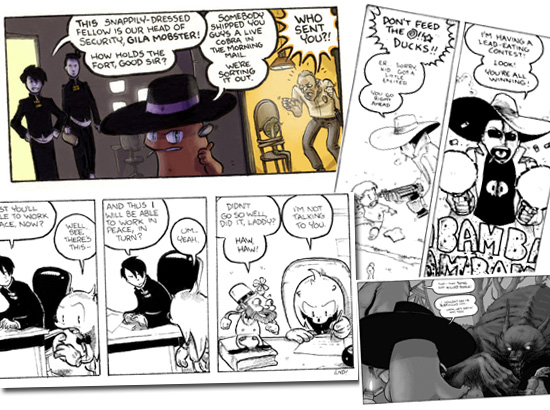 Trust me, I've been drawing comics for a long time now, long enough that you'd be fully justified in wondering why I still have such a hard time drawing human hands! And there's no reason I can't continue to fudge my way around the illustration of basic anatomy as long as I have loyal fans like you behind me! Help me bring Hsu, Chan, and all the rest back to the printed (or digital, whatever) page!
EXCITING VIDEOS!
Keep the funds rolling in, and we'll be able to ramp production up on some of our more-elaborate projects, like the Hsu and Chan video series!  These things are NOT easy to put together, but with your help, you'll be able to experience cognitive dissonance between what Hsu sounds like in your head and what he sounds like on video all over again! And with
enough
support, we'll even be able to animate some of our other Spookingtons favorites! 
AND MORE!
Point-and-click adventure games, live-action series -- there's no shortage of content to be made, just a shortage of time in which to actually make it. Help me free that up, and we'll go to some weird (good-weird!) places, guaranteed. Check out the goals and reward tiers to get a better idea of what's coming up, and what you'll get out of it! Sincerely, I thank you for your support.
-Norm 
CURRENT LONGFORM PROJECTS:
Comic: The Otters in "Fishing A-Tourney!" - in-progress!
Hsu and Chan one-hour audio project - in-progress!
Incredibly Secret Project That's Taken Much Longer Than Anticipated But Will Eventually Amaze You - in-progress!
Monthly Hsu and Chan 3-pager - Always in-progress, 12 comics annually!
Hsu and Chan Look at Things, episode 5 - COMPLETE!
Up-to-the-minute updates on our Twitter page!