Spooky Boo
is creating A Scary Story Podcast Anthology
Select a membership level
Get exclusive patron-only merch
Spooky Boo Ghostie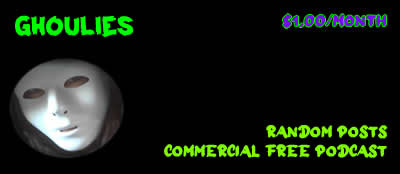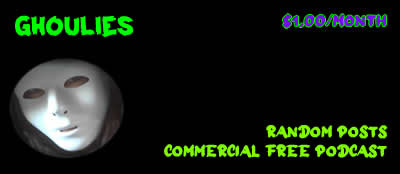 Includes
A monthly newsletter with the following:
All non-mature stories in audio
No commercials
Movie Reviews
Thoughts on new horror movies coming out
Sandcastle, Creepy California, Midnight Monsters, Creepypasta Scary Stories
*Note that some stories with mature content are not available at this level.
Ghoulie
Newsletter | Early Releases | Credits at End of Video

The same as a ghostie, but with a little more power. Get your name at the end credits on videos and in text as a Patreon supporter. :) 

Also, sometimes I make audio up to 30 days in advance. As a ghoulie you will have podcast access to all of these audios that will be released at a later time on YouTube and Spreaker as well as the other sources. This also includes all episodes that have been removed from YouTube, the podcast, and all other sources.

Starting July 29, 2021, this tier includes access to the NSFW content which is either censored or not included on the public podcast. Episodes may have swearing including f-bombs, adult situations, excessive gore, etc. You will be notified when an episode with this content is released before the story begins so you may choose to listen at your own discretion. 

Really cool Scary Story Time sticker!
Poltergeist
This level includes everything in the previous levels and will also include random goodies throughout the year as well as a Scary Story Time Member t-shirt. The t-shirt is sent after 3 consecutive months of membership. Note that I can only send t-shirts to residents of the USA at this time.
Random goodies might include a personalized letter by Spooky Boo. Stories not at other levels. Articles of clothing. Fun prints of Spooky and friends at conventions. Signed paperback copies of the books, and more. It's really random and doesn't happen monthly. Be sure to add your physical address.

Includes
Exclusive T-shirt -

Spooky Boo's Scary Story Time Limited Edition T-Shirt

Exclusive Sticker -

Really cool Scary Story Time sticker!
Website Advertiser Tier
Everything on the other tiers plus a static square banner pointing to your website from the Scary Story Time and Creepypasta Scary Stories websites.
Video Advertiser Tier
Everything in the previous tiers plus add your 30-second commercial to every video Spooky Boo puts out. This also includes all other videos and a banner spot on the Scary Story Time and Creepypasta True Scary Stories websites. The commercial will always be on the videos no matter if you stop your monthly membership but will not continue on new episodes on the last day of the last month of a paid membership. There are only 2 spots for this feature. Placement is first come, first served.
Videos must be related to spooky content. So, if you're selling a car then make it your Halloween special. If you're selling horror masks, well, do any related commercial. My viewers should be interested in the content and they want SPOOKY! Please review all of the content on my YouTube Channel and make sure this is something you want to do before agreeing on a commercial spot because I will not be taking it down without a lot of paperwork.
I do not accept commercials from places that would violate YouTube community standards such as pornography and controversial content. Please contact me with any questions before signing up.
Includes
Exclusive T-shirt -

Spooky Boo's Scary Story Time Limited Edition T-Shirt

Exclusive Sticker -

Really cool Scary Story Time sticker!
About Spooky Boo
Welcome to Scary Story Time at
www.scarystorytime.com.
This is your host Spooky Boo. I invite you to come to the haunted world of Sandcastle where deep in the forests of Northern California to the whispering waves of the Pacific Ocean come forth the mysterious tales of Sandcastle.
At the Spooky Boo Club, you'll get all of my podcasts commercial-free. You'll also get various posts such as a monthly Spooky Boosletter with updates on what is going on in the world of Spooky Boo and creating the podcasts. It also includes the PDF copies of books I've written and sometimes even the pre-released issues.
Funds from the Spooky Boo clue are used for webhosting, domain names, equipment, and even giving me time to write more! So if you love the stories of Sandcastle as well as any stories or novels in the future, being a member here really helps out a lot :) I really appreciate it.
Thank you for becoming a member of the Spooky Boo Club. :)
My first goal will pay my monthly bills required for the podcast and webhosting. All of this costs around $100/month.

1 of 5
Become a patron to
Unlock 583 exclusive posts
Connect via private message
Recent posts by Spooky Boo
How it works
Get started in 2 minutes