Spooky Boo
is creating A Scary Story Podcast Anthology
About Spooky Boo
Welcome to Scary Story Time at
www.scarystorytime.com.
This is your host Spooky Boo. I invite you to come to the haunted world of Sandcastle where deep in the forests of Northern California to the whispering waves of the Pacific Ocean come forth the mysterious tales of Sandcastle.
My podcasts are available on various platforms with commercial sponsorship or you can subscribe to the commercial-free version right here for just a buck per month. If you do listen to my content on YouTube please consider a subscription here as YouTube does not support all of its creators. :) Thanks!
Select a membership level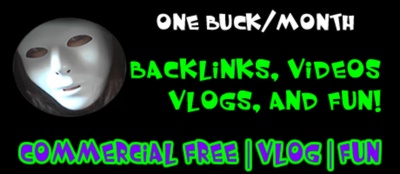 Spooky Boo Ghostie


Includes
A monthly newsletter with the following:
All stories in audio
No commercials
Movie Reviews
Thoughts on new horror movies coming out
Sandcastle, Creepy California, Midnight Monsters
Ghoulie
Newsletter | Early Releases | Credits at End of Video
The same as a ghostie, but with a little more power. Get your name at the end credits on videos and in text as a Patreon supporter. :) 
Also, sometimes I make audio up to 30 days in advance. As a ghoulie you will have podcast access to all of these audios that will be released at a later time on YouTube and BlogTalkRadio as well as the other sources. This also includes all episodes that have been removed from YouTube, the podcast, and all other sources.
Special membership access to Discord for parties, livestream, ideas are welcome!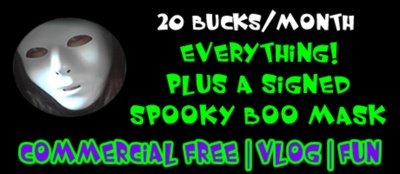 Poltergeist
Patrons at this level will receive a first edition, signed copy of the printed anthology that is released around Halloween of each year starting in 2019 as well as the PDF ebook and the MP3 audio. See details and requirements below for the signed copy.
My first goal will pay my monthly bills required for the podcast and webhosting. All of this costs around $100/month.

1 of 5
Recent posts by Spooky Boo