Stattleship
is creating a Sports Data API for data scientists and hobbyists.
Select a membership level
5 Rings = $5 Tokens!
Limited (32 of 51 remaining)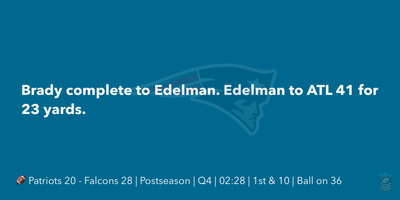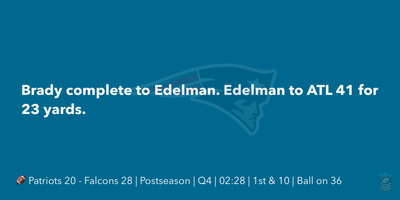 In honor of Brady's 5th Superbowl win, we're offering 51 data fans Stattleship API token activation for just $5!
Falcons and Jets fans, too 😉
So, if you've held off getting a token, grab one today!
Activate API Token
The API has a free 5-day trial.
But, for just a few $ a month, you'll get an activated token to access NHL, NBA, MLB, and NFL data!
Whatta deal!
P.S. We have to activate your token manually and we try to do this pretty quickly. If there's a delay (or if we're asleep) please know we'll be on it ASAP.
About Stattleship
Since we launched the 
Stattleship API
earlier this year, we've made it easy for
well over one thousand ? developers, ? data scientists, and ? hobbyists to fetch sports data
. We are so fortunate ? to have fans like you!
Our goal has always been to 
empower you with the data you need
to build apps, data visualizations, learn R, make better fantasy lineups, and more. 
As you well know, sports data is ? 
tough to get elsewhere, super ? expensive, and a ? bear
to implement.
We have ideas for new data, endpoints, and products that you could use in so many ways. Your support means the world to us!
When you
become a Stattleship patron
and you'll
Keep the Stattleship API ? running! (This is a big deal! Hosting and data is ? pricey.)
Support data for new sports like ⚽️ soccer (MLS and European leagues)
Encourage us to load ? prior seasons of data (We get so many requests for data from 2010 and on)
Allow us to develop new products like Stattleship Stream, Slack and Facebook Messenger ? bots
If you ❤️ love using the Stattleship API as much as we love working on it, please become a patron and contribute what you can.
Even if you aren't using Stattleship, but want to ? support our team, we'll be creating and posting some cool  photos, visualizations, and content here for you to enjoy. ?
David, Josh and the Stattleship Team
We'll never forget that you're supporting us in this way and it will keep Stattleship alive as the friendliest, easiest to use Sports Data API out there for you day in and day out.
1 of 5
Recent posts by Stattleship
How it works
Get started in 2 minutes