Stattleship 
is creating a Sports Data API for data scientists and hobbyists.
Become a Stattleship Patron
$2 or more per month

∙ 5 patrons
Show your ❤️ for the Stattleship API
5 Rings = $5 Tokens!
$5 or more per month

∙ 47 of 51 patrons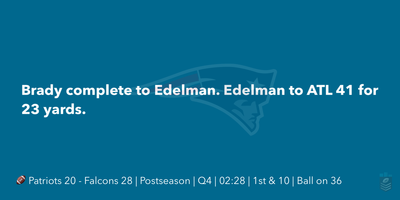 In honor of Brady's 5th Superbowl win, we're offering 51 data fans Stattleship API token activation for just $5!
Falcons and Jets fans, too 😉
So, if you've held off getting a token, grab one today!
Activate API Token
$7 or more per month

∙ 15 patrons
The API has a free 5-day trial.
But, for just a few $ a month, you'll get an activated token to access NHL, NBA, MLB, and NFL data!
Whatta deal!
P.S. We have to activate your token manually and we try to do this pretty quickly. If there's a delay (or if we're asleep) please know we'll be on it ASAP.
Superstar
$25 or more per month

∙ 3 of 400 patrons
Ooooh ... stickers!
It's 2" x 3" of die-cut awesomeness.
My laptop already looks more sporty.
Super Pro Gold 3000
$50 or more per month

∙ 0 of 200 patrons
Oh yeah! Get the whole family of stickers -- all sports!
A little smaller, these 1" x 1.5" stickers can go anywhere.
Of course, you'll get the "three sports" 2" x 3" sticker, too.