Stephanie Van Taylor
is creating Cosplay, Rave Wear, & Dance Videos
Select a membership level
Pokeball Tier
BIG THANK YOU HUGS!!!!
-This tier gives you one entry each month for a drawing to win a Stephanie Van Taylor love card and gift.  
-Cosplay sneak peeks
-Early Facebook/Instagram post
Anything says a lot and it really shows me how much you really like my work.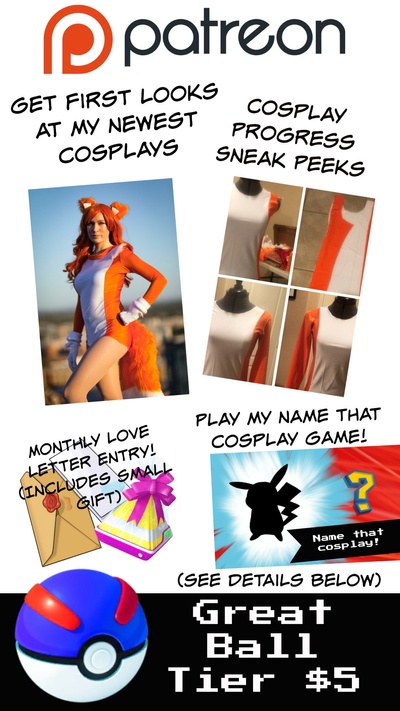 Great Ball Tier
 - Get first looks at my newest cosplay
- Cosplay progress sneak peeks
-Monthly entry for love letter and small gift
-Play my Name That Cosplay Game (each month I'll be doing a mystery cosplay photo shoot for print exclusives to Ultra Ball tier patrons only. During the month I'll share three separate photos that give you guys clues to which character I'm shooting for that month! First person to comment on any post with the right character name wins!! Prize for winner)
Ultra Ball Tier
 -Includes Everything in Pokeball and Great Ball Tiers
-Monthly Mini Print
-Personalized Goodies
-Gorgeous Mini Polaroids 
-Stephanie Van Taylor Chibi Stickers
-See All My Videos Before They Go On Youtube
-Behind The Scenes Videos and Photos
-Practice Dance Videos
About Stephanie Van Taylor
My name is Stephanie Van Taylor and welcome to my official Patreon page!
WHAT IS PATREON?
Patreon is a great website for many artists like me to grow and expand their work. This website allows me to personalize private content that is only exclusive to you and anyone else who joins in on one of my monthly tier subscriptions. Any tier that you decide to contribute to allows me to continue my work as a costume maker and increase my studio time for greater and bigger projects.
WHAT'S IN IT FOR YOU?
My Patreon page offers three different tiers now. Each tier offers different goods that can include giveaways, cosplay prints, stickers, contest, and more! The higher tier you sign up for the more goodies you GONNA get! ;)
HOW DO YOU BECOME A PATRON?
Sign up for one of my three tiers. I have a $1, $5, and $10 Tier that is charged to you monthly. See the TIER section of this page to view what each one offers.
ABOUT ME
I'm a professional cosplayer from Arizona. I have been creating cosplay and attending comic con shows since 2012. Across the country I have appeared with Big Dog Ink, Aspen, and now Mount Olympus Comics showcasing comic books and costumes. Last year I graduated college with a degree in arts with a focus in costume design and production in film. Comic con has really opened a whole world for costumers like me and has led us to many opportunities in cosplay community's all over the world. With platforms like Twitch, YouTube, and Patreon many artists are now able to share and grow their work in a fun creative way. I'm still new to these platforms but I only continue to grow and push myself to do more each time. I'm also an entertainer. With years of acting, singing, and dancing my cosplay style is very different. I like to tell stories with my costumes and bring them to life in cosplay dance videos. I am editing, writing, and directing all my own videos I post on my YouTube channel. Over time you guys will see a lot more of this as I continue to expand my cosplay collection. Please join my Patreon and become a part of all my adventures!!!
1 of 1
Recent posts by Stephanie Van Taylor
By becoming a patron, you'll instantly unlock access to 19 exclusive posts
By becoming a patron, you'll instantly unlock access to 19 exclusive posts