Stepsof2Foreigners
is creating memories around the world
Select a membership level
Pay "what you feel"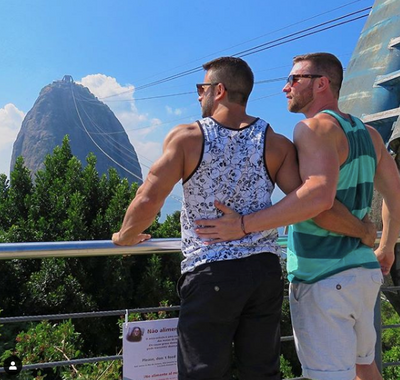 We like the one tier system. No matter the size of the monetary contribution, we believe that every Patron should gets full access to our extra content. This means we leave the choice up to you to contribute as much or as little as you feel, with no obligations. The $6 dollar a month minimum includes:
1. Come hangout with us: You're invited to our PATRON ONLY live video chat. 
Every month we'll hangout together via Facebook Live. During these hangouts you can ask any and all of your questions you might have, and we'll answer them live. How the conversation goes depends on you.
2. Extended versions of our weekly videos & bloopers (when available).
You will have access to extra clips that were not posted in our regular YouTube videos. Also, from each trip that we go on, we will both talk about our favorite memory from the trip in a more intimate form.  
3. Behind the scenes stuff.
You will get updates (i.e knowing our travel plans in advance) and some fun videos of us playing around with the drone and setting up the equipment.   We have to limit what we say on YouTube so this us without feeling constrained to YouTube guidelines.
4. You'll get more access to us!
We don't always have time to reply to every comment on YouTube, but we do our absolute best to respond to each and every comment/question we receive here on our Patreon page and in our private Facebook Group (more on that below)
5.  Get an invite to our PATRON ONLY Facebook group.
We've read that a private Facebook group is the best way to facilitate conversation and community with our patrons. We can't wait for you to join us! We do enjoy interacting with everyone, it's a big plus for us.
 
Lastly if you are new to Patreon you can try it out for one month and if it's not for you, you can cancel at any time!  No problem.
We appreciate the support and encouragement you give us.
About

Hello there! We are Adam and Bernardo (Steps of 2 Foreigners on YouTube) and we are a gay couple who loves to spend our time together outdoors exploring nature, traveling to unknown and touristic places, and also spending quality time together whether it be watching movies, working out, or cooking together.

Adam is from the United States and backpacked to Brazil in 2012 and fell in love with the culture, people, and nature; so he ended up establishing himself by starting his own English tutoring company. What eventually was a one year adventure turned into five years.  Bernardo is Brazilian and from Belo Horizonte.  He ventured his way to Brasilia in 2015 because of his job with the Brazilian Federal Government.  We are now married and enjoying our time together in Portland, Oregon.

We met each other in Brasilia in 2016, after a couple of likes were exchanged on Instagram. After our first date at a quaint coffee shop, we immediately knew that something special was about to unfold.  It didn't take too long for us to start our adventures by visiting beautiful waterfalls and beaches in Brazil and creating remarkable memories.Thailand was our first international trip and that's when our passion for filming and creating videos started.

Our YouTube channel, Stepsof2Foreigners, was then created and we've never looked back.  Each week, we create a new memory together, hence our motto, "go out and make memories".  Our memories range from staying at home and cooking together, traveling to different and unique places, immersing ourselves in nature, and spending time with our families.

The main purpose of our videos is to help us to remember these special moments we've created together but it has also turned into inspiring others to get out of their comfort zones, make their own memories and value the simple things that life has to offer.

Creativity can be underestimated at times, not only by others but also by the creators themselves.We did that to our work as well.We went back and forth about starting this Patreon page, but with time, we realized the impact that our videos have had on others and we started acknowledging the true value of our work and content.

Reading messages, comments, and letters about how our videos have lifted people out of depression or have helped others to accept themselves and understand that love has no boundaries has filled our hearts with joy and happiness.Words cannot express how grateful we are for receiving the love back from those who watch us.

While we're offering extra content to those of you who decide to become patrons, we are aware that not everyone will be able to become a patron. If you can't or don't want to become a patron, no problem at all. We would be delighted to have you continue supporting us on YouTube by watching, liking, commenting and sharing the videos we create.

Go out and make memories,
Adam and Bernardo


For more information about Patreon, check out the video below:


By becoming a patron, you'll instantly unlock access to 152 exclusive posts
By becoming a patron, you'll instantly unlock access to 152 exclusive posts
Recent posts by Stepsof2Foreigners
How it works
Get started in 2 minutes