Stephen Najarian
is creating fantasy paintings of Dragons epic landscapes, and more
Select a membership level
The heart of a Dragon
Thank you!  you have the heart of a dragon.  Every little bit helps, I cannot do this without you
Patreon feed access: You get access to my Patron only feed. Sketches, photos, works in progress and blog posts detailing the creative process that will not be available anywhere else.  You also have first dibs on all prints and original art
Dragoon Knight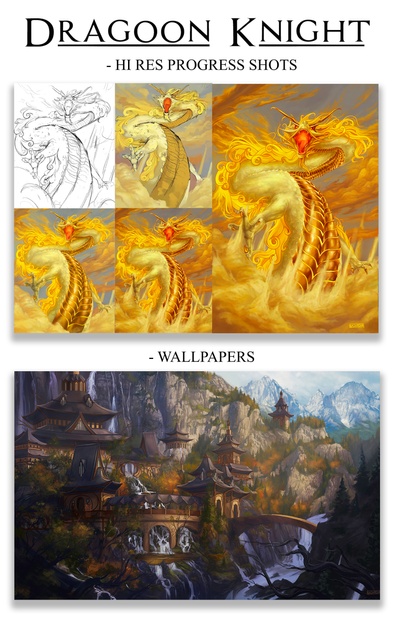 Dragon blood flows through your veins, you are a true warrior
High resolution WIP images: You will get high resolution images of all work in progress
Digital Wallpapers: You will get high resolution wallpapers of all finished art formatted for desktop and mobile devices
10% Off Coupon Code: You'll get a discount code for 10% off EVERYTHING in my online shop (LE prints, game mats, and even original paintings!) for the duration of your patronage.    
Contributor Credit on Najarianart.com: Your name will be posted in a contributor section of the website, letting all know you help bring dragons to life (unless you choose to remain anonymous!  We can always come up with a fun stand in name if you so choose) 
 PLUS all previous rewards: 
Patreon feed access
High Resolution In Progress Images
Digital Wallpapers
10% discount code
Contributor credit on Najarianart.com
Includes Discord benefits
Dragon Rider
You and the Dragons are one, and you ride them into battle! 
Monthly mailed postcard: Every month you will be mailed a 5X7 postcard featuring one of my paintings.  
Full resolution Painting: Get a full resolution version of of each completed painting at the size it was completed.  See the full detail of the painting as it was intended
High Resolution WIP's
Digital Wallaper's
10% off  discount code
Contributor credit on Najarianart.com
 Patreon feed access 
Monthly mailed postcard
Full Resolution Painting
Includes Discord benefits
About
About Me
My name is Stephen Najarian, I am a fantasy illustrator living in New Jersey. Ever since I was little I have had a fascination with fantasy. Escaping to another world filled with dragons, demons, Gods, the fight between good vs evil, heroes and villains. As a kid I was always inspired by majestic epic landscapes, stunning sunsets, towering snow capped mountains,  towering Gothic castles and ferocious fire breathing dragons. And now as an adult that is exactly what I create, for myself and for my fans that follow similar passions
What I am Making
I am painting Dragons, lots and lots of Dragons.  The main project I will be working on is a series of elemental themed dragons.  Eventually I want a dragon for every element/type of geography.  These will not be the only Dragons that I will be creating, I will also be painting dragons outside the element series (I told you, I like Dragons).  I will also be painting lots of castles and landscapes.  Basically all of the things I love to paint.  There will be scenes and interpretations from my favorite books and movies, and attempts by my to break out of my comfort zone.  I am on an artistic journey to discover myself and and you will be along for the ride!

Patreon, what is it and why should I care

Patreon
is an online platform that allows creators to engage with and share additional content to fans.  Many people seem to think that Patreon is the digital equivalent of a hobo on the street asking for money, or the tip jar at a restaurant checkout.  People think that if someone creates Patreon it is like a Go-Fund-Me and the creator has fallen on hard times and is some form of charity.  It is not.
By becoming a patron, you are becoming a member of my mighty Dragon Hoard and are thus privy to exclusive content that is only available right here.  Members will receive exclusive early access to all of the art created and will be first in line to purchase prints or original art.  Members will also have access to write ups and blog posts detailing my painting process and how I go about creating my illustrations.  Additional rewards for members will be access to high resolution JPG's of work in progress and all finished resolutions you will not find anywhere else other than right here, there will also be physical rewards like monthly mailed out postcards, original art and prints.  Members will also be able to take part in the creative process, voting on what illustrations I work on next, vote or suggest names for paintings, and have special thanks credit on
www.najarianart.com
and elsewhere

Okay, sounds cool, how do I sign up and get charged


Great! all you have to do now is click the "Become a Patron" button on the upper right corner of the page and choose what tier/dollar amount you would like to pledge.  You will be charged once a month for your pledge.  And that is it, mailed rewards will be sent out at the end of the month, all you have to do now is sit back and enjoy the ride!
Website
Instagram
Facebook
Twitch
$481.53 of $500
per month
3 of 3
Become a patron to
Unlock 157 exclusive posts
Connect via private message
Recent posts by Stephen Najarian