Steve Sabella
is creating visual art, international projects, writing.
Select a membership level
LIGHT
That's one dollar that makes a difference. And together, they shine and change someone's life!
 When we have thousands of patrons, your name will be published as part of an artist book called The Patrons. The only text printed in it will be the names of those who support my creation. Linked by a network of colored threads, woven together, the name of the first patron connects to the last - from across all tiers, from Light to Love. This unique artist book will go under the hammer at a major auction house, and we will decide together through a poll to donate the profits to a project/s on Patreon (the value of my art ranges from 3000 - 25,000 euro).
Exclusive access to daily insights from the The Artist's Curse  (future publication) - a guidebook, series of epigrams, micro-narratives, tips and concise analyses of the art world
LIFE
Almost half of the world's population lives on around $3 a day. This amount will make an impact and has a lot of value in my imagination. 
Your name published in The Patrons book. 
Access to The Artist's Curse daily insight & all other posts.
10% discount on my limited edition memoir, The Parachute Paradox. Signed & dedicated (excluding shipment).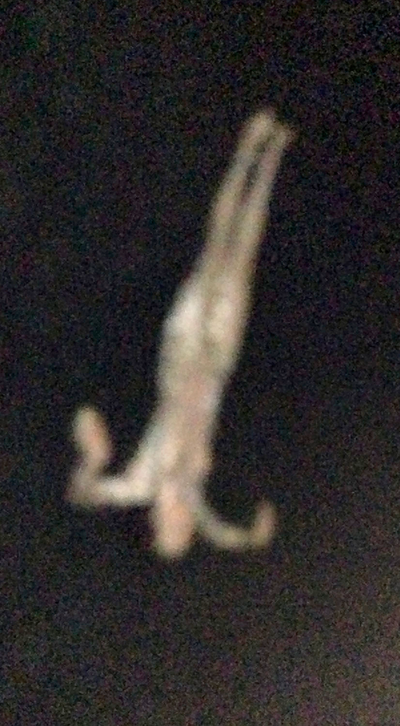 IMAGINATION
Imagine is the strongest word I know. And as long as there is one person left who imagines a better world, life has a chance.  
Your name published in The Patrons book. 
Access to The Artist's Curse daily insight & all other posts.
15% discount on my memoir, The Parachute Paradox. Signed & dedicated. 
About Steve Sabella
I found my liberation by learning to accept life as it is, reaching my inner peace—to
just be
. 


The artist's curse is their need to sell  their creations to make a living.
In history, only a few artists manage to always remain true to themselves and their creation. I don't know if I'm a born or a made artist, but I love what I do, and so what choice do I have other than to continue observing the world, imagining new realities, and in the process, transform life into art.
My art has always sought to transcend the self, the political, the mental, and the aesthetic to develop a universal human language. My chosen medium has ranged from experimental photography to film and interviews, and an award-winning memoir, 
The Parachute Paradox
. What flows through my artwork is an investigation into unseen realities, possibilities, and
the imagination's power to break through inner boundaries.


My studio has grown exponentially in the last years, its budget and number of projects have increased. It's time to radically reassess how it operates. I am an independent artist. Still, I have been able to work in synergy with many galleries, institutions, and museums alike. However,
this traditional support system has become too slow, exclusive and often restrictive for artists who work like I do, creating art at the moment of inspiration.
It fails to inspire artists to focus on their art, and pushes them instead into the glitz and glamour of the art market.
Given the difficulty of getting institutional funding, its irregularity and competitiveness, I have financed my own projects for years to move forward. Yet, it was mainly through the independent backing of collectors and
patrons
that my studio flourished—
they are the real backbone of the art world
. We brought to light many projects, including 
my monograph
, 
my memoir
, and international exhibitions like 
Archaeology of The Future
.
On July 4th, 2017 I launched a crowdfunding campaign called 'THE PATRONS—Call to All Creatives'. The call asked for a one-time donation to cover a financial crash, raising over $100,000 in six months by attracting sixty patrons. Little did I know that the fantastic Patreon space existed.
How often the answer we search for is right there in front of us
. My model was not sustainable, and was the wrong platform to inspire the patrons to remain with me in my journey through the imagination.
Among other creative ideas, I then conceived The Membership Model, which aimed at finding ten patrons from my dedicated collectors who owned 7 or more artworks, and would sometimes acquire 3 at once. They would pledge to purchase one artwork a year for three years. In return, I would give them one artwork as a gift and a permanent 30% reduction on my art, including prominent recognition in all future publications.
I imagined this model to be the organic answer to my artist's curse—clear my time for creativity while working in synergy with my patrons in a win-win situation
. But, it proved challenging to really communicate the approach or the idea.  
Many of the art world's practitioners seem to work within the margins of a fictitious protocol or manuscript, adhering to its rules. But there is no such thing.
In the creative life, the codes, the letters of such a manuscript, are printed in the imagination—they can always change.
The current state of the world requires all kinds of structures to be rethought—from the art market to political and financial systems. My vision is not to defy the art status quo, but rather to find alternative routes to operating that allow artists to grow and flourish in an organic way. As my work has always been concerned with reimagining the world, I continuously search for means of liberation from the systems in which we live.
I see myself on a mission ignited by your support.

In challenging times, real patrons wonder whether the artists they support have bread on their table. In the world of art, as long as artists are aware they are on a long journey inwards,
success and failure are two sides of the same coin
. I learned how to embrace both, roaming between valleys and mountains. I never think of the peak as my final destination. It's the curve down the valley that rewards me with the most learning. And life is an endless exploration. 
Patreon is not about selling art but about creating and liberating it. And let's leave the art alone to inspire the world.
I rooted myself in the clouds, to remain free and always in transition.
I feel on fire, busy years in advance. And never have I felt happier on a personal level, never more inspired by life. The five projects you see under
Goals
are only the beginning, amongst many others flowing in my veins, waiting to be shared with you.
Your participation will fuel creation.

I felt liberated because I am shifting my focus from running my art career to creation—the quest of every artist. I see myself as a mediator, an observer, an investigator searching for where, who, and what we are.
I invite you on my cosmic journey.
Thank You


THE PARACHUTE PARADOX TRANSLATION INTO ARABIC

This is my award winning memoir. See more details & launch videos here. Limited edition, published by Kerber Verlag in 2016. 

Mohammed Al-Asaad, writer and poet, is translating the memoir. The budget is missing between $15,000 - $20,000 for the rest of the copyediting, the design, the cover image and the publisher's subsidy.

London-based newspaper Al-Araby Al-Jadeed wrote, "The Parachute Paradox offers narrative storytelling of the life of the Jerusalemite artist and his experiences under Israeli occupation and proposes a subject that is unprecedented in Palestinian literature: the liberation of the self and the homeland through the liberation of the imagination."

The Eric Hoffer Award winner announcement on The US Review of Books stated, "The Parachute Paradox, Steve Sabella, Kerber Verlag – With a clever and intriguing cover, this book eagerly invites the reader to explore its contents. Perhaps the fact that the author is an accomplished artist and photographer explains the volume's elegant appearance. The book's content isn't any less appealing. We learn the story of a Christian boy growing up among Arabs in Israeli-occupied Palestine, drowning in the toxic national and religious ideology that surrounds him. We later discover a young man who's freedom does not exist except as an expression of his art, and as an endless love for the girl of his dreams. We finally encounter a mature, conflicted man pursuing his career in exile and using art as the vehicle of his liberation. This memoir offers a glimpse into the perpetual Israeli-Palestinian conflict through the eyes of an innocent bystander, who struggles to survive and who learns to live free, if only in his mind. Meanwhile, the Palestinian and the Israeli existence continues to be linked like the parachute jumper and his trainer, who descend in a dangerous tandem toward an insecure future."

PROTOCOLLUM featured Chapter 8 of the memoir prior to its full publication in 2016. 



1 of 6
Recent posts by Steve Sabella