Steve Skafte
is creating adventures in the form of photos, prose, and poems.
Select a membership level
Warm, Fuzzy Feeling
Day-early access to all my content before it gets posted to the public.
Prose on a Postcard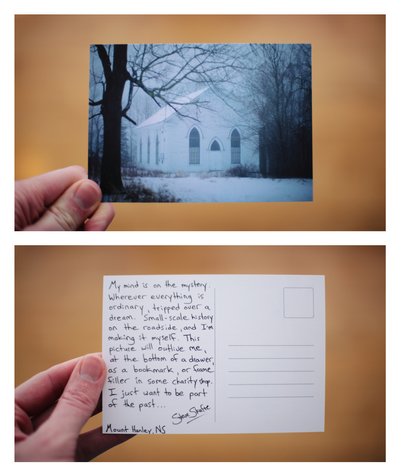 Every month, a randomly selected postcard of one of my photos, mailed anywhere in Canada or USA (all other countries must pledge $7).
On the back, a paragraph of prose written off the top of my head/heart, never reprinted elsewhere.
Day-early access to all my content before it gets posted to the public.
Polaroid-Poems
New one-off piece every single month. 
Written live in ink, both photo and poem never reprinted.
Absolutely any subject matter, just give me a word and I'll do the rest.
Free shipping anywhere in the world!
Day-early access to all my content before it gets posted to the public.
About
For all my patrons – new photography/prose from every single day. New poems, videos, and anything else as it's created! You see all posts at least a day before they go public.
It's been over a decade creating in a vacuum, oscillating between work as a wedding photographer, art gallery owner, street busker, cable TV and intenet installer, bottle/capsule filler for a supplement company, and anything else that's come my way. As an irrepressible (or perhaps entirely repressible) introvert in rural Canada, the struggle hinges on speaking up and making a connection – and when you're a shy kid, the world feels far off wherever you are. The support of people reaching out means everything, it's the brightest possible reason to keep going.
I've kept an uninterrupted daily journal of my photography, prose, poetry, and moving pictures since November 2007. It's all remembered: birth, death, and everything in between. These are my wanderings around the place that I call home; the ocean, forest, and abandoned places of Nova Scotia (and wherever else the road takes me). I've never missed a day, and I won't until the day I die. Want to scroll back to the very beginning? You can browse the entire archive on my Flickr page:
flickr.com/photos/fetusboy
Patreon is my chance to take the edge off a little, reduce complication while reaching out to more people, pushing myself to create more daily, as much unrestrained expression as possible. I'm getting back in the rhythm of face-to-face connection, words to eyes to ears. Let's get growing.
You can purchase books and calendars, and if you want to order just one polaroid-poem without signing up monthly, that's all in my Etsy shop:
etsy.com/shop/photofables
$107.02 of $500
per month
This will let me pour myself completely into adventure. Even $1 a month is a huge help – it all adds up!

1 of 1
By becoming a patron, you'll instantly unlock access to 2 exclusive posts
By becoming a patron, you'll instantly unlock access to 2 exclusive posts
Recent posts by Steve Skafte
How it works
Get started in 2 minutes