Stop Bzdurom
is creating riot
About Stop Bzdurom
We're Stop Bzdurom ("Stop Bullshit") – we're a radical, feminist and queer collective.
We work for LGBTQ+ – smart, educated, brave, and most of all- with a causative power. We differ from the rest of LGBTQ+ groups in Poland on account of our unapologetic nature which neither TVP.info ( "News" station affiliated with the government), nor the rest of right-wing would dare to dream about. Everything we've done here results from the anger in response to the cruel, harmful, iIl-conceived actions of the fanatics. You can learn more on
our fb [RIP - we were banned]
, by watching videos on our
YouTube
or by reading this whip-round.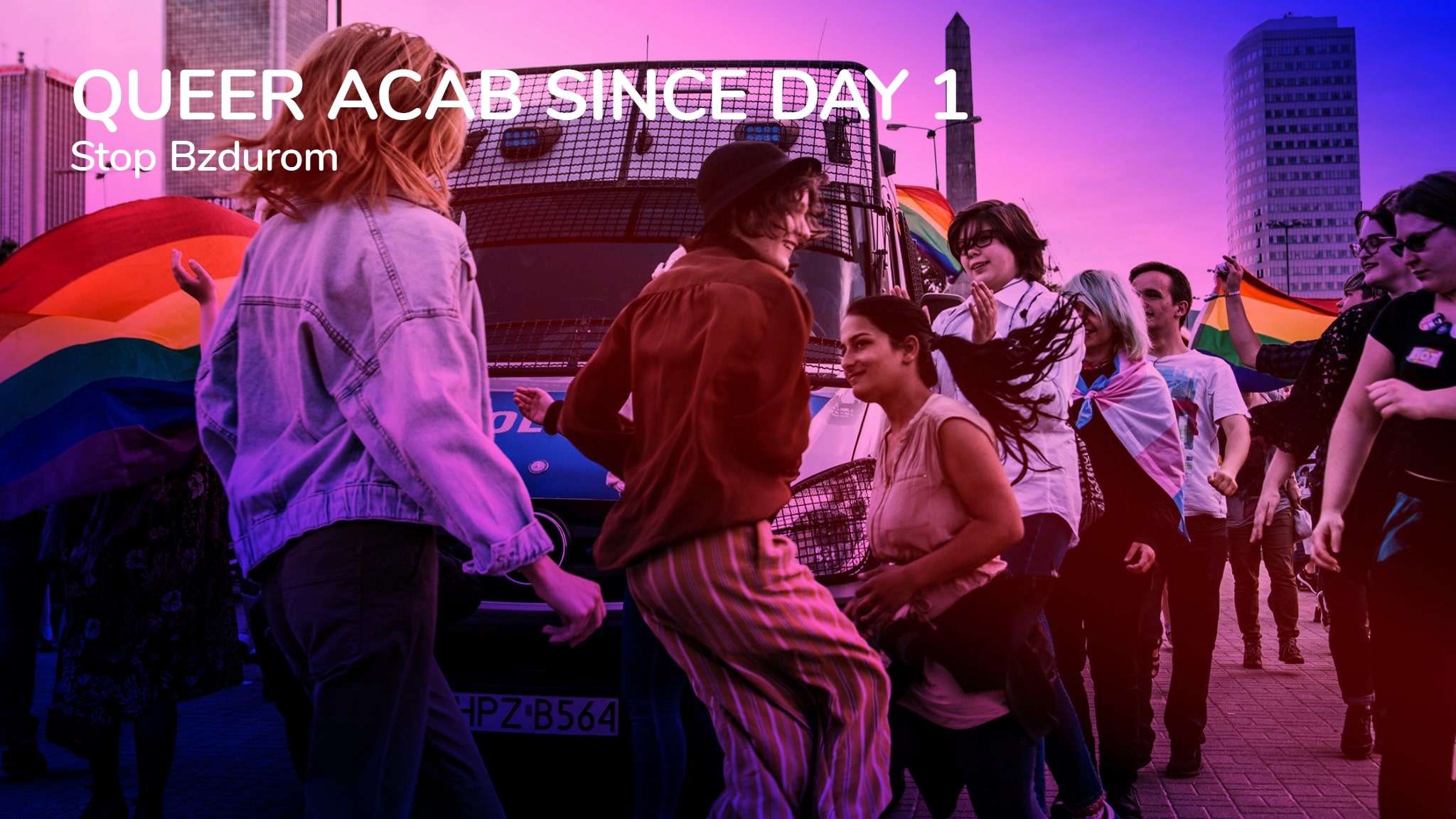 2021:

The bill of indictment of the prosecutor of the Regional Prosecutor's Office in Warsaw has been sent to the District Court for Warsaw-City Centre and it covers two activists from the anarchoque collective Stop the Bullshit - Łania and Margot. The charges relate to the events of 27 June 2020, when a van belonging to the Stop Paedophilia Campaign was stopped in front of a squat on Wilcza Street by a bullhorn proclaiming homophobic slogans. People staying there stopped the van and attacked the foundation's employees and the van itself (among other things, the homophobic tarpaulin, a mirror and the car's tyres were destroyed - the losses were estimated at PLN 6,000). Margot was charged with "committing a hooligan act involving participation in a rally, brutally attacking a pro-life foundation activist and destroying property belonging to the pro-life foundation". - handed over by Aleksandra Skrzyniarz, a spokeswoman of the Regional Prosecutor's Office in Warsaw. Łania is to answer for her active participation in the described rally - Margot faces up to 5 years in prison, while Łania up to 3 years in prison.
OUR STORY:
The beginings of our group take place in the spring of 2019. We stopped next to the Foundation Pro (close affiliates of Ordo Iuris- organisation led by extremaly influential people in Polish catholic church), which pits people against the LGBTQ+ community, compares it to paedophilia, fights for the penalisation of abortion and a complete ban of sex ed. Totallly screwed up – we couldn't let this slide.
We organized
a series of dancing protests
in response to the homophobic tents in Warsaw's downtown. With our friends, acquintances and people we just met, we partied to the queerest of the songs. With music and shoutings we drowned out the harmful messeges of the Foundation Pro. We showed that there is no space for homophobia and hate. We also showed that we're here - and when we get there it's with
fun and colours
.
We explained, that homosexuality does not equal paedophilia, that sex ed is OK. We've had a thousand conversations explaining the benefits of sex ed as means to fight sexual abuse and rape of underage people. We've made a
website
explaining the lies and manipulations of Fundation Pro,
distributed leaflets
and explained the manipulations on site.
Our last protest of this kind-organised with the QueerTour collective - in response to the homophobic statements of Polish president Andrzej Duda ("LGBT aren't people, it's an ideology") was called
Provocation of the LGBT ideology
– was huge!
During our actions we faced police brutality multiple times - on the first day
one of us was brutally thrown to the ground by the cops
, handcuffed and taken to the police station. Her case was taken up by the
Helsinki Foundation for Human Rights
. The D.A's office doesn't like us very much, because they ignore our complaints about police brutality, but they would gladly f*ck us up.
On the morning of July 14, police in plain cothes came to the flat in which Margot stayed in as a guest. They first threatened to bust the door, and when they were let in they didn't give a reason for their intrusion, nor allowed their information to be written down. Then they brutally dragged Margot out of the flat in her pyjamas (without shoes, socks or a sweatshirt), and took her to an unmarked car, threatening her with abuse and death, calling her a f*ggot and a loser. Only after countless of people and NGOs intervened, did the D.A. reveal that Margot was charged in connection with the
destruction of a homophobic truck
. The activist was held up all night, and released the next day by the court, without arrest.
Since then, police harassment of the police has intensified - LGBT people's apartments have been repeatedly intruded, and female activists have been randomly detained in the holes for 48 hours. However, it did not break our spirit.
We took part in the campaign of hanging rainbow flags on monuments
(including the statue of Christ in the new world)
and we took a candle placed by Morawiecki to the place of Milo Mazurkiewicz's death
.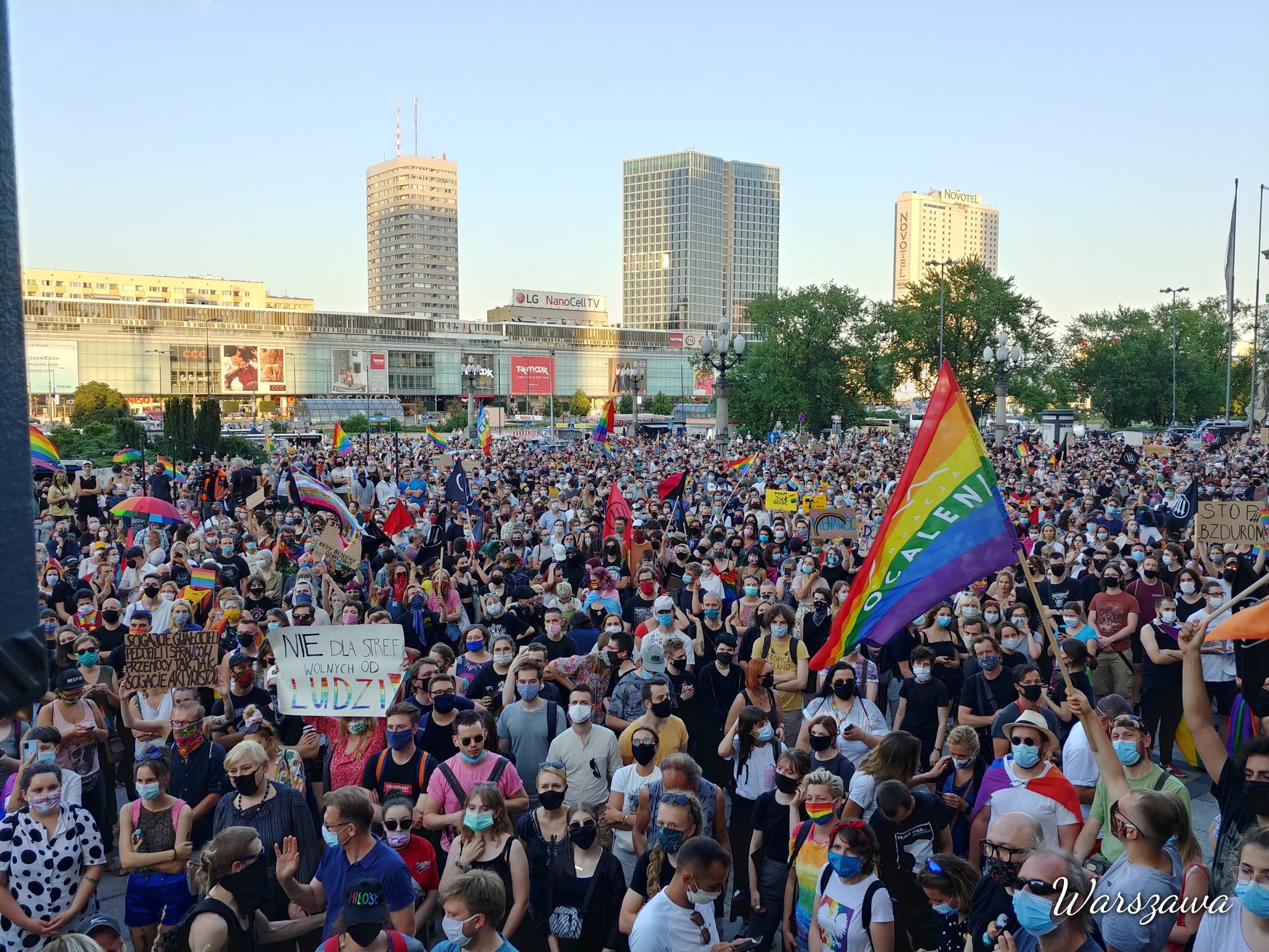 RECENT EVENTS:
Ziobro forced Margot's arrest for two months.
She let herself be shut and, smiling, asked to riot in the meantime
. However, the
LGBTQ community did not want to give her back
and there were riots. The police detained
about 50 people and kept them in arrests, beating and molesting them
.
Again, Queery did not give up.
They organized a gigantic Solidarity demo
! Then dozens (hundreds?) of protests abroad, and
letters of solidarity with Margot were written and signed by dozens of the most prominent intellectuals, artists and clergymen
from around the world.
After three weeks, the court found Margot's arrest unfounded. This one was released.
On the loose, Margot reminded neoliberals that they should hate her and that she still doesn't like them
(read: they didn't break her in jail). Now she's slowly getting back to embracing the next action.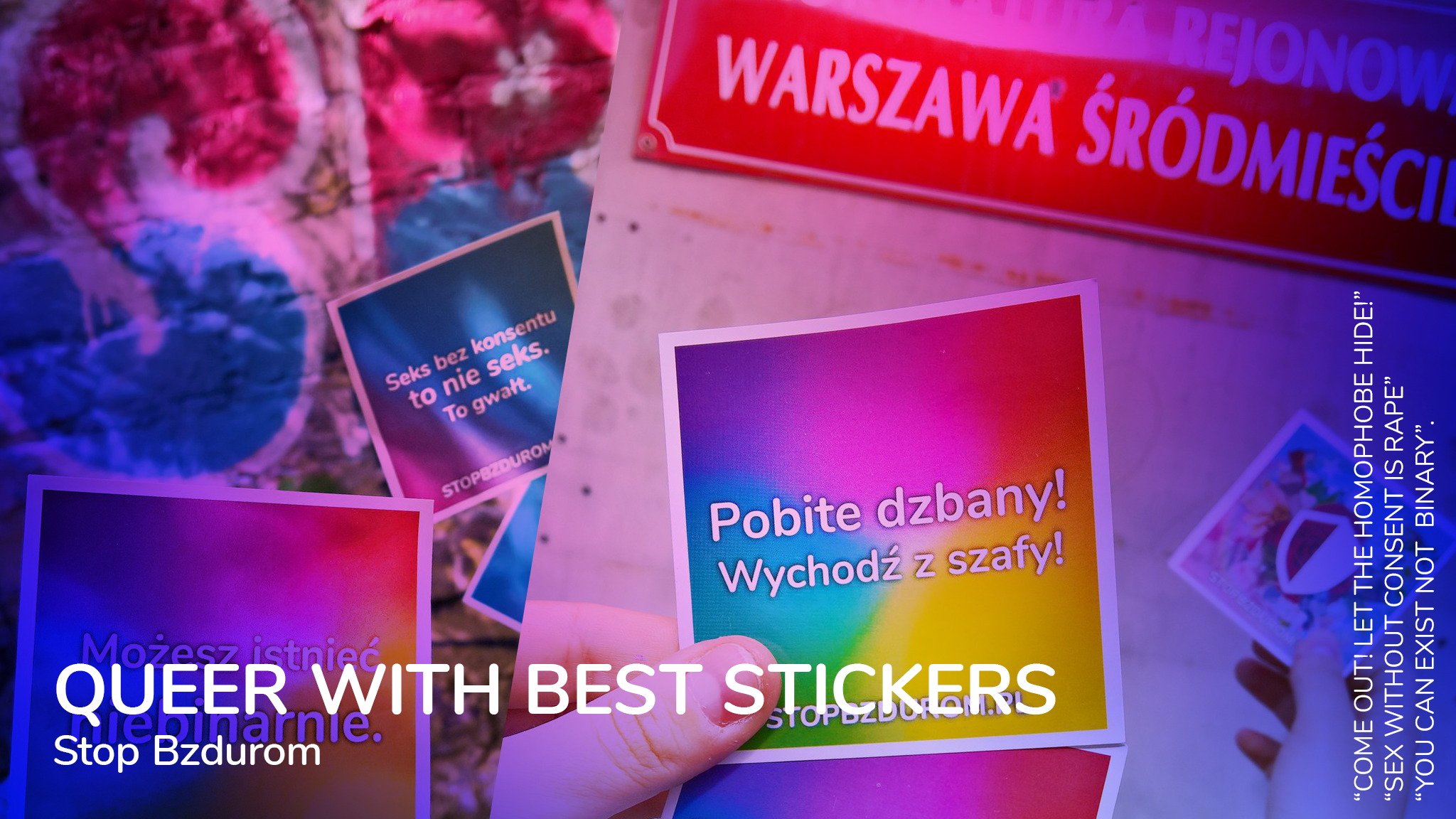 Stickers:
We provided queer kids with stickers multiple times – absolutely for free. We supported more than 2 thousand places in Poland and distributed over 50 thousand stickers. You can see them - at least we hope so – everywhere. Until now, we've made about 30 custom pieces - but many of the best still await their publication.
We also want to print and distribute projects by queer, feminist and anarchist female artists. If you are - write to us - we have money for it - we will do it together -
[email protected]
.
What are our plans?
As a collective we would like to discuss the topic of internalised homophobia and transphobia within the LGBTQ+ community. We'd like to fight some of the problems plaguing our community (inaction, hiding, fear, loneliness). We know we live in a sad reality, and that's what gives us the power to go forward. No more day longer in the closet. We fight with the passive discourse in our community.
Why we need money (and wh we don't)?
We invested our own resources in the action, and we spend our free time on nonsense. We had a great time doing it. Repressions were on our heads and made life difficult, but they did not break us. If we are to operate continuously (full-time), we need funds for this (the lawyers themselves cost us tens of thousands).
Our community has already supported us tremendously and thank you so much for that. Instead of collecting another "one time" thousands, we decided to ask for small cyclical support. This way of supporting will allow us to estimate the monthly budget and operate more efficiently.
One thing: we don't need any more. But we also know how to use it sensibly. If you're going to starve yourself, we're not really worth it.
For what?
On the activities of the Stop Bzdurom group and the maintenance of its activists. And on:
1. Materials used during the action (including paints and other art forms).
2. For events that we organize and participate in (equipment, food, travel).
3. For stickers, prints of other materials (including banners and leaflets).
4. For bills - small like phone and larger ones for ads and possibly medical help.
5. For books and education of activists working with us.
6. For legal protection.
7. For resources to collaborate with other anarcho-queer groups so that they can use our money in their activities.
8. Project maintenance costs - those necessary, but spontaneous and unplanned due to the dynamics of the political situation.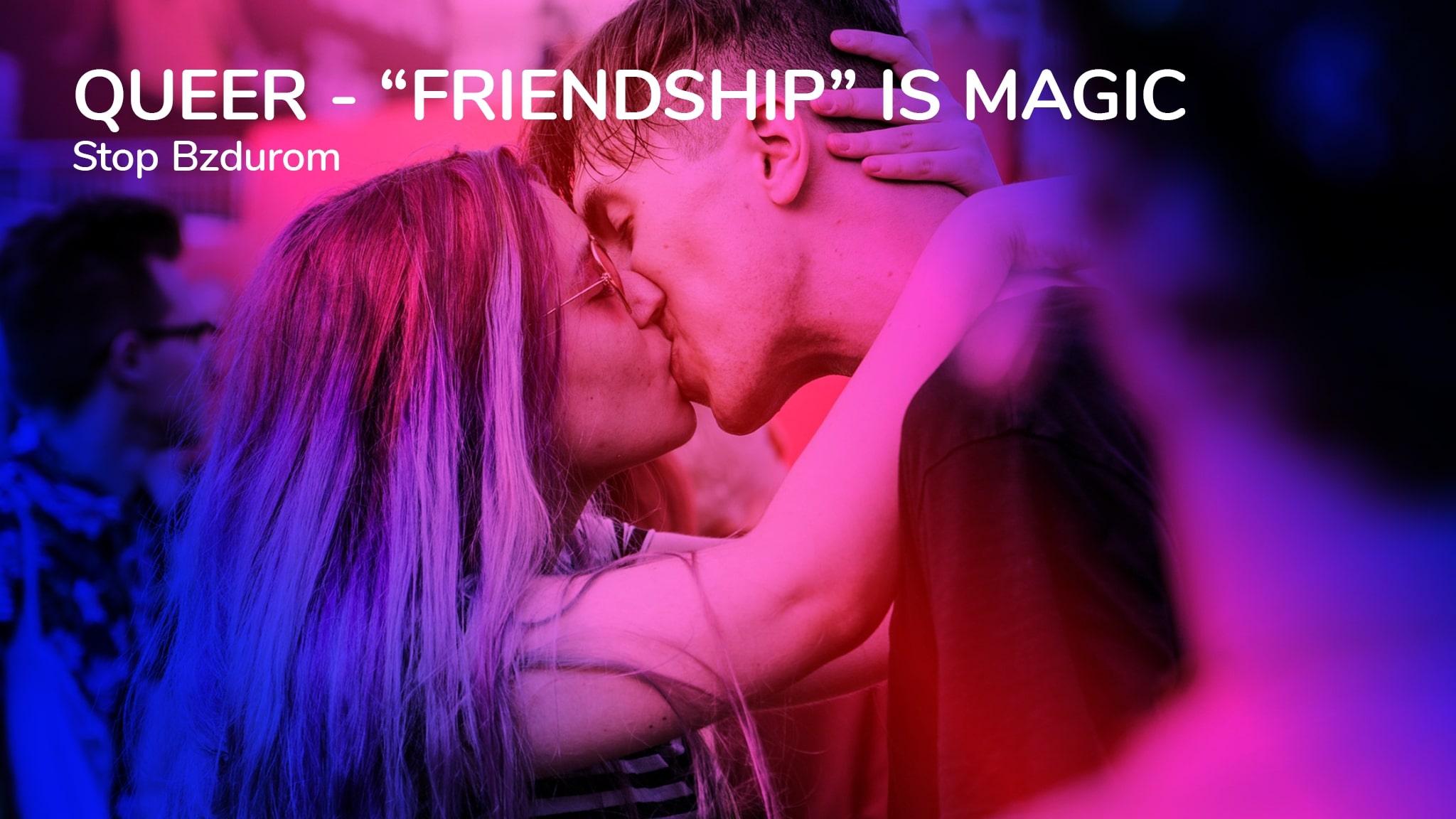 Foto:
LAPP FOTO
,
AP.ART,
Kubis
,
JohnBoB&SophieArt
and
Spacerowiczka
we love you.
[Of course, we do not encourage or persuade you to break the law.]
Recent posts by Stop Bzdurom
How it works
Get started in 2 minutes