Strong & Furry
is creating Furry Gay Visual Novels
Select a membership level
Just Supporter
Just a way to say "thank you"
If you're just here to support our project, you'll get a special "thank you" illustration. We appreciate your help so much!
Special Training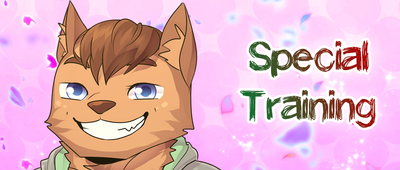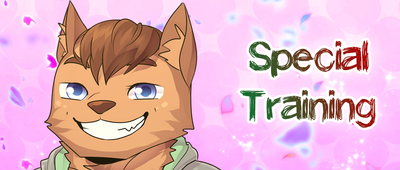 Full version of "Run, Kitty!" game
Access to development posts through Patreon and Discord 
Ooh, mysterious special training with big furs! Not exhausting, but relaxing. You'll also get the full commercial version of "Run, Kitty!" for free, as well as access to our devblog posts.
Includes Discord benefits
Great Power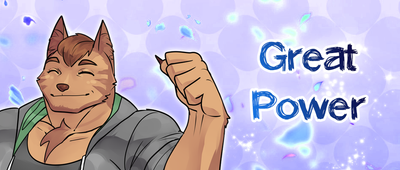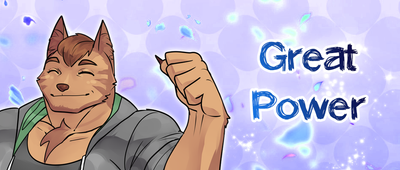 Full version of "Run, Kitty!" game
Original Soundtrack and Artbook
Access to development posts through Patreon and Discord
You gained a special power and are ready to do everything! In addition to the full version of "Run, Kitty!" and access to our devblog, you will also get the original soundtrack and digital artbook when the game is released.
Includes Discord benefits
About Strong & Furry
DEMO VERSION DOWNLOAD (PC / MAC / LINUX / APK) 
|
Google Drive
 | 
ITCH.IO
|
Previous Patreon Rewards
Gumroad


ABOUT US
Mighty males will take over the world. In the good sense of those words.
Welcome to the Patreon of the
"Strong & Furry"
team. We create NSFW visual novels in 'bara' and 'furry' genres.
In our games you will find romance, tenderness, love and big furry males who will give you unforgettable moments of fun (we hope so).
A chance to start romantic relationships with big guys is a trademark of our games. What can be better than strong warm hugs of those beautiful mighty male, who will never make you feel lonely. You will see their strength and drive at its best.
If you never paid attention to furry bodybuilders, give them a chance. Who knows, maybe romantic scenes with your favorite character will make you melt with joy.
With joy we offer you to try those males not only by touch, but also by taste. There's enough love for everyone! Just don't overdo it...
OUR PROJECTS

As a first project, in order to evaluate our strength, we will release a small visual novel
"Run, Kitty!".
It tells a story of a cat named Simon, who decided to skip classes at the university to be alone with nature - in other words, take a walk through the forest. Knowing this forest like the back of his hand, he never expected that he would be able to get lost there... Yes, and even find himself pursued by an unknown predator, in the forest, where they have never lived...
Can he get out of the forest on his own?..
The demo version is free for everyone, and the full version will be commercial.
The full version will include:
- 1 hour of playable content
- 6 CGs (2 HCGs)
- 6 backgrounds
- 3 endings
HOW MUCH THE GAME WILL COST?

We will sell full version for 5$ on various game sites.
Also we will present special edition of game, which includes original soundtrack and artbook.
But you can also purchase soundtrack and artbook separately.
For those who supported us in the total amount greater than the game costs, we will provide it for you for free.
You just have to be our patron at the time of release of the game.
ABOUT OUR PATREON
We are launching Patreon in order to collect funding for our little first game, as well as to have the opportunity to work on our favorite thing in the future - to create visual novels about the powerful furries that we always wanted.
We will charge you on the day of payment and on the first day of the next month.
To avoid double withdrawals, please join us at the beginning of the month, thanks!
We also accept your feedback, ideas and suggestions. Feel free to give us your thoughts!
Depending on the amount of support from our players, we will try to provide you with news from the development as often as possible.
Initially this is once a month.
We hope that we can finish it as soon as possible with your help!
FAQ

- Steam?
- Yeah, we are planning the Steam release, it will be 18+ uncutted.
Steam Achievements - yes. Steam trading cards - of course, if Steam will give us the permission.
- Why is the game so short?
- This is our first game, and we decided to start something small so that it won't be very hard to finish. Also, without sufficient funding, we simply cannot produce a bigger game, so please take this into account.
We really love mighty muscular furries as much as you love them, and we believe that if our first game would be successful, we can work more on the next ones. So don't hesitate to write reviews, tell your friends, draw fan art and write fanfiction! We love such creativity on your part.
- Languages?
- Game is planned to release in Russian and English at first, and if we will have enough support, we might be able to translate the game into other languages after release! You can contact us, if you have ideas about that already.
OUR TEAM

Bertran Way
- Director and Writer
zogii
- Character Artist
Ave Maria (Vailet Natsume), Muwitch, 
DreaML
- Background artists
GentlePunk
, 
Svarog
, 
Igorex
- Composers
John "JF-049" FrostFox
- English Translation and Code
CONTACT US

If you have any questions, you can send it to us via 
Twitter
, 
Facebook
, 
VK
, 
Telegram
or 
e-mail
.
Also we have 
Discord
channel and 
itch.io
page.
Please, feel free to express your thoughts, be constructive and not negative. Thank you.
If you're looking for other ways to support us, you can use 
Ko-Fi
.
Become a patron to
Unlock 35 exclusive posts
Connect via private message
Recent posts by Strong & Furry
How it works
Get started in 2 minutes