Studio Coattails
is creating Visual Novels and Other Crazy Stuff
Select a membership level
Brethren of the Cult
Access to updates and blog posts for our visual novels and other projects. 
Access to work in progress art and other assets. 
The ability to vote in Patron-exclusive polls.
Your name in the credits of our visual novels.
Access to a Patron exclusive channel on our Discord server.
Access to backgrounds, emojis, icons, or avatars.
Access to "dev diaries" where we go deeper into the creative process.
Access to original content, such as comics, side stories, web novels, chibis, and more!
Includes Discord benefits
Cult of Coattails
For those who want to support us just a little bit more.
Access to everything!
Includes Discord benefits
The Universal Consciousness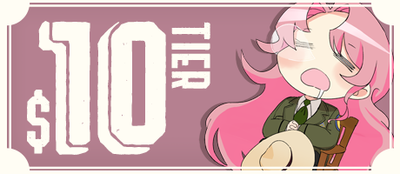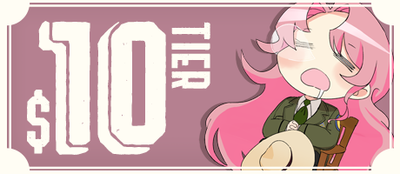 For those who want to show even more of their love!
Access to everything!
Includes Discord benefits
About Studio Coattails
Salutations. Hello. Howdy. Hey there. Hi. We are running out of greetings and this is quickly becoming an issue. 
We are Studio Coattails, a group of artists, musicians, writers, and programmers who aim to personify the abstract. Our primary focus is visual novels, although our goals rest firmly in the realm of multimedia.
Here at Coattails, emotion and atmosphere are the nucleus of our stories. "Personifying the abstract" isn't just a motto -- it's a philosophy. To articulate the unexplainable emotions that whirl around in us everyday, and to capture the charm and wonder of experiences we often overlook. One story might take place on a road trip through the desert, while another may take place entirely within a realm of dreams. Regardless of where we take you, we want it to be strange, wonderful, and thoughtful.
Studio Coattails was formed soon after the release of
Highway Blossoms
, a yuri visual novel that our founder co-created. Since its founding, we've grown in scope and have begun taking on multiple projects. Strangely, our coffee intake seems to have increased since then as well. 
Right now, we're working on one visual novel:
National Park Girls,
with
Highway Blossoms
 recently joining the Coattails family of visual novels.
All Eve ever wanted was to protect and preserve the land, but after five years of being a ranger in Yosemite National Park, she's just about ready to throw in the towel. However, things start to change when she meets three spritely girls who claim to represent the National Parks.


National Park Girls is a five-part episodic series, with Episode 1 having been released in March 2019. The remaining four episodes are currently in production.


The gold rush has struck the west for a second time. Highway Blossoms is the story of Amber, a girl trying her best to be alone on the road until she stumbles upon a young hitchhiker and the journal of a prospector from long ago.
Highway Blossoms was released in 2016. This hit yuri visual novel is now part of the Coattails family!
So at this point, you might be asking, "Why Patreon?" Also at this point, we're staring at a three day old cup of styrofoam coffee, praying it will fill up for the magic price of free. 
As of right now, our projects are either funded by Sekai Project (our gracious publisher and eldritch overlords), or out of our own pockets (we aren't quite as cool). We think Patreon is the perfect tool to help give our titles that extra polish. With the help of the money that you so generously donate, we can help cover the cost of production, and maybe even add a new CG or sprite here or there. Furthermore, it helps us compensate members of the team for their tireless and dedicated work. 
If you donate to our Patreon, you can expect monthly content from the talented artists that work on our projects. Not only that, but you'll get side stories featuring the characters from our projects, and even brand new stories entirely! 
Whether you decide to donate or not, we want to thank you for dropping by. It's your support and interaction that keeps us going and allows us to continue making the crazy content you enjoy. 
If we reach this goal, we'll start making audio dramas involving our characters. 
2 of 2
Become a patron to
Unlock 74 exclusive posts
Connect via private message
Recent posts by Studio Coattails
How it works
Get started in 2 minutes