Sugary Violet
is creating digital drawings
Select a membership level
Sodapop
 - My eternal gratitude!
- Early access to all of my finished artwork at the public posting resolution
- "Sugary's goatling" role and access to my patreon channel in the discord server
- Ability to commission me during the bi-monthly Patreon commission streams

Chocolate chip cookie
All previous rewards plus: 
- Vote on suggestions if I got multiple to choose from
- Access to full resolution files of my art
- Access to patreon only streams  
- Access to SAI/PSD files of my personal art (send me a PM to get the ones you want. Some personal art might be too personal for me to share the work files of, but generally they're all free to peer into as you please.)

Cinnamon bun
All previous rewards plus: 
- Access to the suggestion box Send me suggestions for what to draw next, and I'll do my best to draw it as either a warmup sketch or full illustration. No guarantees that all suggestions get drawn or that they get drawn immediately, but this is my first go-to for ideas to draw!
- Extra hugs for supporting me extra! ILU <3
About Sugary Violet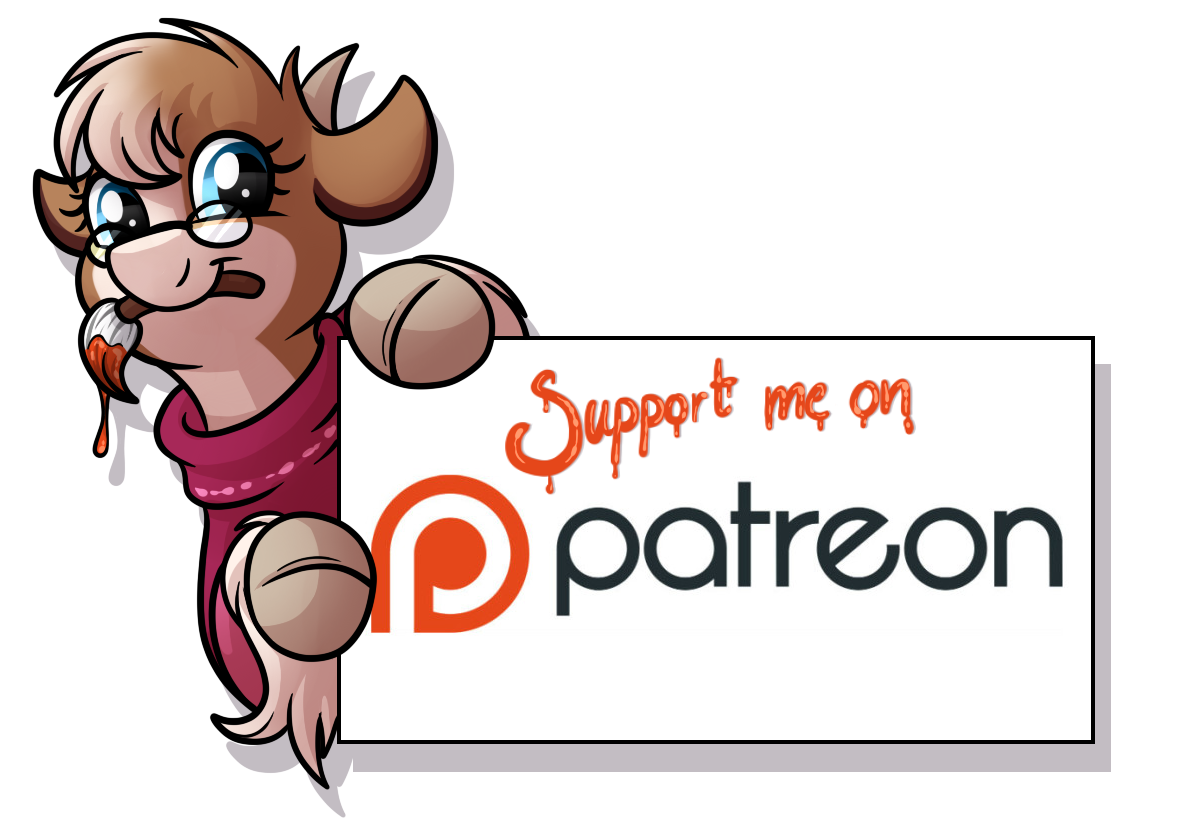 First of all, thank you a bunch for having a look at my patreon page!
I'm
Sugary Violet,
or
Emi the Goat
as some people prefer to call me, and I draw cute stuff. This Patreon contains everything I draw, but anything of questionable family friendliness is always posted with a warning. No risk of seeing more than you bargained for here, ever :) 
What's Patreon?
Patreon is a micro-donation site much like Kickstarter. Unlike Kickstarter though, where you pledge a specific amount one time, on Patreon you pledge to donate a smaller sum every month. In return you get some neat perks, like input in what I draw next and access to my Patreon discord channel where I post WIPs of my work, among other things.
Why Patreon?
This is the first time I've had the chance to
live off my art
, which is both exciting and terrifying.
So far my main art money has come from commissions, but there's always a limit when you draw for others. I've got so many more projects I'd like to do! I have comic ideas and image sets that have been sitting in my head for years, but I've been too busy trying to pay my bills to realize them. I hope that
with your support
, I hope to finally be able to start making more of my own art for you guys!
Pay upfront
I got pay upfront activated, which means you'll be charged right after you pledge, with the next payment after that on the 1st the upcoming month. This means you'll be given your sugar cubes immediately after you pledge, if you go for any of those tiers. 
To prevent anyone being charged twice within just a few days however (which would be the case if you pledge near the end of the month), I am 100% willing to refund the second charge if you pledge after the 20th in the month. Just make sure to message me as soon as possible and preferably within two weeks after the second pledge as gone through so we can sort it out <3
Again,
thank you so much
 for reading this and checking out my Patreon. Hopefully I will have your support, but even if you can't pledge I want you to know it means a lot to me that you took the time to check me out anyways!


---------------------------------

What are sugar cubes?
Sugar cubes are a kind of "Commission points" for my Patreon supporters in the commission tiers.
By pledging to any of the commission tiers you get (along with regular Patreon rewards) a set amount of sugar cubes per month, and then one more per additional $10 you pledge at that tier. Sugar cubes are traded in for commissions during my bi-monthly streams.
For
example
, if you pledge $30 to the strawberry shortcake teir, you'd get 3 cubes per month. The 2 automatically included in the teir, plus 1 extra for the extra $10.
One cube = $10
 to spend on commissions in my bi-monthly streams.
The fine print:
Sugar cubes expire after one year and can't be traded for money. They can be given away to a friend or fellow patron as long as you talk to me first (to ensure I write things down properly).
If you were to un-pledge or lower your pledge to a non-commission teir, you will still keep all your collected sugar cubes until they expire. In the unlikely event you do something that warrants being banned from my Patreon though, all your collected sugar cubes are considered expired. So far this has never happened, and I obviously hope it never does. 
A huge milestone! With this my rent is covered, and a huge load is off my mind! I won't need to take on extra bus driver shifts anymore, but can dedicate all that time to Patreon.
1 of 4
By becoming a patron, you'll instantly unlock access to 331 exclusive posts
By becoming a patron, you'll instantly unlock access to 331 exclusive posts
Recent posts by Sugary Violet
How it works
Get started in 2 minutes