Sweny's Pharmacy
is creating the Joycean heartbeat.
Select a membership level
Surprise Gift
Every patron will receive a surprise gift when we reach our target for affording the doubled rent.
Sweny's Label Sticker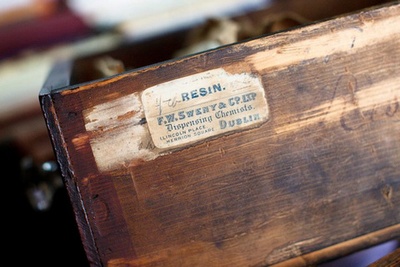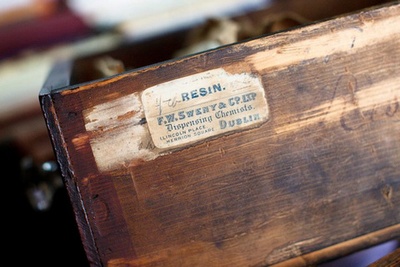 Designed by a Sweny's volunteer after the original F. W. Sweny label which you can stick to your fridge, laptop, phone or any other sticker-friendly surface.
Friends of Sweny's Badge
Designed and hand-made by a Sweny's volunteer who worked at an Irish knitwear shop.
About Sweny's Pharmacy
The rent has been doubled on Sweny's, a 172-year old little chemist shop preserved by volunteers. Let's all chip in to keep this Joycean gem alive and open in Dublin for generations to come.
Sweny's Pharmacy is featured in James Joyce's novel
Ulysses
. Today, Sweny's represents the heart and soul of authentic Joycean Dublin, with its interior unchanged since 1847. It is an essential destination for tourists and a community hub for the locals.
Since 2009, Sweny's has been entirely maintained by volunteers who give their time for free, dedicated to preserving the body and soul of the shop as it was in Joyce's time. As volunteers, we:
Host open readings from James Joyce's works every day
Introduce visitors to the history of the shop and of Dublin
Keep a space open for locals and visitors to build a community
Preserve the 172-year old interior which Wilde, Behan and others would have touched
Sell the same lemon soap which Leopold Bloom buys in Ulysses
Up until 2018, we were able to pay the rent out of soap sales and visitors' donations. Recently, however, our rent has been doubled. Given our 
tight budget and modest savings
, we need your help.
Will you become a patron today and leave a real, positive mark on the future of Ireland? Let's keep Dublin's community and literary heritage alive together.
Go raibh maith agat.
PJ Murphy (on behalf of Sweny's volunteer team)
$938.11 of $1,000
per month
Do you know what is the pride of the English? Do you know what is the proudest word you will ever hear from an Englishman's mouth?
The seas' ruler. His seacold eyes looked on the empty bay: it seems history is to blame: on me and on my words, unhating.
—That on his empire, Stephen said, the sun never sets.
—Ba! Mr Deasy cried. That's not English. A French Celt said that. He tapped his savingsbox against his thumbnail.
—I will tell you, he said solemnly, what is his proudest boast. I paid my way.
Good man, good man.
—I paid my way. I never borrowed a shilling in my life. Can you feel that? I owe nothing. Can you?
Mulligan, nine pounds, three pairs of socks, one pair brogues, ties. Curran, ten guineas. McCann, one guinea. Fred Ryan, two shillings. Temple, two lunches. Russell, one guinea, Cousins, ten shillings, Bob Reynolds, half a guinea, Koehler, three guineas, Mrs MacKernan, five weeks' board. The lump I have is useless.
—For the moment, no, Stephen answered.

5 of 7
By becoming a patron, you'll instantly unlock access to 12 exclusive posts
By becoming a patron, you'll instantly unlock access to 12 exclusive posts
Recent posts by Sweny's Pharmacy
How it works
Get started in 2 minutes