Sword Queen Games
is creating Story Games & TTRPGs
Select a membership level
♠ Ace of Swords ♠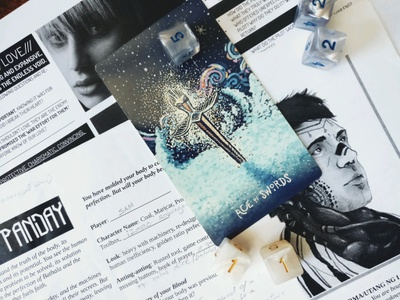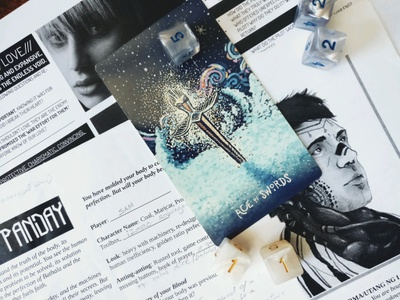 Thank you
!  (cue grateful tears)
This will already help me loads. I'll update you every month on Sword Queen Games and give you a peek to how I design and which games/concepts inspire me!
Access to Patron Only Posts
Behind the Scenes Content
Micro-Games or Peek into games development
Access to the entire backlog, which includes smaller games!
♠ Knight of Swords ♠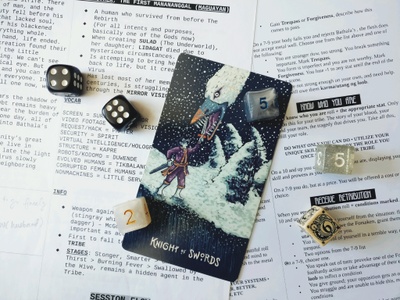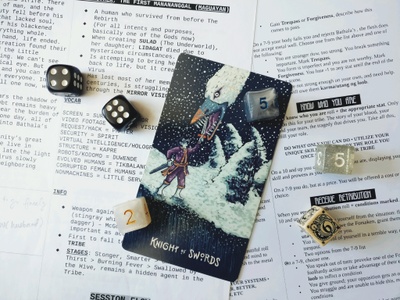 Special Games!
 (cue grateful tears)
This tier ensures you get access to some of my games and games in development!
This reward includes:
Digital copy of some Games/Supplements
Access to some games in development
Some videos that feature Design Commentary
Access to the entire backlog
And all previous awards
♠ King of Swords ♠
More Games
! (cue grateful tears)
You'll receive everything at this tier!
Kings will have access to my bigger projects. You will also be credited as a King of Swords in every game release, if you like!
Digital copy of ALL Games/Supplements
Access to ALL games in development
ALL videos that feature Design Commentary
Mention in special credit section of my games
Access to the entire backlog
And all previous awards
About Sword Queen Games
Hi! I'm
Jamila R. Nedjadi
(he/they) and I'm
your Queen of Swords
, your Tarot Reader turned Game Designer.
It feels like Tabletop Roleplaying Games saved my life. Over the years I've found so much joy and fulfillment in running and playing games! Since February 2019 I started making my own games. Since then I have released 40+ games, all of which are also available here on this patreon.
I'm committed to working on bigger and better games, honing my craft, and providing interesting and fulfilling experiences for people who run and play my games!
If you'd like to support me on this journey, I'd be infinitely grateful. I work on games full time now, my patrons help me make sure some of my basic necessities are taken care of!
I share with my patrons my current playtest materials, game drafts I'm working on, tarot readings for TTRPGs, and recently videos! In these videos I talk about my process, insights, and the lessons I've learned so far and the challenges I still face.
I am one of many unique voices trying to find their way. I'd love to explore making games that express this voice. I'm bi-racial (Algerian-Filipino), non-binary, panromantic on the asexual spectrum, polyamorous, and have temporal lobe epilepsy, a condition that in the past removed or undermined many of my memories.
In 2020, due to the stress of the pandemic, my epilepsy has relapsed in a terrible and significant way.
I am also struggling with undiagnosed mental health issues, which make game design one of the few types of work I can do with a flexible schedule. With your support I can rest and take the long road to recovery and hopefully better management of my disabilities.
Initially my games focused on one shots and short play experiences. I have gained the experience and confidence to work on bigger games now!
By supporting me you can help me work on the following:
Tarot-Inspired Games
- I have been reading the tarot for more than 18 years now. I have a number of story games inspired by the tarot, but I feel like there's still so much to explore. The tarot is an excellent tool of the intuition. Combining it with the creative and collaborative nature of story games is just pure magic!
Déclin Oblige
(Working Title)- A thrilling and complex game of political social intrigue that takes place in a broken fairy tale land, where curses abound and magic is both powerful and surreal. Déclin Oblige uses the Forged in the Dark system to guide dangerous ambition, complex relationships, and an infinite hunger for power in service of the Throne and the self. I'm really excited about this game, and we're currently 30+ sessions into playtesting!
Apocalypse Keys
- This is my biggest project to date, and has been in active development and playtesting for almost two years now. Apocalypse Keys is mainly inspired by Hellboy (both the comics and the movies). Players are monsters who fight other monsters, and must keep the Apocalypse at bay. It is a Powered by the Apocalypse game that focuses on emotional relationships, mystery, and resisting the call of dark power. Apocalypse Keys will be published through Evil Hat!
BALIKBAYAN: Returning Home
-
This game is already released and is in Beta
. I have been playtesting this since 2019. In it's current state it is already highly playable and delivers great stories. However, I keep working on my game design (through other releases) so I can come back to this one and bring it closer to its true potential. BALIKBAYAN is a Supernatural-Cyberpunk game that uses the Belonging Outside Belonging system. Play as runaway elementals, beings of Filipino folklore, who must use their machine-magic to destroy the Corp and bring about the rebirth of magic.
...and much more! I have
so many games I'm working on
. To get an idea of of what my games are like, please check out: 
https://temporalhiccup.itch.io
You can also find me running my playtests (and other games!) on
my YouTube channel
. I've taken a break from uploading regularly due to my brain stuff, but there's a big library to check out!
By becoming a patron, you'll instantly unlock access to 91 exclusive posts
By becoming a patron, you'll instantly unlock access to 91 exclusive posts
Recent posts by Sword Queen Games
How it works
Get started in 2 minutes